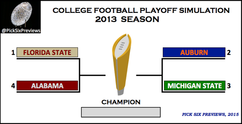 After decades of dreaming about it, years demanding it, and months arguing about it, the Playoff Era is finally here. The old BCS system would have produced a National Championship Game of #1 Florida State (only undefeated) and #2 Alabama (SEC Champion), but with both of those squads losing in the National Semifinals, the new system is instantly validated.
This offseason, we will take the role of the Selection Committee and look at how every BCS season (1998-2013) would have played out in the current College Football Playoff setup. As a staff, we will analyze, debate, and ultimately select the 4 most deserving teams and seed them #1 through #4. Once the bracket is set, we will throw the historical matchups into the game simulator over at What If Sports, a complex algorithm that simulates any matchup of teams from 1996 to the present. We will simulate each matchup 25 times for a more accurate sample size, and report the series results and average score.
Continue reading...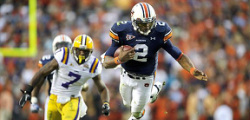 Every college football season is packed with highlights, memorable plays, and last-second victories. But every once in a while a superstar player leaves his mark on the game, and clinches the sport's most prestigious honor in a single play. These are the plays that you remember
exactly
where you were when watching live, the plays that your father and grandfather still discuss, the plays you will be talking about for decades ... these are the HEISMAN MOMENTS
Continue Reading...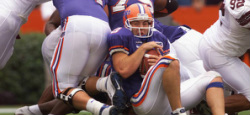 Ranked #3 and undefeated early on in the 2000 season, the Ol' Ball Coach brought his Gators into Starksville to face the Mississippi State Bulldogs. After multiple sacks - one for a safety - on starter (and current ESPN analyst) Jesse Palmer, Spurrier put in young Rex Grossman. His famous "Fun and Gun" passing offense was working effectively until about 10 minutes left in the 4th. Trailing by 8, Florida was at least nearing scoring range until possibly the worst series of all-time ensued.
Continue reading...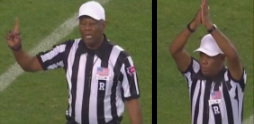 With the recent news about lead announcer Brent Musburger moving over to the new SEC Network, speculation is running rampant about possible successors. One name that comes to mind is Brad Nessler, and after reviewing some of his top moments, I realized that he called the rarest play in college football, the one-point safety, BOTH TIMES it ever happened.
In the history of Division 1 Football, this play has occurred twice, and twice Nessler had the play-by-play.Continue reading...

It is hard enough to settle the annual National Championship debates every December and January. Even more difficult: comparing past champions, and arguing which team is the greatest of All-Time. As we trudge through the offseason, Pick Six Previews will settle the debate once and for all:
Who is the Greatest College Football Team Ever?
With the help of "
What If Sports
" (a complex historic matchup program that virtually simulates games), we will create a comprehensive bracket style tournament with past champions and at-large teams dating back to 1996 (since they only have the data for teams back to 1996). Not only does the program determine a winner, but also gives in-depth stats and a box score. As the tournament progresses, we will publish the results round by round and also discuss the top performers.
Continue reading...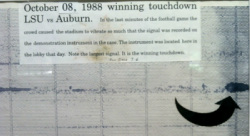 LSU and Auburn renew their rivalry this Saturday, and it's hard to believe that two other top-15 ranked games are stealing the attention. While the college football epicenter is located in the State of Mississippi this Saturday, this matchup cannot be overlooked. Year after year these rivals produce exciting finishes, some of the best the league has seen.
On October 8th, 1988, the #4 Auburn Tigers came into a raucous Death Valley to take on the 2-2 LSU Tigers. Auburn held a 6-0 lead for most of the contest, but LSU QB Tommy Hodson got the ball one last time, under two minutes left. Hodson led a courageous and historic drive, but the offense stalled at the 11-yard line.
Continue reading...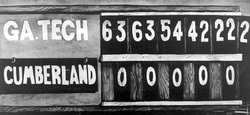 Long before the famous award was named in his honor, John Heisman coached 3 sports at Georgia Tech. His baseball team lost big to Cumberland College, who ran up the score to a humbling 22-0. Despite Cumberland cancelling their football program over the summer, they were still in a contract to play that fall against Tech in Atlanta. Heisman denied their cancellation requests, and the buyout was too high, so Cumberland was forced to send up a squad. The local newspapers (see photo) predicted it would be an easy contest for the hometown "Engineers" football team. But no one thought the matchup would be such a historic beatdown, the most lopsided game in the history of the sport.
Continue reading...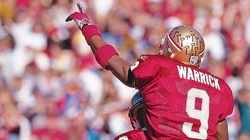 To kickoff our weekly Throwback Thursday feature, we're starting with the current National Champions - the Florida State Seminoles. But before we take a look at how the 2013 team stands in the context of previous champions (coming next week), the decade of dominance needs to be highlighted. From 1987 to 2000, FSU won 10+ games and finished in the Top 5 EVERY SEASON. With a total record of 152-19-1 over that span, Bobby Bowden established himself as an all-time great coach and brought his program to uncharted marks of excellence. 2 National Titles (1993, 1999) and 2 Heisman Winners (Ward and Weinke) are exclamation points on this steady string of success - the 1999 team became the first and only National Champion to go wire-to-wire ranked #1. The stats and numbers tell only part of the story; below is a highlight tape focusing on 4 legends from different parts of this 14-year dynasty:
SANDERS, DUNN, WARRICK, BUCKLEY. Continue reading...