BIG EAST PREVIEW
August 20th, 2012

BY MIKE NOWOSWIAT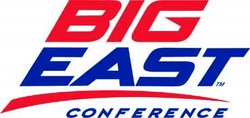 The Big East will be a very fluid entity over the next few seasons. This year, its marquee team West Virginia leaves with TCU, which never really joined; Temple returns after being booted out in 2004. Next year, Houston, SMU, Central Florida, Memphis, and San Diego State join the conference while Pittsburgh and Syracuse leave for the ACC. In 2015, Navy will join the conference. Also new this year is commissioner Mike Aresco, formerly of CBS Sports, who takes over for John Marinatto. In the only year we will see the Big East as is, Louisville, Rutgers, and South Florida enter a wild race to take advantage of the conference's automatic BCS bid, which should result in the winner going to Miami to compete in the Orange Bowl. Quarterback Teddy Bridgewater had an excellent freshman season for Louisville and the entire team is quickly ascending. Led by Charlie Strong, look for Louisville to edge out the other seven members to be king of this conference, only for a year. Bridgewater is our pick to be Big East Player of the Year while Rutgers LB Khaseem Greene looks to repeat as Big East Defensive Player of the Year.
1. Louisville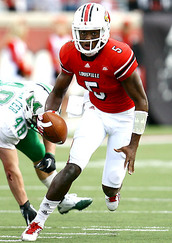 Quarterback Teddy Bridgewater
Charlie Strong has redefined this Louisville program that was in shambles when he took over three years ago. He immediately solidified the defense in his first season and had another strong output last year as well. With eight returning starters, look for another very good defensive unit. The offense tood a step back last year, but was still respectable as they were breaking in a freshman QB. That freshman, Teddy Bridgewater, now looks to shoulder the load on offense as the Cardinals will look to take the next step forward this season.

Each group across the board on defense returns key players from last years squad. They lose their top tackler and sack-getter LB Dexter Heyman, but return basically everyone else at linebacker and also have a very solid freshman group coming in led by Keith Brown. The defensive line will be very stout after allowing an impressive 3.0 yards/carry last season. The unit is also very young featuring two sophomores and two juniors, which could be scary good in 2013. The secondary returns three including true sophomore Calvin Pryor who started at safety and had two interceptions a year ago.

The offense begins and ends with Teddy Bridgewater who was the 1st team Freshman All-America QB last year. He returns talented sophomore receivers Eli Rogers and Michaelee Harris making for another very young and talented position group. The offensive line may be the biggest question mark on this team after only running for 3.4 yards/carry last season, but breaking in two freshman starters. If the offensive line can continue its development, there is no question in my mind that this team is tops in the Big East.

After an up-and-down season, Coach Strong will be asking for consistency in 2012. With West Virginia leaving the conference, Louisville will have an opportunity to establish itself for years to come. This year they get USF and Cincinnati at home; if Louisville can play week in and week out to the best of its ability, the Cardinals will be flying down to Miami for the Orange Bowl come January.
2. Rutgers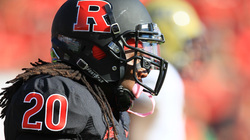 Linebacker Khaseem Greene
There will be a different feeling in New Jersey this year; Greg Schiano has moved on to the NFL after giving 11 seasons to the program that was nothing when he took over. He leaves Rutgers as annual Big East contenders and this year should be no different. Kyle Flood, a former assistant, will take over as Head Coach and should provide continuity from last year's team. Flood started off well by landing New Jersey's top recruit and perennial top-10 overall recruit DE Darius Hamilton, who should start this year. We'll see if Flood's coaching measures up to his great recruiting (so far).

Sophomore Gary Nova has been named the starter at QB after splitting duty with Chas Dodd last season. Nova and Dodd both put up average numbers and Rutgers fans will hope that one will rise above the other to end the QB battle. 2nd round draft pick Mohamed Sanu has moved on, which will make it that much tougher on Nova and Dodd. Sanu accounted for over 1,200 yards last year and was perhaps the most important player on offense the last two seasons. Big play receiver Brandon Coleman is back after averaging 32.5 yards/catch. The line was decent last season and returns only two, but RJ Dill will bring 33 career starts at Maryland with him. Sophomore Kaleb Johnson should protect Nova or Dodd after garnering Freshman All-American honors last year.

The defense allowed only 18 points/game last year and returns 8 from a very good 2011 unit. Big East co-Defensive Player of the Year Khaseem Greene returns after racking up 141 tackles last year. The defensive line is the only questionable unit on this side of the ball, but could be very good as the talent is certainly there. The back seven will be a force featuring four All-Conference performers. The secondary returns three and will be excellent.

If Rutgers can find consistency in its QB play, then it will be a legitimate Big East title contender. Aside from a trip to Arkansas, every game is very winnable on the schedule and Rutgers may find itself positioned to go to a BCS bowl for the first time if they can beat Louisville at home to end the season.
3. South Florida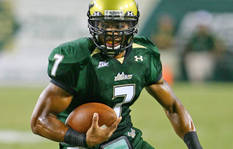 Quarterback BJ Daniels
USF has continually been contenders in the Big East and should be again in Skip Holtz's 3rd season in Tampa. BJ Daniels is back for his senior season, which will assure production from the offense. This season South Florida plays a difficult schedule headlined by out-of-conference games against Florida State and Miami. The Bulls lost to Miami last season amidst their season ending stretch of losing seven of eight games after starting the season 4-0 and climbing to 16th in the national polls.

BJ Daniels and a talented, experienced receiving corp lead the charge on O. Chris Dunkley, a transfer from Florida, should start this season; his speed and quickness outside and inside will give the Bulls an extra weapon at Daniels' disposal. Leading rusher Darrell Scott is gone after rushing for nearly 1,000 yards and averaging 5.3 yards/carry. The line may not produce at the level it did last season because it loses All-Conference performers Jeremiah Warren and Chaz Hine.

The defense loses a few key players, but should be better as a unit with a lot of young talent returning. The linebackers should be the heart and soul of this defense featuring the top three tacklers from last years squad. All-Conference cornerback Kayvon Webster had two interceptions last year and is back again to lead the secondary. This unit had excellent stats last season--better stats than a 5-7 record would suggest--and should improve this year under new coordinator Chris Cosh, who arrives after leading the Kansas State defense the past three seasons.

The Big East should come down to Louisville, Rutgers, and South Florida. The Bulls will try to establish themselves in the state of Florida and the new-look Big East. Look for South Florida to improve to at least 7-5 and return to a bowl.
4. Pittsburgh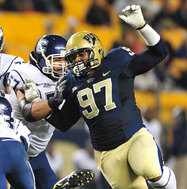 Defensive Tackle Aaron Donald
In their last season in the Big East, the Panthers will try to go out with a roar before they head to the ACC next year. Player of the Year candidate Ray Graham returns to lead the Pitt rushing attack and the top four receivers return to give QB Tino Sunseri weapons on the outside. New Head Coach Paul Chryst takes over after Todd Graham abandoned the program before even completing his first year.

The offense averaged a decent 24 points/game last season, but return Ray Graham who only played in 8 games and still rushed for just under 1,000 yards. One of the top RB recruits in the country, Rushel Shell, will give Pitt a two-headed monster in the backfield. Three starters along the line return, which may not sound so sweet to Pittsburgh fans after they allowed a putrid 64 sacks last season. Improved line play will be key for this squad as they are solid in every other facet on O.

The defense, however, was able to put solid pressure on the QB last season, but unfortunately does not return as much as the offense. Top pass-rushers Brandon Lindsey and Chas Alecxih do not return this year and their production will need to be replaced. However, DT Aaron Donald had an amazing 11 sacks from the inside and returns for his junior campaign in which he should see more snaps. The front seven will be a question mark for this unit, but has the potential to be very good. The secondary is experienced and should have another very good season led by 1st Team All-Big East performer Jarred Holley at safety.

Look for Pitt to surprise people this year as they bounce back from a rocky 2011 season. Pitt may not improve much on last year's six wins, but that will be mainly due to a tough out-of-conference schedule featuring games against Virginia Tech and Notre Dame. With the coaching change and instability in both trenches, I do not see Pitt seriously competing for the Big East title, but will surprise people this season and set the foundation for a bright future.
5. Cincinnati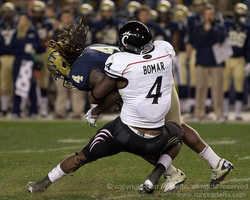 Linebacker Maalik Bomar
Bouncing back from a disappointing 2010 season, the Bearcats notched 10 wins last season in Butch Jones' 2nd season as Head Coach. This season, they will look to replace most of their scoring in RB Isaiah Pead and QB Zach Collaros. Munchie Legaux takes over at QB and came in as a running threat last season and started three games while Collaros was injured. The defense returns seven starters from a unit that had a strong output in 2011 and improved by 7.7 points/game from 2010.

The defense loses NFLer Derek Wolfe at DT who recorded 9.5 sacks last season and will be missed. The secondary will be a very good unit led by 1st team All-Conference performer Drew Frey at SS. The front seven has some question marks including the voids left by Derek Wolfe and LB JK Schaffer, but should still be solid across the board with key depth returning. John Jancek will run the defense on his own this season after splitting duties with Tim Banks.

The offense only returns four starters from last year's squad; but then again, the offense only returned five last season and averaged over 33 points/game. If Legaux can be more efficient passing the ball (47.4% completion percentage last year), then expect another strong performance from the offense. For Legaux to improve upon last season, he will need protection, which may be the biggest struggle for this team. They lose two All-Conference performers and Center Evan Davis.

I look for Cincinatti to take a step back this season as they try to replace their top two offensive threats and some key linemen on both sides of the ball. They play a nerf schedule that only features Virginia Tech out-of-conference and USF, Rutgers, and Pittsburgh at home. If the 'Cats can address their holes, this schedule can allow them to overachieve and be a darkhorse in the Big East title chase.
6. Connecticut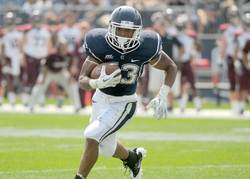 Running Back Lyle McCombs
There may not be a program in the nation that has come so far so quickly than UConn. It feels like just yesterday that the Huskies were playing in an oversized high school stadium and getting obliterated week in and week out. Now Connecticut can claim an appearance in a BCS bowl and is primed for another solid season in Storrs. Paul Pasqualoni enters his 2nd season and hopes to continue to make this program his own.

The Huskies return their QBs, but look to start junior college transfer Chandler Whitmer who threw for over 3000 yards last season. Lyle McCombs will take the load off Chandler Whitmer's shoulders after rushing for 1,244 yards and seven touchdowns last season while earning Freshman All-American honors. He will be running behind an offensive line that returns three starters from a disappointing 2011 unit. This season, the line play can only improve as they further learn the new system. The passing attack will rely on TE Ryan Griffin as they break in new starters at receiver.

The defensive line will return two starters including Jesse Joseph who was 1st team All-Big East two seasons ago before being out nearly half of last season with an injury. They lose very productive DTs Kenall Reyes and Twyon Marin who were dominant last year and helped limit opponent rushes to a very impressive 2.7 yards/carry. With these losses the line should struggle to reproduce last year's performance. The linebacking corp returns everybody including two transfers from Maryland and Florida so expect this unit to be much improved from last season. The secondary should be solid yet again led by cornerback Blidi Wreh-Wilson and Dwayne Gratz. The defense should be a better unit overall, but with the losses at DT, they may not be as productive as last season.

The Huskies will get an opportunity to knock off their old coach Randy Edsall when they take a trip to Maryland on September 15th. They start out the season with all of their non-conference games and finish with seven straight Big East games. With three MAC opponents and Maryland, the Huskies could come out of their first five games with four wins. Still, Western Michigan and Maryland will be tough games and none of the Big East games will be cupcakes. Expect a season similar to last's as the Huskies will struggle to make a bowl.
7. Syracuse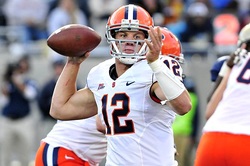 Quarterback Ryan Nassib
After an experimental season with former Duke point guard Greg Paulus, Ryan Nassib took control of this offense and has been great under center. Doug Marrone is an offensive mind and he hopes to improve upon last season's 24.2 points/game. Defensively, Syracuse struggled last season and must improve if it wants to go bowling after taking a year off last season. As the Orange prepare themselves for a stronger ACC conference next year, they want to gain momentum heading into 2013.

Stud LT Justin Pugh returns to protect Nassib's blindside, but the 'Cuse line must replace 1st team All-Conference RG Andrew Tiller while somehow increasing its low yards/carry from last season. The unit as a whole should be fine, but will need to improve if a title push were to be made. The top returning receiver in the Big East in terms of receptions/game returns in Alec Lemon who will be coming off of an injury, but will be expected to continue his high level of play. Aside from Lemon, a lot of new faces will need to pick up slack if Nassib will continue his progress.

Defensively, Syracuse loses first round draft DE Chandler Jones and must improve last season's 28.5 allowed points/game. The Orange, fortunately, return eight of its top 10 tacklers, including 1st team Freshman All-American MLB Dyshawn Davis. The linebacking corp will be among tops in the Big East and should impress again. The rush defense was actually very solid last season and it is the pass rush and secondary that must improve. Defensive coordinator Scott Shafer must adjust accordingly, which may mean blitzing more with his talented LB unit.

Syracuse went 5-7 last season and will struggle to up last year's win total. USC highlights a tough non-conference schedule also including games against Missouri and Northwestern. Syracuse could certainly improve in the Big East as they try to beat out UConn, Cincinnati, and Temple for fifth place.
8. Temple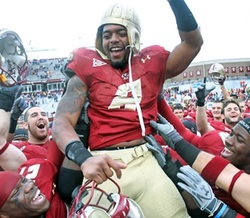 Boston College Transfer Montel Harris
After being kicked out of the Big East in '04, look who is back. Temple has had great success in the past seasons and the Big East has not; oh, how the tides have turned. Unfortunately for the Owls, only eight total starters return and this could be Temple's weakest team in the past four seasons.

Offensively, the line should go from very good to very bad, barring a surprise. They lose four experienced starters and the newcomers combine for only one career start. The only bright spot this offense has may be at QB featuring Chris Coyer and Penn State transfer and highly-touted recruit Kevin Newsome. Coyer overtook Chester Stewart for the starting job last season and while we only have a limited sample size to look at, he impressed with a 60% completion percentage and six touchdowns with zero interceptions. They must replace stud RB Bernard Pierce who eclipsed 1,500 yards last season and rushed for 27 touchdowns, but there may not be a better man in the country to do that than BC transfer Montel Harris. Harris is Boston College's all-time leading rusher and should more than fill the void left by Pierce.

The defense was dominant last season in the MAC only allowing 13.9 points/game. Unfortunately, they bring back only five starters from last year's unit. They lose former MAC Defensive Player of the Year Adrian Robinson who was a force in the pass rush. Still, they should be strong inside with John Youboty and Levi Brown, but will need to find a consistent edge rusher with the top three leading sack-getters gone. The secondary will be solid yet again and may have to carry this defense.

As Head Coach Steve Addazio and his Owls move to the Big East and face a more difficult schedule, it could be a rough transition. There are not many highly-recruited players on Temple's roster and if newcomers turn into playmakers, there would be no way of knowing. Unless the unexpected happens, expect a last place finish for the Owls while they rebuild.