BIG 12 PREVIEW

August 20th, 2012

BY BRETT CIANCIA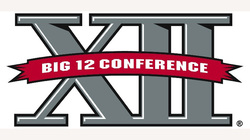 What a strange year it has been for the Big 12 Conference. Long-time member schools Nebraska and Colorado depart for other conferences, Oklahoma State wins its first league title since 1940, and a Baylor player wins the Heisman Trophy. This season two more members, Texas A&M and Missouri, move east to join the SEC, while West Virginia and TCU take their places. In terms of on-the-field results, it will be a more normal status quo around the conference as the top spots are reclaimed by blue-bloods Oklahoma and Texas while Baylor returns to mediocrity. How will the new members adjust to the fast-paced high scoring style of play that defines the Big 12? Can Oklahoma State stay afloat despite losing QB Brandon Weeden and WR Justin Blackmon?
Oklahoma has the most complete team in the conference and will be back on top this fall. Not only will the Sooners win the Big 12, but will play in the BCS and is PickSix's pick to win the NATIONAL CHAMPIONSHIP.

1. Oklahoma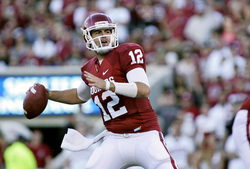 QB Landry Jones
Coach Bob Stoops' Sooners climbed up to #5 in the polls and seemed poised to return to the National Championship discussion. Then Robert Griffin earned his Heisman at Oklahoma's expense, throwing his iconic, cross-field, game-winning touchdown. 2 weeks later, rival Oklahoma State stole back the state title in a 44-10 thrashing of OU (first loss in series since 2002). Despite the rocky finish to 2011, Oklahoma may be the most complete team of 2012, fully reloaded for a title run.

The offense will be elite yet again, led by Heisman candidate QB Landry Jones. Jones already holds the record for OU career passing (12,379), and is next in line of a prestigious lineage of quarterbacks throughout the 2000's. Losing NCAA receptions leader Ryan Broyles will be tough, but the void was filled significantly in the past week with ex-PSU receiver Justin Brown deciding to transfer to OU. Brown, Kenny Stills, and Jaz Reynolds make up an excellent receiving core. The top three rushers including Dominique Whaley return; 4 out of 5 lineman are back from 2011. This group has it all, even the short-yardage running QB Blake Bell (13 rushing TDs); in goal line scenarios, the "Bell-dozer" is unstoppable. Look for this Sooner offense to light up the scoreboard all season.

With such a powerful offense, a lot of pressure is taken off of this defensive unit. However, improvements need to be made from last year's group that allowed 41 (Texas Tech), 45 (Baylor), and 44 (OK State) in the team's 3 losses. With 7 starters back, and the return of Coach Mike Stoops (Head Coach at Arizona 2004-2011) I expect this group to be a more experienced, more cohesive unit. The only question marks surround the new defensive ends. Star LB Tom Wort, and All-Conference Safety Tony Jefferson will lead the back 7 in a pass heavy Big12. Overall this will be one of the Big12's best units.

Once dubbed "Big-Game Bob" due to clutch victories in the national spotlight, Stoops' moniker has since taken on a sarcastic meaning after several missed opportunities in BCS games. This 2012 team will be one of his most talented and championship-ready squads of his 14 year tenure and could give him a chance to prove the naysayers wrong. OU – Texas in the Red River Shootout will have extra implications as it could serve as a quasi-conference title. The schedule gets tough the last three weeks with roadtrips to Morgantown, WV, and Fort Worth, TX (TCU). In between those games is the Bedlam Game with Oklahoma State, in which OU will defend its home turf where they are 77-3 under Stoops. Oklahoma is the most complete team in the conference and quite possibly the nation- I'm picking them to win the Big 12, go undefeated, and win the National Championship!


2. Texas

CB Kenny Vaccaro and DE Alex Okafor
Not only did Alabama take out All-American QB Colt McCoy in that 2010 BCS National Championship, they took all of the momentum out of the Texas football program. After that 37-21 loss in the title, the Longhorns just haven't been the same, posting records of 5-7 in 2010 and 8-5 in 2011. There was even a divide amongst Longhorn Nation about whether or not long-time Coach Mack Brown should return.

Part of the problem was replacing McCoy and the rest of that stellar senior class of '09. However, there are several playmakers scattered around the offense including young star RB Malcolm Brown and Olympic athlete Marquise Goodwin. The main question coming out of Austin is centered on who will be leading the offense and distributing the ball. Last season the starting QB job was split between David Ash and Case McCoy. Longhorn fans love the 'second-generation' of McCoy to Shipley (this time its Case to Jaxon). Coach Mack Brown is patient in regards to naming a starter and will wait until the opener to do so. Regardless of his choice, the offense will be more effective than the past two uncharacteristic Longhorn offenses.

It's the defense this season that will be Texas' strong-point. Proven starters and all-conference players return, and countless former 4 and 5 star prospects are ready to fill the openings. Defensive ends Alex Okafor and Jackson Jeffcoat are among the nation's elite. This may be the top secondary in Division 1 with stars at safety (Kenny Vaccaro) and cornerback (Quandre Diggs). Look for this unit to slow down some of the top offenses and keep Texas within striking distance.

The schedule is very favorable for Texas to return to the conference elite. Key matchups with West Virginia and TCU are at home, and the toughest game is at a neutral site (Dallas against Oklahoma). This is the year for Texas to …well... play like Texas again.


3. West Virginia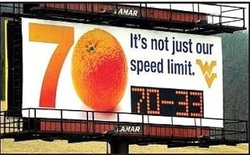 2012 Orange Bowl WVU 70 - Clemson 33
It just doesn't seem right to be discussing West Virginia in a Big12 conference preview after watching them matchup with the likes of Connecticut, Syracuse, and Rutgers all these years. But here they are, making the unprecedented transition from the Big East to the Big 12 of the midwest. This is definitely a step up for the football program and will allow for weekly high-profile matchups that Mountaineer fans are used to only seeing once a season.
Last January, West Virginia put an exclamation on their final season in the conference, with a 70 point performance over Clemson in the Orange Bowl (see picture). The good news is that the nucleus of Coach Dana Holgerson's high-powered offense all returns including QB Geno Smith who threw for an amazing 4385 yards and 31 touchdowns. West Virginia also brings back its top four rushers and both 1000-yard receivers Tavon Austin and Stedman Bailey. Austin is gaining All-American attention and is poised for a solid senior season. The Big 12 Conference isn't necessarily known for stout defense, so this unit should put up comparable numbers to last year's 37.6 points per game.
In the same sense, the high-scoring offenses in this league are nothing like those that the Mountaineers faced in the gritty Big East. Not only will the defense need to be rebuilt after losing 5 starters, but will need to adapt to the new style of play. Having given up over 26 points a game in the
Big East
, a lot of progress needs to occur before their conference debut in late September.
While it may be a stretch geographically, West Virginia fits in well football-wise to its new conference. Like the stereotypical Big 12 team, WVU will rely on its offense to outscore opponents in high-scoring shootouts. Transitioning to a new conference is very difficult but if any team is ready its West Virginia because its offense will keep them in any game.
Look for WVU to outscore most teams, but go through some growing pains in its inaugural Big 12 season
.
4. Oklahoma State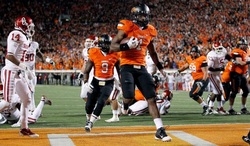 RB Joseph Randle
The 2011 season was a special one for the Oklahoma State Cowboys, as they won the most games in school history (12), won its first ever Big 12 title, won the Fiesta Bowl, and finally beat the hated Sooners for the first time in 8 seasons. They were an ill-timed Thursday night trip to Ames, Iowa away from playing for the National Championship. QB Brandon Weeden passed his way into the Cowboy record books, finishing first all-time in career passing yards (9260). With the losses of Weeden and back-to-back Biletnikoff winner Justin Blackmon, the question around Stillwater is simply, what now?

The Cowboy offense went through a similar situation when they lost the lethal duo of QB Zac Robinson and WR Dez Bryant after the 2009 season. Weeden and Blackmon kept the tradition rolling and scored over 40 points a game in both 2010 and 2011. However, unlike last time, the cupboard is bare for Coach Mike Gundy. Look for them to be forced to start true freshman QB Wes Lunt under center. There is simply no one of the same caliber as Blackmon in the receiving core, which will allow opposing defenses to pack the box and key on the run more than in years past. With a young quarterback, OSU will be forced to rely heavily on its run game; RB Joseph Randle will have to take the offense on his shoulders (he's capable- rushed for 1216 and 24 touchdowns in '11). Still, this is not an unstoppable Gundy offense that we have grown accustomed to.

Making up for the uncertainties on offense is a stout Cowboy defense that rivals the units from Oklahoma and Texas. The back 7 is especially talented with the entire Linebacking core returning and CB Broderick Brown looking to match his 5 interceptions from 2011. LB Shaun Lewis was very disruptive last season registering 1.5 sacks, 8 tackles-for-loss and 2 interceptions. This unit will be relied on more than any other defense in the conference.

What separated the good OSU teams from the elite ones was the vertical threat from All-American receivers. This squad lacks that offensive firepower and I see Oklahoma State coming back down to earth this season as an above average Big 12 team. The Cowboy fan base better enjoy their last few months as 'State Champions' because the Sooners are king once again this season.


5. TCU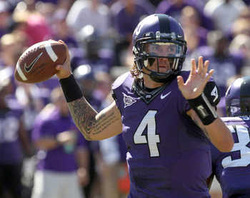 QB Casey Pachall
Texas Christian has had one of the most successful programs over the past decade and has proved themselves on the national stage highlighted by a 2010 Rose Bowl victory over Wisconsin.
The Big 12 is not the Mountain West Conference
. TCU is used to coasting through a non-AQ conference and preparing for its one marquee matchup of the year. Moving into the BCS-level Big 12 will be a momentous challenge, as there is no off-week in this deep conference.
The Horned Frog offense has potential to be just as talented as last year's unit that posted over 40 points a game. However in terms of performance, it will be tough to match that production due to a way tougher strength of schedule. QB Casey Pachall was very efficient in 2011 and did well taking over for former QB Andy Dalton. Pachall threw for 2921 yards, 25 touchdowns, and only 7 picks. The top 5 rushers and top 3 receivers are all back. All of the positives aforementioned are irrelevant without significant offensive line development. It will be a young group breaking in 4 new starting linemen; their progression will determine if this offense can reach its full potential or not.
Coach Gary Patterson is known for devising elite defenses and TCU is always at the top of scoring defense rankings year in and year out. With only 5 starters back, he must not only rebuild the young secondary but adjust the schemes to account for the new conference. Frog fans hope the strong defensive line can help anchor the defense.
It is always difficult to gauge the success of a team entering a new conference; TCU will play 10 new opponents from last season. Throw in the fact that this will be their first season in a BCS conference, and there could be some struggling for TCU. Just 2-3 in their past 5 games against Big 12 opponents, and not used to a full competitive schedule, I see TCU failing to reach double digit wins for the first time since 2007. The schedule is heavily back-loaded, so
don't be surprised to see TCU start 7-0 and ranked top 10 before plummeting in its last 5 games
.
6. Kansas State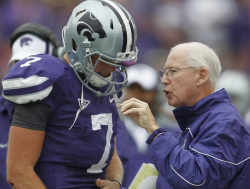 QB Collin Klein and Coach Bill Snyder
The 2011 Kansas State team does deserve credit for pulling out 10 wins in a tough conference, but before we anoint Bill Snyder the greatest coach of the year let's analyze those wins.
10-7 over Eastern Kentucky
. 28-24 over a weak Miami. Wins over Baylor, Texas A&M and Texas were all by 3 or less. Their other 3 conference wins were by a touchdown. While praise is deserved for winning close games and having the mental strength to keep it together for 4 quarters, its also worth stating that this overachieving team could have very well finished with 3 or 4 wins.
There is nothing to take away from QB Collin Klein who was dominant both passing and rushing (40 total touchdowns). Will KSU rely on him as much this season, and if so, can Klein survive injury-free? Klein, the quarterback, carried the ball more times (317) than Montee Ball, Trent Richardson, and LaMichael James. There is no way he'll make it through another 300 carry season at 100%. Good news for KSU is that almost all skill players return and should help shoulder the burden.
The nucleus of the defense returns, but will have to break in new starters at each level. Ball-hawk cornerback Nigel Malone reeled in 7 interceptions in 2011 and looks to continue disrupting opposing passing attacks.
Bill Snyder has always been a miracle worker here at lowly Kansas State. His luck and good fortune will run out this year and KSU will be nowhere close to its rare 2nd place conference finish from '11. If Klein stays healthy, look for an average season resulting in a bowl appearance…
a Klein injury will be 'game over' for the 'Cats
.
7. Baylor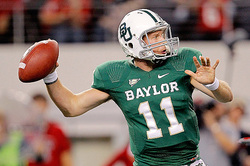 QB Nick Florence
It's like that really great dream you're having until the morning alarm interrupts and ultimately ends it. You try rolling over and recapturing it to no avail.
Well, the alarms are ringing in Waco, Texas as Baylor is awoken from its dream season of 2011
, a season that included the school's first ever Heisman Trophy winner and second 10-win season. Robert Griffin III is gone and so is Baylor's national relevance. Still, this will be one of Baylor's better football years considering they've had 2 winning seasons in the last 16.
While they lose a Heisman quarterback, a serviceable replacement exists in Nick Florence, who actually started most of 2009. Florence brings experience and senior leadership to the Bear offense. Baylor loses a 1500 yard rusher but will start Oregon transfer and 5-star RB Lache Seastrunk. The 2011 offense will never be duplicated here, but this unit should be effective enough to keep Baylor competitive.
This team won 10 games a year ago, and none are credited to the defense, a poor unit that allowed 37 points a game. It was a rare case that a team can allow 48, 42, and 56 points and win all three games. 8 starters return, but this stat is irrelevant if Coach Art Briles can't fix this side of the ball, both fundamentally and strategically.
Baylor will win all three out-of-conference games to start the season 3-0, but the grueling Big12 schedule hits right away with trips to West Virginia, Texas, and a home matchup with TCU. I think they will take care of Iowa State and Kansas and find a sixth win elsewhere to qualify for a
third straight bowl
. While its not the RG3 show anymore, 6-6 is still a quality year for this program.
8. Texas Tech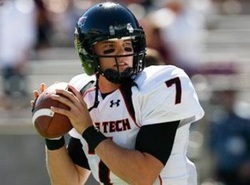 QB Seth Doege
Only three teams in NCAA division 1 football allowed more points last season than the Texas Tech defense (117th out of 120). Coach Tommy Tubberville acquired an entire new defensive coaching staff including coordinator Art Kaufman who will introduce his 4-3 scheme this season. While coaching was a significant problem on defense, so was the talent level; to aid with player personnel and depth, Tubberville hit the Junior College (JUCO) recruiting trail hard. This seasons defense will be unrecognizable to Red Raider Nation.

Typical of a Texas Tech offense, the pass game is proven while the rushing attack has question marks. Senior QB Seth Doege is back after a 4000-yard 2011 season and hopes to near that total again with the help of a strong WR group. Texas Tech needs to establish the run game more, both early in the game, and in the fourth quarter. Its hard to nit-pick a team that scored 34 points a game, but Texas Tech's inability to secure victories late in games has been a recurring problem.

Texas Tech saw its 11-year bowl streak snapped last season (5-7 record) in the season finale against Baylor. Tubberville brought in a new defensive staff and an influx of JUCO transfers in an attempt for a quick fix in Lubbock. He's got the program heading in the right direction after last season's fiasco and they very well may return to bowl season.


9. Iowa State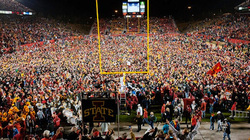 Who will be this year's ISU upset victim?
Coach Paul Rhoads has developed this Iowa State program into the role of "Giant-killer." In each of his first 3 seasons in Ames, Rhoads has pulled off huge upsets that have shattered teams' dreams of national and conference championships. In 2009 ISU entered Lincoln, Nebraska as 20-point underdogs and left with a 9-7 upset. Similarly in 2010, ISU went into Austin, Texas and beat the #19 Longhorns 28-21. But no upset was bigger than last season's Thursday night overtime-thriller over #2 Oklahoma State (see photo). However, the downside of being considered a giant-killer is the implication of annual mediocrity.

The central discussion surrounding the 2012 Cyclones is the quarterback controversy between senior Steele Jantz and Sophmore Jared Barnett. Both have started games but both have posted poor stats. Luckily, top rushing production returns from last season with RB James White leading the way. Unless one of the quarterbacks vastly improves and claims the starting spot, this offense should struggle again this season.

The defense can be gritty at times, holding Texas Tech to a season low 7 points last year. However, the inconsistencies override the glimmers of success, and in the offensively talented Big12 Conference, this unit needs to vastly improve.

This looks like another losing season for the Cyclones, and another year as 'state runner-up' to rival Iowa (week 2 matchup). But given Rhodes track record, the conference's elite should beware of the upset-minded Cyclones.


10. Kansas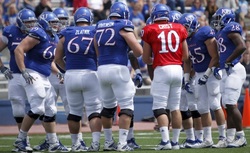 QB Dayne Crist and KU Offense
The hiring of former Notre Dame head coach Charlie Weis was heavily overshadowed by the absolute embarrassment that was- 2011 Kansas Jayhawk football. They were the worst defense in all of Division 1, allowing 43.8 points a game. Only a few years removed from a BCS bowl victory, this program is in shambles.

Former Notre Dame starter and Weis product QB Dayne Crist will be the starter, reuniting with his 2009 head coach. His familiarity with Weis' system will surely help, but Crist has little help from his supporting cast, a unit that struggled last season.

Weis has brought in a lot of JUCO talent, including 5 future defensive starters. The question regarding large amounts of transfer additions AND coaching changes is always if and how fast this group can gel. If everyone buys into the new staff, new system, and new football culture, KU should have no problem topping last years 2 wins.