Non-AQ Teams
August 20th, 2012

NOTRE DAME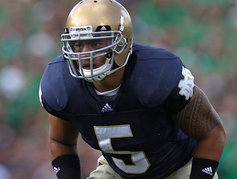 LB Manti Te'o
As a college football preview website, we are obliged to discuss the Notre Dame football program, but we aren't required to buy into the annual hype-machine surrounding the Fighting Irish. While they don't deserve its top 25 rankings this August, they are no slouch either. Even if this is Coach Brian Kelly's best squad yet, the schedule is extremely difficult with literally no guaranteed wins.

The quarterback situation is quite intriguing; Kelly used three quarterbacks last season in Dayne Crist, Tommy Rees, and Andrew Hendrix. Crist has transferred, and Rees and Hendrix get even more competition after the #1 rated QB of the 2012 class Gunner Kiel enrolled early this offseason. Rees is the most experienced with 12 career starts, but his turnover rate has been high. The early reports out of South Bend have the sophomore Everett Golson pegged as the Week 1 starter, with Tommy Rees suspended for the opener. Regardless of who wins the starting job, the bulk responsibility of the offense will be shouldered by RB Cierre Wood who rushed for 1186 yards last fall. The departure of school receiving leader Michael Floyd takes away a serious vertical threat and could make the ND offense that much more one-dimensional.

4 of the top 5 tacklers are gone, but the key player returning is All American LB Manti Te'o (128 tackles in '11). The once highly touted recruit has lived up to all of the wildest expectations and will lead the defense again this fall as a senior. Both Defensive Ends are new, as is half the secondary. Kelly needs to prepare the new starters quicker than most teams, because rather than have an easy first few games, Notre Dame jumps right into top-notch competition.

The biggest storyline surrounding Notre Dame is its tortuous schedule, and if the Irish faithful will be forgiving of Coach Kelly if things don't go well this season. Highlighted by 5 top 15 opponents (AT Oklahoma, AT USC, AT Michigan State, Michigan, Stanford), ND also faces Miami, BYU, and Purdue – all bowl-caliber opponents. The 'easy' games are not cakewalks, with Pittsburgh, Wake, and a roadtrip to rival Boston College. And oh by the way, the season opener is against stingy option team Navy…in IRELAND! I think 6 wins is a fair benchmark, give or take a few. With this gauntlet of a schedule, Notre Dame will be lucky to return to bowl season.


BOISE STATE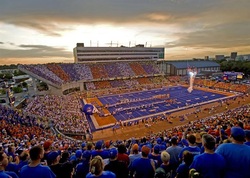 The famous BLUE TURF at Boise
The decade's winningest program has its biggest rebuilding project in a long time with all-time passing leader QB Kellen Moore graduating. Overall, just SEVEN starters return on offense and defense combined. This will essentially be a completely different Boise State squad from last year's 12-1 squad. How will Coach Chris Peterson continue his incredible success in 2012, and can he keep Boise relevant on the national scale?

It will be a strange sight to Bronco Nation when Joe Southwick takes his first snap under center- a position that was held for 4 full seasons by Moore. Not only is Moore gone, but star RB Doug Martin (1299 16 TD in '11) also went pro. There are simply way too many question marks in the backfield to have significant confidence that this unit will stay in the 40+ points per game category.

The defense returns even less starters and experience, as the only veterans are the cornerbacks Jamar Taylor and Jerrell Gavins. This defense is unproven, extremely inexperienced, and overall the talent isn't highly touted from past recruiting seasons. It should be interesting seeing how 9 new defensive starters fare early on in the season, going through their first true tests as a unit.

While Boise State is a contender, if not the frontrunner, to win the Mountain West Conference, they are simply not at the BCS caliber they have been in years past. This will be a good Boise team, but not an elite one. Opening week AT Michigan State should be a serious challenge; in other years Boise State would win these marquee openers…look for 2012 to be a change for the worse. I see an uncharacteristic 2 or 3 losses this fall for 'the BLUE' and look for Fresno State to challenge for the MWC title.


OHIO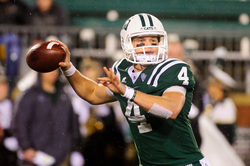 QB Tyler Tettleton
Former Nebraska Coach Frank Solich has his best Ohio Bobcat squad yet. 14 starters return from last year's 10 win season, none more valuable than Quaterback Tyler Tettleton. He is a true dual-threat QB throwing for 3302 yards and 28 TD while running for 658 and 10 TD. If WR production can be replaced effectively, this Bobcat offense should dominate the MAC. Last year as a young unit, the defense allowed 22 points a game; a decent number that figures to be improved upon as 8 starters are back on "D". The season opener at scandal-ridden Penn State provides a national audience for Solich's Bobcats to strike;
I'm calling for Ohio to win that game, upsetting the Nittany Lions
. If in fact the upset occurs,
Ohio has a legitimate chance to run the conference this fall en route to an undefeated regular season
.
ARMED FORCES


Air Force will have a tough time defending the Commander in Chief's Trophy this fall with the loss of star QB Tim Jefferson and 15 other starters. The defense especially needs to rebuild, as only one starter from each level returns. As always,
Air Force will play each opponent tough, but look for a them to be middle of the pack in the Mountain West this season.
Down in Annapolis, the focus is on returning to bowl season and reclaiming the Commander in Chief's Trophy
(7 straight years until Air Force won the past two). But first, Navy has a unique matchup in Dublin, Ireland against Notre Dame;
Coach Ken Niumatalolo has the Midshipmen fired up and poised to take out the Irish for the third time in four seasons
. The top 2 rushers from 2011 must be replaced including QB Kriss Proctor, but Navy has the athletes to fill the voids.
The Trophy will return to Annapolis this December
.
Army will play a familiar role this fall as underdogs within the Armed Forces rivalry. The good news is that last fall the Black Knights were very close to breaking through and upsetting both foes (24-14, 27-21). Senior QB Trent Steelman
has the athletes around him to help pull off some major wins for the program in its 4th season under Coach Rich Ellerson.
Look for an improvement from last season's 3 wins for Army in 2012
.