2013 AMERICAN ATHLETIC CONFERENCE PREVIEW
By Mike Nowoswiat
August 1st, 2013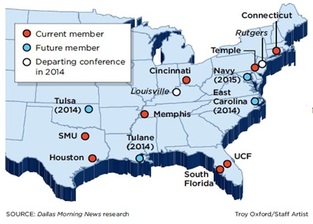 Well, what a few years it has been. The ACC has absolutely poached the old Big East dating back to the departures of Virginia Tech, Miami (Florida), and Boston College. This year, Syracuse and Pittsburgh also leave for the ACC. And next year, Louisville joins the conference with an eerily similar acronym. Also next year, Rutgers exits for the Big Ten.

Old Big East fans may not be too happy, while the new additions must be thrilled. Louisville, however, must be the happiest as they are legitimate national title contenders getting to play a softer schedule while they do not have to deal with the stigma of being in a quasi-BCS conference due to their move next year. Still, this conference is very solid top to bottom and the Cardinals will be challenged as they will need to run the table to have a shot at the National Title Game.
1. Louisville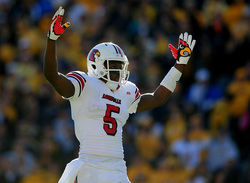 QB Teddy Bridgewater
Who wouldn't want to play for Charlie Strong after watching Louisville's dominant performance over Florida in the Sugar Bowl. Teddy Bridgewater is arguably the best player in the country and will challenge Jadeveon Clowney for the top spot in 2013's NFL draft. Not to mention, the Cardinals are moving to the ACC in 2014. Life is good if you are a Louisville fan. Not to mention, you are probably wearing a 2013 men's basketball national title shirt right now--if not that than a Sugar Bowl tee.

Offensively, it all starts with Bridgewater. Bridgewater was a surgeon dissecting Florida's defense, and old Big East members know that all too well. He struggled a bit down the stretch due to lingering injuries, but is now healthy and primed for a Heisman run. His top three receivers return in DeVante Parker, Damian Copeland, and Eli Rogers. Parker caught ten touchdowns in 2012 and is a big target in the red zone. I expect Florida transfer Gerald Christian to have a huge year at TE after sitting out last season due to transfer rules. The offensive line was not strong last year, only helping runners gain 3.45 yards per rush and allowing 30 sacks. However, three players return, but the two that leave were the leaders in Alex Kupper and Mario Benavides. If the offensive line can improve upon last year's poor output, Louisville should run the table.

Charlie Strong is a defensive-minded coach, and it has shown in his first three seasons at the helm. Each of his past three units have performed better than the prior three Louisville units. And with ten starters back, this could be his best unit yet. Calvin Pryor was an All-American safety in 2012 and is back for his junior season. Beside him at strong safety is Hakeem Smith who has started each of the past three seasons and garnered All-Big East honors in each one. The linebackers could be dominant as they started two true freshman last season in James Burgess and Keith Brown. 2nd team All-Big East performer Preston Brown starts in between them to round out a very talented unit. And finally, the defensive line returns every starter; the group combined for a modest number of sacks, but should improve with another year of experience.

At the end of the day, anything less than an undefeated season would be a disappointment. There are no difficult out of conference games with a trip to Kentucky being the greatest challenge. After defeating one of the best teams in the nation to end the season, Louisville knows that it can take home a national title. The question is: if the Cardinals run the table, will voters respect the AAC enough to pick them high enough in the human polls?

2. Central Florida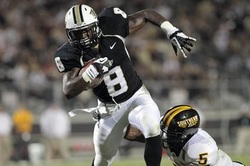 RB Storm Johnson
George O'Leary's team heads to a better conference this year and brings a talented roster with them. Junior QB Blake Bortles could end up being the second best QB in the league and the defense is coming off another productive year. The Knights are coming off of a huge bowl win against Ball State and look to continue the momentum this season.

The offense loses leading rusher Latavius Murray, but Miami transfer and former four-star recruit Storm Johnson should run for over 1,000 yards with relative ease. Johnson is a big, powerful back that will wear down AAC defenses. The offensive line returns three starters while adding in Notre Dame transfer Jordan Prestwood. I believe the offense can match last season's 35+ points per game even in their move to the AAC.

Defensively, the Knights have been stout in each of the past five seasons. In 2011 and 2010, they allowed less than 19 points per game. Last season, the passing defense decreased its production and the points per game average slipped to 22.1. This year, I expect a solid product, but nothing spectacular. The linebackers will miss Ray Shipman and Jonathan Davis, each recording over 90 tackles. Along the line, Thomas Niles had a breakout freshman season with five sacks and could reach double digits this year.

UCF gets a break in its AAC schedule by avoiding Cincinatti, but has one of the more difficult out-of-conference schedules in the conference facing South Carolina and visiting Happy Valley to take on Penn State. I do not foresee victories in either game, which will hurt the overall record, but a one loss AAC record is certainly feasible.
3. Cincinnati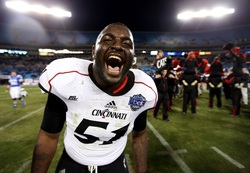 LB Greg Blair
Perhaps I am underrating the Bearcats in favor of Conference USA transfer UCF. However, I believe the two are 2a and 2b and I'll give the edge to the team with a 10 year head coach opposed to the team breaking in a new one. Plus, UCF gets South Florida and Houston at home while the Bearcats get them away. Either way, I expect a successful season in Tuberville's first year.

Munchie Legaux and Brendon Kay return at QB and will battle it out in fall practice to decide who gets the nod. Kay ended the year as the starter and capped the season on fire. Kay threw for nearly 1,300 yards in six games with a 5:1 TD to interception ratio. Kay seems more like a Tuberville type signal caller, but if Legaux can limit turnovers in camp then he may take his job back. The offensive line is possibly the best offensive line in the AAC, giving Tuberville the option to run the ball all he wants. Ralph David Abernathy will look to replace George Winn's 1,370 yards at RB and will have the luxury of running behind the aforementioned line.

Defensively, the Bearcats feature very good linebackers featuring 1st team All-Big East MLB Greg Blair and Florida State transfer and former five-star recruit Jeff Luc. The defensive line and the secondary both lose key pieces, but could surprise people this year in a weaker conference. Adrian Witty is the returning leader in sacks and plays CB. Clearly, somebody must step up; Jerrell Jordan could be that man as he was a highly recruited junior college player and has the ability to get to the passer. Tuberville's style of play will help this inexperienced unit out. Plus, if the defense takes a step back from last season, it could still be a solid unit as last season's performance was spectacular.

While Butch Jones exits to take over for the Tennessee Volunteers, Tommy Tuberville could be the best possible man to come in and produce immediate results. He is an established name that the players will respect. The Bearcats have a couple Big Ten opponents to open the season with Purdue and Illinois. The Bearcats end the season at home against Louisville on Thursday night. If I were to pick Louisville to lose one game this season, I would expect the clock to hit midnight in Cincinnati as the Bearcats win on national television.
4. South Florida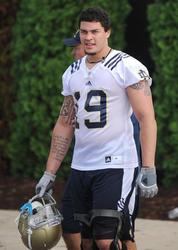 DE Aaron Lynch
Another season, another head coach. This year, Willie Taggart inherits Tampa's finest after leading Western Kentucky to two consecutive winning seasons after inheriting an awful Hilltopper program. He is living in heaven inheriting a roster full of talent that has also proved nothing as shown by their 3-9 record last year.

Last year, BJ Daniels had an underwhelming senior season, but his absence will not go unnoticed in 2013. Also, leading rusher Demetris Murray is no longer around and senior Marcus Shaw will most likely be his replacement. Senior QB Bobby Eveld at least bring experience from limited game action and could improve upon Daniels' pedestrian stats. The offensive line dealt with injuries last season and returns three starters this year. And finally, the receivers could be the best unit on offense with its top three receivers returning along with former four-star recruit Chris Dunkley who only played in four games last year.

Defensively, I am excited about the Bulls' potential. I am predicting that Aaron Lynch will win Defensive Player of the Year honors in his first season with USF after transferring from Notre Dame, where he dominated as a freshman. Lynch will team up with All-Big East performer Ryne Giddins to provide the best DE duo in the AAC. DeDe Lattimore returns at linebacker where he earned second team All-Big East honors in 2012. The secondary was average last year allowing 3,028 yards through the air and only recording one interception. I expect improved play by this group with more pressure applied to opposing QBs.

Overall, I have the Bulls ranked higher than most. I believe this team has severely underachieved the last two years and Willie Taggart is a program-builder. The AAC is weaker than last year's Big East and the Bulls can recover from last season's 3 win output with greater ease.
5. Houston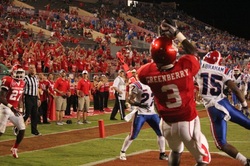 WR Deontay Greenberry
Houston moves up a notch to the new AAC and will certainly be tested as they try to capture a winning season for the first time in the Tony Levine era. This year, the Cougars draw most of their winnable conference games at home: SMU, Cincinnati, USF, and Memphis. Trips to Louisville and UCF should be losses, but I anticipate those two teams to be handing out a lot of losses regardless of venue.

The Cougars were an offensive team last year, averaging just under 33 points per game; and the offense will continue to be the team's forte as 10 starters return. David Piland had a decent year in 2012 and should improve behind one of the better offensive lines in the AAC. Piland will also benefit from throwing to some of the best receivers in the league including former five-star recruit Deontay Greenberry who enters his true sophomore season. Defensively, you can expect teams to score as the Cougars failed to stop teams last year and are even more inexperienced this year. LSU transfer Trevon Randle should help improve the linebackers as he lines up next to 2nd team All-Conference USA selection Derrick Mathews. The defensive line is weak and could struggle to defend the run.

Houston and SMU will probably battle it out for fifth place. The Cougars will rely on their explosive offense to outscore opponents. If the defense improves in Levine's second season, this team could surprise people in year one of the AAC.
6. SMU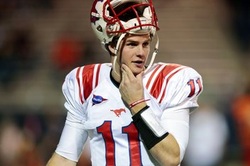 QB Garrett Gilbert
June Jones, now in his 6th year at SMU, has built the program into a consistent 7-8 game winner. Expect this year to be no different. SMU is fortunate to avoid Louisville, but draws Texas A&M and TCU on the road. In fact, many of their big match ups occur on the road, which is unlucky for a team that went 1-4 on away sites last year. However, with an expected rise in performance for their quarterback and an experienced head coach, SMU should follow their usual path and finish with a winning record as well as a good shot at a bowl.

On offense, they return their senior quarterback Garrett Gilbert, a University of Texas transfer with BCS Championship game experience in 2009. After starting slow, Gilbert raised his completion percentage from 49% to 57% during the 2nd half of last year. With another year under his belt on campus, Gilbert should be more comfortable in the system and should make progress this year. On the defensive side, their line is young and inexperienced, and will miss the presence of Margus Hunt. SMU also loses 2 out of their 3 top linebackers. It may take some time for the Mustang's defense to get to peak form, but with veteran leadership in their secondary SMU should be able to hold their own.

After having 1 winning season from 1989-2008, SMU fans should be very pleased the way things are going under June Jones. I expect SMU to break 10 wins soon under Jones, but this year with their difficult away schedule it seems as though it will be another 7 or 8 win season in Dallas.


7. Connecticut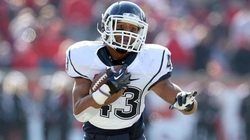 RB Lyle McCombs
After Coach Randy Edsall left for Maryland, UConn has experienced a dip in their performance. Only 12 years removed from being a Division 1-AA team, UConn made it to the Fiesta Bowl in 2011. Since then, they have had back to back 5-7 seasons under Coach Paul Pasqualoni. UConn has a difficult schedule; they have Maryland, Michigan, and Louisville all coming to Hartford to play them. Although they should improve, their schedule will make it hard for them to prosper.

What headlines this UConn offense is the offensive line's experience. They return 4 out of 5 linemen, and although they struggled last year, I think there can be significant improvement this year. They also return their quarterback and running back, and with some more experience in general, UConn should see more success coming from the offense. Defensively, they are not nearly as experienced, but they should not drop off from last year too much. They lose some stars on the defensive line, but with their linebackers and defensive backs the Huskies will be close to the production of last year.

UConn has the potential to be a solid team this year, but they will need to win some tough games to get to a Bowl. I do not see them regressing from last year, but due to their difficult schedule, it will be hard to become bowl eligible. Expect the Huskies to have another 5 or 6 win season this year.


8. Rutgers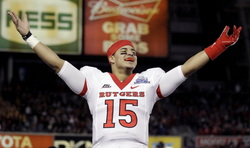 QB Gary Nova
The Scarlet Knights had a huge season last year under first year head coach Kyle Flood. Unfortunately, I don't see 2013 going as well as 2012 did due to some significant losses.

I've been previewing most teams' offenses first, but out of respect for the 2012 Rutgers defense, I'll provide my outlook of the defense first. Unfortunately, I can't provide a glowing outlook because this year's version should be significantly worse. However, after allowing only 14.2 points per game in 2012, being significantly worse may not be all that bad. The Knights lose six of their eight top tacklers including two-time Big East Defensive Player of the Year Khaseem Greene who was the heart and soul of the defense. Jamil Merrell, Darius Hamilton, and Marcus Thompson should provide a very solid trio along the defensive line. The back seven is inexperienced, but talented. Still, a major drop off is expected.

Offensively, I anticipate improvement. The offensive line should be one of the better lines in the AAC led by Kaleb Johnson, Antwan Lowery, and Andre Civil. Savon Huggins was very good last season as the second option behind Jawan Jamison. He takes over in the startin grole and should exceed 1,000 yards. Gary Nova returns at QB--and although he has been mediocre--he provides stability and consistency. I expect him to have his best season yet. Miles Shuler is a burner who could have a breakout season if Nova can deliver the deep ball.

Rutgers misses out on playing Memphis, the only team in the new AAC they will not meet. Also, the Scarlet Knights welcome Arkansas to town three weeks after flying out to Fresno State. Sandwiched in between these two difficult games are home games against Norfolk State and Eastern Michigan, both must-wins. While this could be a down year, fans simply cannot wait until next season when Rutgers moves to the Big Ten, which could provide provide the necessary platform to reach the next step as a program.
9. Memphis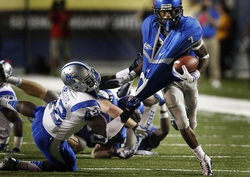 WR Keiwone Malone
In Justin Fuente's first year as head coach, his arena football playing experience proved unhelpful as the Tigers finished with a 4-8 record while playing an easy schedule. This year they kick-off the season with Duke, which is certainly a step up from last year's Tennessee-Martin, whom they lost to. Even though it was an unsuccessful year, they finished on a three game winning streak beating Tulane, UAB, and Southern Mississippi convincingly. Memphis plays a harder schedule this year headlined by Louisville, so I expect Memphis to have another rough season.

Quarterback Jacob Karam was very efficient last year, throwing for 14 touchdowns and 3 interceptions. The problem is he will need to throw many more touchdowns in order to keep this Memphis team relevant in the AAC. Memphis had 1,999 passing yards last year while their opponents combined to average nearly 3,000. Clearly their offense is lacking, but their defense is a bright spot. Memphis had Conference USA's number one defense last year, and they return 8 starters. Expect for the defense to keep them in some games, but they will need major improvement on the offensive side.

Look for Memphis to struggle in the move from Conference USA to the AAC. The schedule is tougher, and there are too many holes that must be filled in order to compete in the new conference.


10. Temple
QB Connor Reilly
Similar to the situation at UConn, Temple is experiencing less success since the departure of their former coach, Al Golden. Golden is now down in Miami turning that program around, while Temple is recovering from a 4-7 season. Temple's big games include playing Notre Dame in South Bend and Louisvile. A big question mark lies in their coach, Matt Rhule, who has never had a head coaching job. If the Owls get 4 wins this year, it would be a success in Philadelphia.

The quarterback position is up for grabs as Connor Reilly, Chris Coyer and Kevin Newsome are all competing for the job. At the running back position, they lose two great backs in Montel Harris and Matt Brown. Their receiving core is experienced, as they only lose CJ Hammond. Defensively, their line is inexperienced; they only return one starter. Their linebackers are their strength, and should keep this defense from falling apart.

Coach Rhule is about to undergo a very difficult first season. They do not add much depth, and they lose some playmakers from last year's team. Hopefully Rhule will be able to bring this Temple program back to where it was under Golden, but this year is not the year.