2013 ATLANTIC COAST CONFERENCE PREVIEW
By Mike Nowoswiat
August 1st, 2013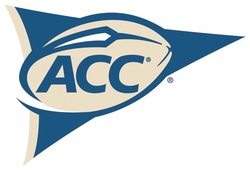 The Atlantic Coast Conference welcomes two new members in 2013: Syracuse and Pittsburgh. Both give the league more stability and bring with them rich histories. Syracuse loses both its head coach and all-time passing yards leader Ryan Nassib to the NFL so the Orange will probably struggle in their inaugural year. However, fans will be happy to know that they have a stable future as a big-time college football program with its new-found home.
Clemson and Florida State will battle as for Atlantic Division supremacy. Last year, I thought it was very clear that FSU would finish first and Clemson would finish second. This year, with Tajh Boyd's return and Clemson hosting their matchup, I am not only predicting the Tigers to win the Atlantic, but
I am predicting Clemson to win the ACC
.
The Coastal is an absolute mess, but I believe it is stronger than it has ever been. If Miami, Georgia Tech, Virginia Tech, and North Carolina play to their respective potentials, there is no reason why the ACC can't be the second best conference in 2013. I am predicting Miami to win the division because I believe Al Golden will take the next step in his third year. However, Vad Lee, Logan Thomas, and Bryn Renner are all excellent QBs capable of leading their teams to the Conference Title.
However it shakes out, we cannot wait for ACC football to begin!
CLICK THE DIVISION NAMES FOR FULL PREVIEW:
1. Clemson

2012 Record: 11-2
Defense Returning Starters: 6
Offense Returning Starters: 6
Head Coach: Dabo Swinney

2. Florida State

2012 Record: 12-2
Defense Returning Starters: 4
Offense Returning Starters: 7
Head Coach: Jimbo Fisher

3. Maryland

2012 Record: 4-8
Defense Returning Starters: 5
Offense Returning Starters: 7
Head Coach: Randy Edsall


4. Wake Forest

2012 Record: 5-7
Defense Returning Starters: 8
Offense Returning Starters: 7
Head Coach: Jim Grobe

5. North Carolina State

2012 Record: 7-6
Defense Returning Starters: 5
Offense Returning Starters: 5
Head Coach: Dave Doeren


6. Boston College

2012 Record: 2-10
Defense Returning Starters: 10
Offense Returning Starters: 8
Head Coach: Steve Addazio


7. Syracuse


2012 Record: 8-5
Defense Returning Starters: 6
Offense Returning Starters: 6
Head Coach: Scott Shafer


1. Miami

2012 Record: 7-5
Defense Returning Starters: 8
Offense Returning Starters: 10
Head Coach: Al Golden

2. Georgia Tech

2012 Record: 7-7
Defense Returning Starters: 8
Offense Returning Starters: 7
Head Coach: Paul Johnson

3. Virginia Tech

2012 Record: 7-6
Defense Returning Starters: 9
Offense Returning Starters: 6
Head Coach: Frank Beamer

4. North Carolina

2012 Record: 8-4
Defense Returning Starters: 7
Offense Returning Starters: 6
Head Coach: Larry Fedora

5. Virginia

2012 Record: 4-8
Defense Returning Starters: 7
Offense Returning Starters: 9
Head Coach: Mike London

6. Pittsburgh


2012 Record: 6-7
Defense Returning Starters: 5
Offense Returning Starters: 8
Head Coach: Paul Chryst


7. Duke

2012 Record: 6-7
Defense Returning Starters: 7
Offense Returning Starters: 7
Head Coach: David Cutcliffe