WEEK 16

BRETT CIANCIA
December 12th, 2013
NAVY vs. ARMY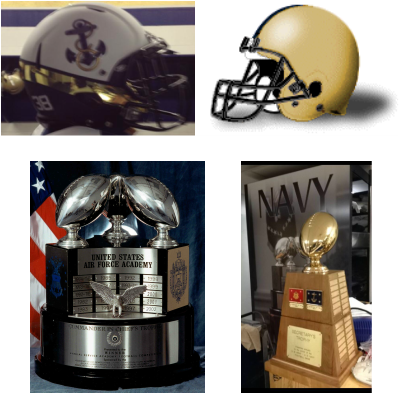 Saturday December 14th, 3:00, CBS. At Philadelphia
One of our nation's greatest traditions returns to the Gridiron on Saturday; The Army-Navy Football Game. Every December the stadium is filled with Midshipmen and Cadets in full uniform cheering the famous "GO ARMY BEAT NAVY", and "GO NAVY BEAT ARMY." These hosses grind it out for 4 quarters with each and every yard a hard-fought battle.
Navy has had its fair share of ups and downs this season, going 7-4 with wins over Indiana, Pitt, Air Force, San Jose State, and others. The Midshipmen have experienced both emotions of overtime, losing a tough one at Toledo, but outlasting San Jose State in a record-setting game for QB Keenan Reynolds who rushed for SEVEN Touchdowns. Reynolds' 7 rushing scores in one game is one less than Johnny Football's entire season! On the season, Reynolds has 26 rushing TD's, one away from Kaepernick's NCAA record for quarterbacks. But his leadership has been the catalyst behind this successful season. Let's not forget that this Navy squad took Notre Dame down to the wire, losing by just 4 points!



On the other side of the battle, it is life after Steelman, the 4-year starting quarterback at Army. Many felt that last year was the year for Army to finally break through and end Navy's streak. The game came down to the final possession, but Steelman uncharacteristically fumbled the ball, fumbling away Army's upset dreams.
This fall, the Black Knights are 3-8 with wins over Eastern Michigan, Louisiana Tech, and D-1AA Morgan State. This Army program hasn't experienced a win in this rivalry since 2001...they will be fired up as always to reclaim the Secretary's Trophy.
Army actually averages more rushing yards per game - but unit-wise, Navy is stronger both offensively and defensively.
Navy has already clinched a bowl bid (Armed Forces Bowl vs. Middle Tennessee State), but Coach Niumatalolo will have his squad focused and motivated to make it 12 in a row, and defend the CIC Trophy... Navy by 12 (points and years).
GO NAVY ... BEAT ARMY