NATIONAL CHAMPIONSHIP PREDICTION

Who will face off in the final BCS National Championship Game?

BRETT CIANCIA
August 5th, 2013
The BCS era has certainly produced some all-time great games that remind us why we love the sport: 2003 Fiesta Bowl (Ohio State - Miami), 2006 Rose Bowl (Texas - USC), and 2006 Fiesta Bowl (Boise - Oklahoma) all come to mind. However, this era has been plagued with controversy. Every December, it has become a Holiday tradition to gripe about the BCS and strongly argue the case for the #3 team. Who could forget when "the Computers" put #4 Nebraska in the title game over #2 Oregon? Or when an Undefeated, SEC Champion Auburn squad was left with no shot at the title? The year when 2-loss LSU was picked over several 1-loss teams...and WON. Or the monstrosity that was 2009, when 5 teams were undefeated at season's end...the list of failures goes on and on. This will be the final season under the current BCS system, with the favorable 'Final 4' playoff setup to begin in 2014.
You almost get the feeling that the BCS will have one last laugh, and give us utter chaos in December.
I'm talking 6, even 7 unbeatens, or a logjam of 2-loss squads. Something crazy will happen; and surely Boise will be involved in some way.
In the event that we get a more 'normal' Championship race, the two questions remain: Can anyone halt the 'Bama dynasty that rolls on into Year 3? Or, if Alabama isn't crowned the league champs in Atlanta on December 7th, can someone outside of the SEC hoist the crystal ball?
Here is our prediction for who will face off in the final BCS National Championship Game, followed by three additional title contenders that can potentially end the Crimson Tide's reign:
#1 Alabama vs. #2 Ohio State

As you can see from our
Preseason Top 25
, these are simply the best two teams in our opinion. After factoring in their very manageable schedules, we forecast perfect regular seasons for both squads. Both will have to play in difficult conference championship games - Bama will face (most likely) South Carolina or Georgia, while Ohio State will get either Nebraska or Michigan (in a 7-day rematch) from the Legends Division. This National Championship Game would carry several key storylines, starting with the head coaches. Nick Saban is the only coach to win BCS National Championships with 2 different schools; his counterpart, Urban Meyer, will be attempting to join him ('06 and '08 Florida). Saban and Meyer faced off several times in the SEC highlighted by two #1 vs. #2 matchups in the 2008 and 2009 SEC Championship Games. Ohio State would be entering the game with a nation-leading 25 game win streak, yet Alabama would enter as the defending champions - a moniker that Columbus, Ohio
is also accepting
. This could have the Heisman star power of the great 2006 Texas-USC game; AJ McCarron, Braxton Miller, and even RB TJ Yeldon are legitimate Heisman candidates and are aiming for a seat in NYC in early December. When all the hype subsides and the ball is finally kicked off, this would surely be a competitive, hard-fought title game (unlike last season).
Ultimately we see Alabama hoisting the crystal football again, but if there is a coach to knock off Saban, it is Urban Meyer. The Buckeyes are stocked with talent and speed and will fight for every inch in this one.
- OTHER TITLE CONTENDERS -

STANFORD CARDINAL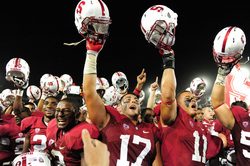 While Urban Meyer is the perfect coach to knock off Saban, Stanford has the perfect roster to out muscle the Crimson Tide. The problem is getting there, as this schedule will be very difficult to navigate unscathed. First, there's the heavyweight bout against Oregon. Then a tough out-of-division schedule with matchups against the South's Top 3: Arizona State, USC, and UCLA. On top of all that, they close the regular season against Notre Dame and would then have to rematch a South opponent in the title.
The reason Stanford can do it - that is, go undefeated and take down Alabama - they have the power up front and on defense
to go toe-to-toe with the Crimson Tide. I go back and forth between Stanford and Alabama for the title of 'Nation's best defense'. All 8 returning starters are candidates for the All-PAC12 teams! What has separated the SEC from the rest of the nation is their strength and depth in the trenches. Stanford's O-Line could be the nation's finest, and its defensive front 4 is nasty. The Cardinal Linebacker core is especially strong. If QB Kevin Hogan can continue to progress as a starter, and if a few offensive skill players can emerge (Barry Sanders Jr. is gearing up), Stanford looks like one of the nation's most complete teams, and has the potential to unseat the SEC.
SOUTH CAROLINA GAMECOCKS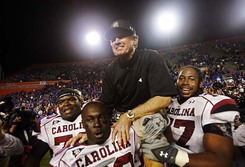 South Carolina is our pick to emerge from the Top 3 pack in the SEC East. Last season, SC, Georgia, and Florida all traded games going 1-1, but it was Georgia that got the nod to the SEC title game, and came within 3 yards of defeating Alabama and booking their trip to the BCS National Championship. This year, with a stout defense led by Jadeveon Clowney, South Carolina could be that team. Georgia loses so much defensive talent and will be limping into the week 2 matchup coming off a physically draining opener in Clemson. Look for another year of maturation for QB Connor Shaw - this is Spurrier's best team yet and they deserve to be placed in the National TItle discussion. A heavyweight bout with our final 'Title Contender
' Clemson awaits on Rivalry Weekend.
This could be the strongest point in the Palmetto Bowl, and the interstate hatred is at all-time highs this offseason.
CLEMSON TIGERS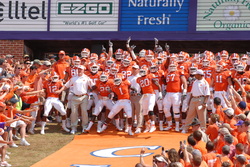 It has become a verb throughout the college football world recently: 'Clemson-ing' - to underachieve, underperform, and choke on the National stage. The good news for the Tigers is that they will have several chances this season to end the parody. They open the season hosting fellow Top-10 team Georgia, and will close the season with in-state rival South Carolina. Those two bookends coupled with the de facto ACC title against Florida State provide a trio of marquee games to help prove themselves. The offense could be one of the nation's best: QB Tajh Boyd returns and has 2011 All-American Sammy Watkins at WR, who is looking to bounce back after a rocky 2012 campaign. Clemson has recruited well under Dabo Swinney, but must finally convert that into on-field success. Look for defensive improvement under former Oklahoma DC Brent Venables, now in his 2nd season at Clemson. The Tigers have a daunting schedule ahead of them, but have the needed talent and firepower and have a shot to make it through without a flaw.