Never Been Ranked: 2013 Preseason Edition

Brett Ciancia


August 14th, 2013
Out of the 126 Division 1-A football programs, just 21 unfortunate teams are yet to find a number next to their name in the weekly Top 25 rankings. While some of these 21 are newly established programs, or just recently made the jump up to the 1-A level, there are several perennial losers waiting to break into the Top 25. Listed below are those 21 teams, followed by 3 candidates to break through into the Top 25 rankings this fall:


AKRON



ARKANSAS STATE



BUFFALO



EASTERN MICHIGAN



FLORIDA ATLANTIC



FLORIDA INTERNATIONAL



GEORGIA STATE


IDAHO



MASSACHUSETTS



MIDDLE TENNESSEE STATE



NEW MEXICO



OLD DOMINION



SOUTH ALABAMA



TEXAS STATE


TROY



UAB



UL-MONROE



UNLV



UT - SAN ANTONIO



WESTERN KENTUCKY



WESTERN MICHIGAN

---
3 Candidates to break into the Top 25 this fall:


WESTERN KENTUCKY HILLTOPPERS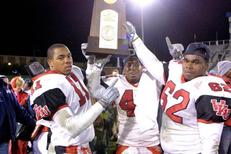 WKU - 2002 National Champions (Division 1-AA)

I am not suggesting that WKU will or should beat two SEC teams to start the season, but the two that they do face are beatable: Kentucky is undergoing a coaching change, and Tennessee is a lower-tier SEC team. If WKU can pull one of these upsets, the schedule sets up nicely to go on a long win streak. Using Kent State's early loss, long win streak method, WKU is a candidate to leave this club of mediocrity.

ARKANSAS STATE RED WOLVES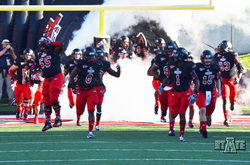 Arkansas State's entrance into Liberty Bank Stadium

The Red Wolves are the only team on this list to receive ANY votes in the initial Coaches Poll. Even though it is a measly 1 vote, at least they are on the radar. Similar to WKU, ASU gets two early season SEC tests: Auburn and Missouri. Fellow Sun Belt member UL-Monroe almost broke down Auburn last September...if ASU can finish the deal this year, their ranking outlook would rise heavily.



UAB BLAZERS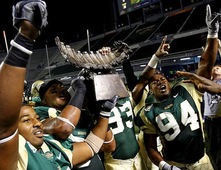 UAB hoisting "The Bones" after beating rival Memphis

Despite going just 3-9 last season, UAB did play Ohio State closely into the 4th quarter. They will surely lose down in the Bayou to LSU in Week 2, but if the Blazers can muster up an upset bid against Vanderbilt, they may gain some steam in the polls. 16 starters return and this is the second year under coach Garrick McGee. An opening road trip to Troy will be difficult, as will be the trip to Marshall. However the Blazers played Troy close and actually knocked off Marshall last November.

| | |
| --- | --- |
| Who did we miss, #PickSixNation? Tweet us who you see breaking through and why: | |