Week 6
October 13th, 2013
By Julian Pritcher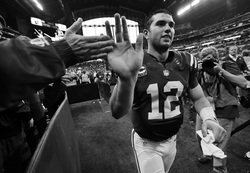 Indianapolis @ San Diego

This will be the first time we get to watch Andrew Luck in primetime. Playing a defense that gave up 27 points to Terrelle Pryor and the Raiders, he is sure to look impressive. His job is so much easier now that they have a run game. He only completed 16 passes in a win over Seattle. Chuck Pagano seems to have figured out that the formula for football success at Stanford works in the NFL as well. Run the ball. Run the ball. Run the ball. Even with Luck, the Colts are fourth in the league in rushing behind a two headed monster backfield of Ahmad Bradshaw and Trent Richardson. Unfortunately for Indy, one of the heads was recently loped off. Bradshaw is scheduled to have season ending back surgery. Richardson now carries the load and the Colts are even more satisfied with their trade with the Browns.

Luck and company seem to like California. The last time they traveled there, they beat the NFC champion 49ers in dominating fashion. Expect similar results this time around on the Golden Coast.

The Pick: Indianapolis 27, San Diego 16

New Orleans @ New England

Last week, the Saints made the nail biter in Tampa Bay look like a complete fluke. Brees went in to Chicago, on a short week and completed 29 of 35 passes, a model of efficiency. But what else did you expect? It's Drew Brees. He has been doing this ever since he got to the Big Easy.

Tom Brady has the same poise and accuracy as Brees, but the Golden Boy lacks the tools to put it all together on the field. He is still throwing to short white guys, but the good ones all play for different teams now. Danny Woodhead is Philip Rivers' favorite target in San Diego. They even let him run the ball, probably more than they should. You almost forget about Wes Welker over in Denver with that offense. He isn't Peyton Manning's primary target like he was with Brady. Now the Patriots have a middle class man's Welker in Danny Amendola and a former quarterback playing receiver. Even with Gronk coming back, the Patriots would rather have a former basketball player playing tight end(Jimmy Graham), than a former quarterback playing receiver.

The Pick: New Orleans 31, New England 27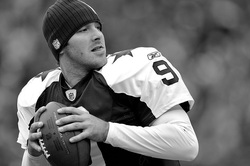 Washington @ Dallas

"Moral Victory" or not, the Cowboys still lost to Denver last week. Tony Romo outplayed the greatest quarterback of this generation. Both teams traded touchdowns back and forth until Romo lost like only he could; by throwing it to the other team. Even so, the Cowboys looked dam good. The Broncos have one of the worst pass defenses in the league and luckily for Dallas, Washington's isn't any better. Even after a bye week to prepare, the Redskins still can't cover or tackle. Romo will bounce back for the Cowboys second straight home game. Expect Dez Bryant to have a huge game.

The Pick: Dallas 24, Washington 17

Cincinnati @ Buffalo

Good for the Bills: Pro Bowl safety Jairus Byrd and cornerback Stephon Gilmore will play in this game. Bad for the Bills: Thad Lewis will play in this game. The second year quarterback will start in place of EJ Manuel who is out with a knee injury and in front of Jeff Tuel who had a dismal performance against the Browns last Thursday. Buffalo would have a chance if they had their start, since the Bengals are a bad road team. Thad Lewis won't outplay Andy Dalton though and that Bengal defensive line will wreak havoc on the former Duke quarterback.

The Pick: Cincinnati 23, Buffalo 10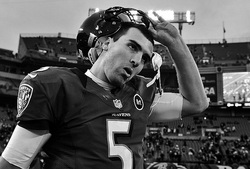 Green Bay @ Baltimore
Green Bay hasn't proven to be a good road team. At 2 – 2, they have lost both games away from Lambeau. Still, they have lost narrowly on the road to San Francisco and Cincinnati, both good teams. So where are we at with Green Bay? Their road losses may be more impressive than their home wins against Washington and a Nate Burleson-less, Calvin Johnson-less Detroit Lions team, which had a receiving corps that resembled an FCS school.
So I'll base my prediction off of the close losses to San Francisco and Cincinnati: when Aaron Rodgers turns the ball over, the Packers lose. Sure, his 333 yard, 3 TD, 1 INT performance against San Francisco didn't exactly lose the game, but, as a former MVP, Rodgers has unfair expectations. The Packer defense isn't good enough to mask offensive mistakes, especially now that Clay Matthews is out for about a month. Aside from a head-scratching loss to Buffalo, Baltimore's resume is about as good as it gets.
The Pick: Baltimore 33 Green Bay 24
Detroit @ Cleveland
The Cinderella story of 2013 will have to do so without its Cinderella against the Detroit Lions. Brian Hoyer was once again looking good against the Buffalo Bills until Kiko Alonso ended his season after a first-down scamper. In comes Brandon Weeden and the Browns offense still looks unexpectedly explosive. Josh Gordon is a budding star who could have had about 200 yards receiving if Weeden connected on a few more passes, albeit against a depleted Buffalo secondary.
The Detroit defense, however, is healthy and talented; and, yes, for the first time in a very long time, we can say that the secondary is talented. Now that Calvin Johnson is active, the offense should be able to put some points on the board, unlike last week. Detroit is a better team than Minnesota and Buffalo, and I think we will see the better team, and better quarterback, win the game.
The Pick: Detroit 27 Cleveland 17