NFL LOCK of the WEEK
Playoffs - Super Bowl

Super Bowl XLVII:
San Francisco 49ers vs. Baltimore Ravens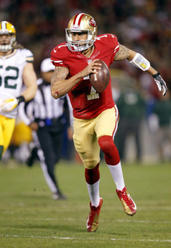 We've waited 22 weeks since the season started, but the culmination of the National Football League in finally here; Super Bowl XLVII. Both Baltimore and San Francisco have no doubt earned their spot in the championship game, but both teams could not have taken more different paths to reach it.
After last season's success, most people expected the 49ers to achieve even more in their second season under Jim Harbaugh. With almost the entire roster returning, San Francisco more than lived up to these expectations. Alex Smith seemed to be thriving again in a balanced offensive scheme that allowed him to manage each game. Who could argue with Smith's 19-5 record as a starter under Harbaugh? No one; except for then back-up Colin Kaepernick.
Kaepernick was set to start during week eleven on Monday Night Football. Controversial or not, the decision to start him for the injured Smith was the right one. The lanky speedster, known for making plays with his feet, proved himself against Chicago when he dropped a
perfect pass
into the arms of Kyle Williams along the sideline. His legend has only grown larger, beating Tom Brady in Foxborough, breaking Michael Vick's single-game
rushing record
, and leading the 49ers to the Super Bowl in only nine starts.
With 92 starts under his belt, Joe Flacco leads the Baltimore Ravens to their second NFL Championship in franchise history. But after a loss to the Eagles, and unimpressive showings against Cleveland and Kansas City, the Ravens were criticized early on. And with injuries to Jameel McClain, Lardarius Webb and Ray Lewis, their ability to play elite defense had fallen off. The season was on Flacco's shoulders, something that seemed daunting at the time.
---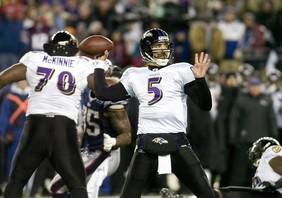 Baltimore barely beat the Steelers with Byron Leftwich, and should have lost to the Chargers if not for a missed block-in-the-back call on Anquan Boldin. Then the slump came, as they lost four of their last five games and stumbled into the playoffs.

But Baltimore played best when it mattered most and the results are hard to argue with. The man responsible for this success is none other than Flacco, who has some good company at the top during this postseason run. Flacco has thrown for 8 touchdowns and no interceptions in the Raven's three playoff games so far. Only Steve Young and Joe Montana have more touchdown passes without a pick in the postseason. So what does this say about Flacco's play in 2013? It's legendary. Montana and Young not only won Super Bowl's with those stats, they were named Super Bowl MVPs.

Flacco couldn't have accomplished any of this without a steady offensive line, something that has been a weakness for the Ravens throughout the regular season. All that changed in the playoffs where Baltimore rearranged their line for the better. Michael Oher moved over from left to right tackle. Back-up Bryant McKinnie assumed Oher's duties on the left side, while Kelechi Osemele moved inside to the left guard spot. Now, reshuffling your offensive line before playing the likes of Dwight Freeney and Von Miller usually spells disaster, but the Ravens have thrived. Baltimore has given up just four sacks in three games. Flacco has had time to use his arm strength to throw deep downfield, a strong point for the Raven's offense.

The trend of Baltimore's O-line keeping Flacco untouched should continue, since the 49ers pass rush hasn't been producing in the playoffs. Aldon Smith and company have a mere two sacks in two games this postseason. For a team that averaged 2.3 sacks a game during the regular season, that doesn't cut it. But even with their lack of pressure, the 49ers will still be able to keep Baltimore off balance by stopping their running attack. The Ravens have had a steady ground game through three postseason games, but these yards came against more finesse defensive fronts. The 49ers will force Flacco into long down and distance situations, where he has shown inconsistencies throughout his career.

San Francisco's offensive line is no slouch either, helping the Niners rushing attack to a whopping 6.6 yards per carry. As if Frank Gore and LaMichael James weren't enough, the pistol formation should allow for Colin Kaepernick to break off a few runs as well. At this point, Kaepernick will have the option for play-action on every pass play out of the pistol. Vernon Davis and Michael Crabtree should have good games against the slower Ravens secondary.

Watch for Davis to be given favorable match-ups against Baltimore linebackers and safeties, specifically Bernard Pollard and Ray Lewis. Though Lewis has had an outstanding three games this postseason (leading all players with 44 tackles), he has lost a step in pass coverage. Ed Reed isn't as fast as he once was either and tends to be over-aggressive playing the pass.

San Francisco's comfort level will give them more confidence as well. The Superdome, site of Super Bowl XLVII, was where Kaepernick made his first career road start against the Saints. For young Kaepernick, familiarity with the field should help him settle in to the game early. This will help him make the right reads in the run game, which will open up the passing lanes for downfield completions. The balance that the 49ers bring on offense will expose Ray Lewis and Ed Reed as older, slower veterans.

The Pick: San Francisco by 4
---