WEEK 14: Rivalry Week

November 27th, 2013
By Mike Nowoswiat, Brett Ciancia, and Julian Pritcher
OHIO STATE at MICHIGAN


Saturday Nov. 30th, Noon, ABC. AT Michigan Stadium
Urban Meyer is attempting to secure his second straight undefeated regular season, and keep alive the Buckeyes' BCS National Championship dreams, but first, a trip to the School Up North. Michigan quarterback Devin Gardner guarenteed victory over "Ohio" way back in the summer. #98 might be eating his words a little around 4pm Saturday, as the Wolverines are significantly out-manned here. In the time since his guarantee, Michigan has gone 7-4 losing to Penn State, Michigan State, Nebraska, and Iowa, while nearly losing to Connecticut and Akron. In back-to-back weeks in October, the Michigan offense was held to negative rushing yards (Michigan State and Nebraska). At times #98 has looked confused in the pocket, and has been totally inept with decision-making. Coach Brady Hoke continues to look puzzled on the sideline (and rarely wears a headset). The other half of this rivalry is flying on all cylinders, currently riding a school-record win streak of 23 games. QB Braxton Miller finds himself back in the Heisman discussion despite early season injuries. And don't forget their tank of a halfback in Carlos Hyde - the man is a force. Crazy things happen in this series, I understand that. But if Urban Meyer managed to focus his team weekly last year with no BCS prize in sight, imagine this fall with the crystal football within reach. Meyer will rally the Men of the Scarlet and Gray and I expect the Buckeyes to totally outclass Michigan - in the Big House. Ohio State 38 Michigan 20

ALABAMA at AUBURN


Saturday Nov. 30th, 3:30. CBS. AT Jordan-Hare Stadium
Well, not only does this have National Title implications (yet again), but both teams involved have legitimate chances at the Coaches' Trophy. Alabama, of course, is the number one team in the country and has looked invincible as of late. Auburn could potentially jump Ohio State with wins against Alabama and the SEC East Champ, and an Ohio State loss in the next two weeks is certainly possible. The "brains" of the 2010 Title team, Gus Malzahn, has gotten our votes for Coach of the Year as he has turned around this program unbelievably fast. RB Tre Mason and QB Nick Marshall have formed one of the best backfield tandems in all of college football. Marshall is a true threat to run the ball and has made a living making timely play after timely play (Georgia game anyone?). Unfortunately, he has not seen a defense close to Alabama's caliber. Will he be able to do what Johnny Football did to the Crimson Tide secondary? I don't think so, even if he had Mike Evans to throw the ball to. The Alabama linebacking corp is the best in the nation, which does not bode well for a run-based attack. And while Auburn is ranked the fourth-best team in the nation, I still believe there is a large gap separating Alabama and Florida State and the rest of the nation. There is a clear talent discrepancy in this game—all you have to do is look with your eyes—but it is the Iron Bowl. Auburn will need another super-hero type game from one of its impact players. The 2010 Alabama team was also more talented than Auburn, but it didn't have Nick Fairley or Cam Newton. Can Auburn pull this game off? Absolutely, especially at home. But I'm not counting on it…Alabama 32 Auburn 20

CLEMSON at SOUTH CAROLINA


Saturday Nov. 30th, 7:00. ESPN2. AT Williams-Brice Stadium
After Clemson went 10-2 in the years prior to 2009, the series shifted in favor of the Gamecocks, who have now won four straight times. Aside from winning a National Title, I'm sure that winning this game is the one thing that Tajh Boyd would like to do most before he graduates. Last year, Boyd was terrorized by Jadeveon Clowney and the Tiger offense could never really get in rhythm. The South Carolina defense has taken a small step back this season, as well as Clowney himself. Not only has Clemson's offense remained explosive, but it has improved as the season has progressed. The emergence of Martavis Bryant across from Sammy Watkins has added another element that makes this offense nearly impossible to defend. Kelcy Quarles and Jadeveon Clowney will need to have big games in order to slow down the Tigers. Quarles' play this season has made up for some of the production lost from Clowney. Last year, the Gamecocks recorded 43 sacks, a number that blows away this year's 19. Both team's looked impressive in their routes of inferior opponents last week and are looking extremely strong heading in to this game. The Gamecocks could have their minds on the Texas A&M/Missouri game in hopes that they will clinch the SEC East with a Missouri loss, while Florida State has already captured the Atlantic Division crown. This game would be a no-brainer for me if the game were being played in Clemson, or if it wasn't a rivalry game. But the game is being played in Columbia and anything goes in rivalry games. Still, I really like how Clemson is playing now, and I will stick with the Tigers…Clemson 33 South Carolina 30

TEXAS A&M at MISSOURI


Saturday Nov. 30th, 7:45. ESPN. AT Faurot Field
Johnny Football looked like Johnny Human last week. I thought that he would play well and eventually join Archie Griffin as the only two-time Heisman winners. How will he play coming off a bad week? Well, we can't really look at history for this one because he has really only had three "bad" games and this is the only time he will have a top-5 opponent the following week. Missouri's defense is greatly improved this season even with Sheldon Richardson's departure. Michael Sam garners all the headlines, but Markus Golden and Kony Ealy have taken advantage of the double teams that Sam draws. James Franklin was eased back into the starting lineup last week against a good Mississippi pass defense, but now has the pressure of sealing the SEC East crown against the former Heisman winner. Fortunately, he will be the only one going against a defense that has allowed an average of 31.2 points per game, and over 500 yards on five separate occasions. I am not sold on Missouri's pass defense, so I can see this game resulting in a shootout. However, with this game being played in Columbia and with James Franklin leading the Tigers--who are undefeated in games that Franklin has played in--I cannot pick the upset...Missouri 42 Texas A&M 30
UCLA at USC


Saturday Nov. 30th, 8pm, ABC. AT LA Memorial Coliseum
This time last year I correctly predicted that UCLA would finally break through and reclaim the City Title, to avenge the infamous 50-0 drubbing. This season, I placed USC 2nd in the South in front of UCLA (all behind the Sun Devils), and despite a mid-season coaching change, that all has held true. Coach "O" has the Trojans playing inspired football and has expressed interest in staying here as a full time head coach. Well Ed, here is your audition. One thing is for certain, this is not the same USC team from September, and has run off 5 straight wins including the upset over Stanford. Meanwhile, UCLA has been beaten up by the conference's Top 3 teams, even with QB Brett Hundley's brilliance. The UCLA defensive front 7 is strong, led by Kendricks and Barr but has a tough task approaching. I am sticking with my gut, especially given the improvements over the last month at USC. The Trojans defend the Coliseum, and reclaim the City Title... Southern Cal 31 UCLA 27

NOTRE DAME at STANFORD


Saturday Nov. 30th, 7pm, FOX. AT Stanford Stadium
These rivals play for the Legends Trophy, but it is also a matchup of the two most bi-polar teams in Division 1 Football - they are elite at their best, but are brutally inconsistent. Notre Dame's win resume is top-notch: Michigan State, Arizona State, and USC. Conversely, the Irish struggled against 1-10 Purdue, and lost to Michigan and Pitt. On the other side of the rivalry, Stanford played elite football in their wins over Oregon and Arizona State but allowed lowly Utah to earn its only conference win.
Surely, Stanford hasn't forgotten the controversial ending to last years game, when Manti Te'o led the "goal line stand that wasn't."
This game has zero impact on conference standings or BCS ties; Stanford is already locked into the PAC-12 Title Game for a chance to play in the Rose Bowl. So if Coach David Shaw can focus and motivate the Cardinal, (which I think he will) then the better, stronger team will win this one.
Stanford 31 Notre Dame 20
- BONUS RIVALRY GAME PICKS -

GEORGIA at GEORGIA TECH

Saturday Nov. 30th, 3:30. ABC. AT Bobby Dodd Stadium
"Clean, Old-Fashioned Hate" will be played in Atlanta this year after the massacre in Athens last year resulting in a 42-10 Georgia victory. This year, we may not see a Georgia defense that will simply out-class Georgia Tech's offense, but we will still see the more talented side wearing red. Of course, Aaron Murray tore his ACL and the game is now more of a toss-up than I thought it would be all season long. Hutson Mason played well in Murray's absence against Kentucky last week, throwing for 189 yards and a touchdown on 68.4% completions. Georgia's offensive line will have its hands full trying to contain Jeremiah Attaochu, who is on another late season tear with six sacks in the last three conference games. However, the Bulldog front has recently dominated the line of scrimmage allowing huge holes for the Georgia run game and thus wide open passing. Georgia's defense has struggled in many games, but I don't think they will allow the Georgia Tech offense to put up too many points because of Vad Lee's troubles under center. However, this game is Georgia Tech's Super Bowl, and there is something to be said about that. While it hasn't worked for the Yellow Jackets eleven of the last twelve years, I am picking them to win in 2013...Georgia Tech 30 Georgia 27
IOWA at NEBRASKA (Heroes Game)


Friday November 29th, Noon, ABC. AT Memorial Stadium
Many on both sides feel this is a forced rivalry game, but when the ball is kicked off on Black Friday - all that goes out the window. This game is crucial for the BigTen standings and could have serious bowl game impact. Coach Kirk Ferentz continues to show why he is one of the conference's finest with another turnaround, while Coach Bo Pelini's squad continues to demonstrate resiliency. This will be BigTen Football at its finest: strong rushing attacks, stingy defenses, frigid weather, and yes, even a rivalry trophy. I expect QB Ron Kellogg III to build off of his performance at Penn State with a full week of starting reps, and for Ameer Abdullah to continue to impress. Blackshirt Randy Gregory will get after Jake Rudock and force some errors. Look for Nebraska to grind out a 6th straight win over Iowa.
Nebraska 24 Iowa 20
DUKE at NORTH CAROLINA (Victory Bell)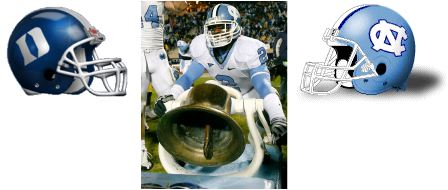 This is probably one of the biggest non-basketball match-ups between these teams. All the nastiness of the Tobacco Road Rivalry is usually saved for the hardwood, but this should be a special game for the football teams. Both the outcomes of this game produce wildly unlikely results. If the Blue Devils win, they claim the ACC Coastal Division title and would go on to play Florida State in the ACC Championship. This is Duke we're talking about here…DUKE! If the Tar Heels claim victory, there is a good chance for a five way tie in the Coastal division. In that case, Virginia Tech would most likely play for the ACC title. While the Blue Devils have the flashy ranking in the BCS poll (24th), UNC has quietly won five games in a row. Four of those games were ACC opponents and most recently, the Tar Heel demolished former FCS power Old Dominion by 60 points. While Duke will have the better RECORD this Saturday, North Carolina will field the better TEAM. Duke has only won two of the last 23 meetings, so I expect another victory in the series for the Tar Heels...North Carolina 24 Duke 20

ARIZONA at ARIZONA STATE (Territorial Cup)


Both teams come into this game having successful seasons under their belt. The Wildcats are bowl eligible and flying high after a huge win over Oregon. Arizona has an outstanding running game, led by Doak Walker Award Finalist, Ka'Deem Carey. Carey gave the Ducks a taste of their own medicine, rushing for 206 yards and four touchdowns. Arizona State has been a bit of a surprise this season. The Sun Devils came into this season unranked. Now, they sit just outside the top ten and have clinched the Pac-12 South title. If things fall their way, ASU could be looking at an at-large bid into a BCS Bowl game. This game will be huge in deciding that fate, and the Sun Devils want to make sure those pesky Wildcats don't ruin their potentially great season. They have the tools to do it too. Quarterback Taylor Kelly and running back Marion Grice provide ASU with a dynamic ground game of their own. Don't underestimate Kelly when he keeps the ball on the read option. The quarterback is an experienced runner and has good speed to get to the outside. Kelly will throw the ball up to his favorite target, Jaelen Strong, in the red zone as well. This game heavily favors Arizona State, who have more talent on both sides of the ball and are playing at home. I like the Sun Devils in this addition of the Duel in the Desert...Arizona State 36 Arizona 20

OREGON STATE at OREGON (Civil War)


Friday November 29th, 7pm, Fox Sports 1. AT Autzen Stadium
This game looked promising about 4 weeks ago, when Oregon was ranked in the BCS Top 2, and the Beavers were passing for over 400 yards a game. Both squads' seasons have been derailed by PAC-12 foes since. Oregon players were a bit arrogant in downplaying the Rose Bowl's significance - the Football Gods heard them and they are now looking at hotels in San Antonio for the Alamo Bowl. Oregon State lost to a D-1AA team to open the season, and hit rock bottom last Saturday night as Washington embarrassed them and put fans to sleep in the upper decks of Reser. Look for Mariota to bounce back and at least defend the State Title. High-powered offenses both ways, but the obvious nod goes to the Ducks. Oregon 45 Oregon State 27

WASHINGTON STATE at WASHINGTON (Apple Cup)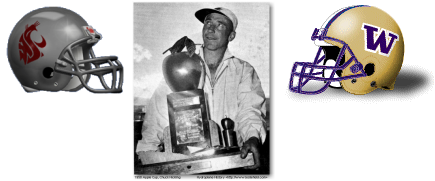 Friday November 29th, 3:30, FOX. At Husky Stadium
Washington State stole back the Apple Cup last year in a 31-28 overtime thriller - but UW Coach Steve Sarkisian will have the Huskies refocused to steal it right back. WSU will return to bowl season after last week's win over Utah (6th win), while UW is looking to finally break the 7-win barrier (7-4 currently). Coach Mike Leach deserves some credit for the turnaround in Pullman, but I cannot overlook the star power at the skill positions for UW. Cyler Miles has filled in nicely for injured Keith Price, and is lucky to be surrounded by such skill. Behind him is a Doak Walker Award finalist in Bishop Sankey, while on the end is Mackey Award finalist Austin Seferian-Jenkins. This is too much firepower for WSU to keep up with. But look out for Pick Six legend Damante Horton, who leads the nation with THREE Pick Sixes this season. Paint the state Purple and Gold: Washington 45 Washington State 28

OLE MISS at MISSISSIPPI STATE (Egg Bowl)


Thursday November 28th, 7:30, ESPN. AT Davis Wade Stadium
The Bulldogs need this game to become bowl eligible, while the Rebels need this game to justify somewhat of a disappointing season. Ole Miss had the number one recruiting class in the nation last spring. That, along with returning starters at running back, wide receiver and at quarterback helped raise expectations in Oxford this season. Aside from a big win over LSU, the Rebels have lost to every quality opponent they've played. Scoring a total of 10 points against Alabama and Missouri were season lows for a team with so much talent. Mississippi State has similar problems, unable to be competitive against the good teams in the SEC. The Bulldogs had a brutal three game stretch, playing South Carolina, Texas A&M, and Alabama in consecutive weeks. The highlight of their season has to be intercepting Heisman hopeful AJ McCarron twice and holding the mighty Tide to a measly twenty points. Alabama underestimated the Bulldogs in somewhat of a trap game. The Crimson Tide were most likely looking ahead to the Iron Bowl, so I don't take too much stock in their performance against a bad Mississippi State team. Ole Miss is more talented on offense and although he's underachieving, Bo Wallace is certainly an upgrade over the quarterback situation down in Starkville. Ole Miss takes another Battle for the Golden Egg in a series the Rebels lead 61-42-6...Ole Miss 26 Mississippi State 17