WEEK 4

September 19th, 2013
By Mike Nowoswiat and Brett Ciancia
CLEMSON at NC STATE


Thursday September 19th, 7:30pm, ESPN. AT Carter-Finley Stadium
Easy pick: Clemson. Right? Ask Florida State. The Tigers have to make the always-difficult Thursday night visit as they take on a team that finished one spot behind them in the division last year. And besides, this is Clemson after all isn't it? For every Georgia win, there is an unexpected loss. However, after all this build up, I will admit that I am picking Clemson. Tajh Boyd is my favorite QB in the nation who provides the leadership needed for his team to go undefeated. There are a lot of other variables that go into a 12-0 season, but Boyd will not be the reason if the Tigers fail. He has thrown three touchdowns in both games this season without throwing an interception, which was the most important stat in the Georgia game. Not to mention, Sammy Watkins looks to be in old form this season and is an upgrade over first-round pick DeAndre Hopkins. However, the Wide Receiver depth will be tested this week due to Charone Peake's season-ending knee injury. Adam Humphries will be his replacement and will be asked to compliment Watkins and Martavis Bryant in the lineup. The improved Clemson defense should have a field day against inexperienced QB Pete Thomas who has only thrown interceptions—no touchdowns—thus far. Running Backs Matt Dayes and Tony Creecy will need to log huge games if the Wolfpack want to stay competitive...Clemson 45 North Carolina State 21

BOISE STATE at FRESNO STATE


Friday September 20th, 9pm, ESPN. AT Bulldog Stadium
Due to their states' roots in the dairy industry, Fresno State (CA) and Boise State (ID) play for the "
Milkcan
" every year. Of late, the series has been painted blue, with Boise winning the last 7 matchups - all by more than a touchdown! In our August previews, we picked both teams to win their divisions and meet in the first-ever Mountain West Championship Game in December, so this very well may be Round 1 of 2 this season. Fresno State opened up with a Thursday night triple-overtime thriller in which Derek Carr attempted an incredible 73 passes. Following that 52-51 win, they beat Cal Poly, and then last week had to cancel the trip to Boulder due to massive flooding (meaning an extra week of rest). On the other hand Boise State comes in worn down from the always-grueling Air Force option attack (42-20 win), and an opening season blowout loss to Washington which was the worst loss under Coach Petersen. The offense had trouble finishing drives at UW, but found itself last week, as QB Jeff Southwick set the completion percentage school-record 27/29. I think the glaring issue with Boise is its young defense, especially its pass defense that was torched by UW Keith Price. QB Derek Carr is an even better passer than Price, which is scary for BSU. This series has been too lopsided, and it is time that Fresno State breaks through. Guided by an elite passing attack, an extra week of rest, home field advantage in the Valley, and a young opposing defense, look for Fresno State to finally claim the Milkcan, and hand Petersen a rare 2nd loss (just once in last 5 years)...
Fresno State 34 Boise State 28
NORTH CAROLINA at GEORGIA TECH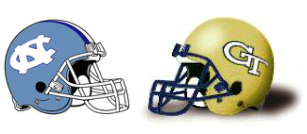 Saturday September 21st, 12 PM, ESPN. AT Bobby Dodd Stadium
Neither defense could stop the opposing offense in last year's 68-50 affair, which set the record for the highest-scoring ACC game ever. Georgia Tech has owned the series in recent memory and Paul Johnson wants to keep it that way. He seems to have a vendetta against the Tar Heels after the flagship school of his home state opted for Butch Davis over the then-Navy coach. Last year, quarterback Vad Lee shredded the Tar Heel defense and accounted for three touchdowns of his own. In his first season in sole command of the QB position, Lee looks poised for a huge season. He threw for four touchdowns last week (which is like throwing for 10 touchdowns in any other offense) as the Jackets dominated Duke. With the emergence of former baseball player DeAndre Smelter at Wide Receiver and the newly-unveiled shotgun diamond formation, the Yellow Jackets offense should be more lethal than it was in 2012. Unfortunately for the Tar Heels—who will be going up against an improved GT defense—I cannot say the same. While the score against South Carolina may be a bit misleading as the Gamecocks did most of their damage on a handful of big plays, the UNC offense did not shine. The loss of Monday Night Football star Giovanni Bernard and top-10 draft pick Jonathan Cooper seriously hurt the running game, and, in effect, QB Bryn Renner. I still expect Bryn Renner to put up some points on the Yellow Jacket defense, but I can't see him outscoring the spread option…Georgia Tech 42 North Carolina 30

MICHIGAN STATE at NOTRE DAME


Saturday September 21st, 3:30, NBC. AT Notre Dame Stadium
Notre Dame continues its BigTen tour with its annual rivalry game against Michigan State (
for the Megaphone Trophy
). Notre Dame enters riding a 9-game home win streak, but already lost to the other Great Lake State power, the Maize and Blue. After a sluggish start at Purdue, Notre Dame found itself in the 2nd half thanks to 2 4th-quarter TD passes from Tommy Rees and a game-clinching
#PickSix
by Bennett Jackson. Through the first two games, Michigan State had NO offensive identity at all, and 4 of the 6 team touchdowns were scored by the DEFENSE! Last week, QB Connor Cook seemed to grasp the starting position (for now) as he led a blowout over Youngstown State. Losing RB Le'Veon Bell surely hurt the Spartan offense but replacements Langford and Hill seem to be more than capable. Can Michigan State muster up enough points to give its elite defense a chance? The running gaps will be shut down effectively by the talented Notre Dame defensive front, forcing Cook (or whichever MSU QB) to make crucial plays. I'd rather have an experienced Senior QB (Rees) attempting to out-duel an elite defense than see a green Sophomore attempt such a feat. With the defenses strong on both sides, I look to the offensive leaders: Tommy Rees is proven, MSU's QB is not.
Notre Dame 23 Michigan State 17
ARIZONA STATE at STANFORD


Saturday September 21st, 7pm, FOX. AT Stanford Stadium
If you weren't up til 2 am Saturday Night (Sunday Morning) you missed
a classic finish in the Arizona State - Wisconsin game
. Yes, the referees handled it poorly, but it was even worse by QB Joel Stave, who showed no sense of urgency until under 2 seconds left. Regardless, the Sun Devils protected the desert and set up this matchup of undefeated PAC12 teams. We are very high on both teams, and were one of the few to predict this as the conference championship matchup. Stanford eased out of the gates with two unimpressive "box score" wins, but my high opinion remains. Arizona State has impressed so far in the opening shutout and its win over Wisconsin. Yes, they barely hung on, but it was clear that they still hadnt played to their full potential, evidenced by countless miscues and missed opportunities. The Sun Devils best football is still ahead them, and they will need to make those improvements as they are in the midst of an absolute gauntlet (Wisconsin, AT Stanford, USC, Notre Dame). A QB and leader that is not getting enough national attention is Kevin Hogan who is simply put - a winner. Guided by his stout offensive line, and elite defense, look for Hogan to win another ranked game (4-0 so far). You saw the Big-Win Hangover in Ann Arbor last week as Michigan almost (should have) lost to AKRON; look for ASU to come out flat for a quarter or so. Crucial win on The Farm for the Cardinal ...
Stanford 24 Arizona State 21
AUBURN at LSU


Saturday September 21st, 7:45 PM, ESPN. AT Tiger Stadium
A battle of undefeated SEC West powers under the lights of Death Valley in a de facto National Semifinal. OK, maybe not…that's the picture that the ESPN commercial paints though. Any hardcore college football fan knows that this game could get ugly fast. LSU looked unstoppable in its win against TCU—who we believe is still a very good team despite losing to Texas Tech by 10—and Auburn, as we predicted, edged out Mississippi State in what could have been the toilet bowl of the division. Sure, Auburn's future is bright, perhaps as soon as next season, but the talent is not deep enough and the experience isn't there from QB Nick Marshall. Gus Malzahn has guided his team to victory over two BCS opponents, giving Tiger fans hope for what is to come. Maybe this game could end up being close like last year's astonishing 12-10 outcome, but playing in Death Valley AT NIGHT spells trouble. Zach Mettenberger has played lights out in his first three games, finally playing up to the potential that everybody knew he had. He has a completion percentage of 65.2% and, most importantly, has not thrown a pick in three games. It helps that he has the best WR duo in the country in Odell Beckham and Jarvis Landry, but he has always had a talented supporting cast. I did not expect this improvement in the preseason, which leads me to believe LSU may transcend my expectations (3rd in SEC West). Saturday night will be their first crack at a division opponent…LSU 35 Auburn 14.