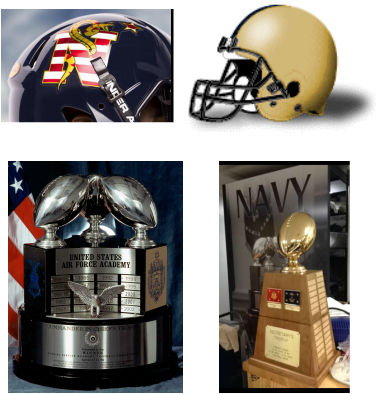 Saturday December 13th, 3:00, CBS. At Baltimore
One of our nation's greatest traditions returns to the Gridiron on Saturday; The Army-Navy Football Game. Every December the stadium is filled with Midshipmen and Cadets in full uniform cheering the famous "GO ARMY BEAT NAVY", and "GO NAVY BEAT ARMY." These hosses grind it out for 4 quarters with each and every yard a hard-fought battle.
Navy has had its fair share of ups and downs this season, going 6-5 with wins over Georgia Southern, Temple, San Jose State, and others. The Midshipmen started the season against Ohio State and hung with the Playoff-bound Buckeyes until the 4th quarter. They also took then-Top10 Notre Dame down to the wire again. The team's success rode on star quarterback Keenan Reynolds who fought injuries at times, yet still rushed for TWENTY touchdowns. Reynolds passed Eric Crouch and Tim Tebow to earn the NCAA record for career rushing touchdowns by a quarterback.



On the other side of the battle, it is a new era with head coach Jeff Monken taking over the program. That name might sound familiar to college football enthusiasts, since Monken led Georgia Southern (FCS) to the upset victory over Florida in the Swamp last year. Navy is certainly familiar with Monken - he was a Midshipman for 6 years as RB Coach and Offensive Coordinator under former head coach Paul Johnson. This closeness brings some new juice to the rivalry, a series that has been extremely one-sided for over a decade. Army's 4 wins are already its most since 2010, and Army feels this is "their year" to break the curse. Many felt that 2012 was the year for Army to finally break through and end Navy's streak. That game came down to the final possession, but QB Steelman uncharacteristically fumbled the ball, fumbling away Army's upset dreams.
Navy is stronger both offensively and defensively, and has star power at the most critical position of these triple option offenses.
Navy has already clinched a bowl bid (Poinsettia Bowl vs. San Diego State), but Coach Niumatalolo will have his squad focused and motivated to make it 13 in a row. Will #13 be unlucky for the Middies? -- No, Sir. Navy by 13 (points and years).
GO NAVY ... BEAT ARMY