NFL LOCKS of the WEEK

Playoffs - Conference

San Francisco 49ers at Atlanta Falcons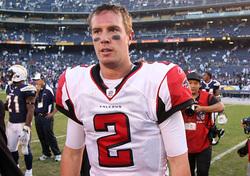 Line:
49ers by 4
Analysis:
Matt Ryan is ready to lead his team to the promise land. Colin Kaepernick is not. While I have always been a critic of the standpoint that you MUST have a great quarterback to win the Super Bowl, it would not be wise to ignore it all together. The last two mediocre quarterbacks to win a ring were Brad Johnson and Trent Dilfer back in the dawn of 21st century. Both had great defenses. Kaepernick has a great defense. So then why isn't Kaepernick capable of winning a Championship? Well, most importantly, this is his first year playing the position in the NFL; Johnson and Dilfer were both very experienced game managers and did not make many mistakes. Kaepernick has had a passer rating of over 100 in only three of his last seven games; and two of those three games he was on the road.
Atlanta's defense, on paper, is the worst unit on the field. Fortunately for them, if we were to look at the matchups, the Falcons strengths will be going up against the 49ers weaknesses. This is a stretch, however, because we would be calling San Francisco's pass defense its weakness when it has the fourth best unit in the league; but compared to its rush defense, the best way to dissect this team would be through the air. Justin Smith's injury makes this statement even more valid. Not only does the injury hurt Smith's production--obviously--but it also hurts Aldon Smith's production. Since Justin Smith has been out of the lineup, Aldon Smith has not recorded a sack. And even last week, we can argue that the injury was significant enough because neither member of the dynamic duo recorded a sack on Aaron Rodgers. I do not expect the pair to be nonexistent, just not up to their usual standards. On the opposite side of the ball, the Falcons would prefer to stop the run than the pass, and San Francisco likes to run. I expect Atlanta's lack of a pass rush to ultimately doom them if they advance, but it shouldn't be most important aspect against this Niner squad.
And one final note: do not simply look at the raw talent that San Francisco possesses. Atlanta does a lot of small things right; for example, they have committed the fewest penalties in the league, 17 less than the second-ranked Giants.
Here is the surprising pick...
Pick: Atlanta by 3
---
Baltimore Ravens at New England Patriots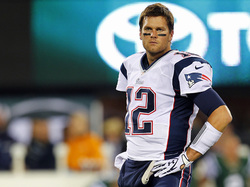 Line:
Patriots by 8.5
Analysis:
New England has been lethal as of late and the Ravens are on a tear that included last week's impressive victory at Denver. Ray Lewis has certainly been an emotional piece to the puzzle for this Baltimore defense in the postseason, but the offense has also been playing at an elite level. And if there is a man to go into Foxboro this week and steal one from the grasps of Belichick and Brady, it is the man that is tied for the most road playoff wins in NFL history, Joe Flacco (the other, Patriot-killer Eli Manning). And with the way this Patriot offense is playing, Flacco is going to have another big day if he wants a victory. WR Torrey Smith is playing at an elite level, and usually plays at an elite level against New England. Last week, Smith had 98 yards and two touchdowns; and in his two games against New England, he has recorded 209 yards and three touchdowns. The key, however, may be RB Ray Rice as he, too, had a big game last week, rushing for 131 yards and a score. I said that Houston RB Arian Foster would need to have more than 100 yards for the Texans to have a chance last week. And guess what? He did not. The Patriots have done a great job taking away opponent's run games this season and this week will be no different. I would venture to say that whichever team wins this matchup, will win the game.
On the opposite side of the ball, expect the Patriots to score. Although Ray Lewis is averaging 15 tackles/game and the entire Baltimore defense has been dominant, giving up only three touchdowns in two playoff games, it is never wise to bet against Brady. He will be without TE Rob Gronkowski, and his lowest passer rating against any team comes against the Ravens. Still, expect New England to score. The reason: an improved running game this season, which will be bolstered by the return of Danny Woodhead. The Patriots rank seventh in the league in rushing yards/game and should be able to attack an average Ravens rush defense. The Ravens have not seen a ground game like this in its two games against Indianapolis and Denver, and I expect this to be the difference. Oh yeah, and Tom Brady.
No surprise here...

Pick: New England by 6