Mike Nowoswiat's Big Board

April 19, 2013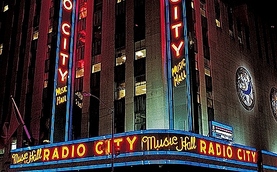 Radio City Music Hall, New York City
With a week before the mother of all off-season sporting events, I finally feel comfortable with my prospect rankings. Remember, this is not a mock draft, but rather an ordered list of how I feel the prospects in this draft class stack up to each other with no consideration of individual team needs.

While some people argue that this class lacks elite prospects, I say that there will be many elite players who come from this draft. I doubt that this year will resemble 2011, which produced eight players in the top eleven that are already playing at a Pro Bowl level. What this draft has is a lot of potential boom-or-bust players that will--statistically speaking--result in a decent amount of booms, and a decent amount of busts as well.

The most intriguing players are the pass rushers. Will Jarvis Jones be the next Terrell Suggs, or will he bust? Will Barkevious Mingo or Dion Jordan be the next great 3-4 OLB, or will they bust? Will Ezekiel Ansah be the next Jason Pierre-Paul, or will he bust? Jones is the only one listed who has had exceptional production in college, but he also had sub-par workouts and medical concerns. These players will surely be selected in the first round, but we will not know anything until they take the field in September.

Without further adieu...


1. Eric Fisher, OT -- Central Michigan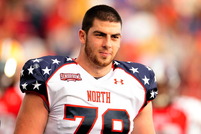 Like many other draft pundits, I feel the difference between Fisher and Joeckel is very minimal. However, many people look to Joeckel's production in the Big XII and SEC as the difference. While this may make Joeckel the safer pick, I feel that Fisher offers a bit more upside, which is why I have him number one overall. Fisher is a bit more athletic and can end up being a bigger factor in the run game.
Projected:
2nd to Jacksonville
2. Luke Joeckel, OT -- Texas A&M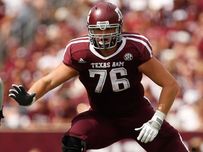 Joeckel is the safest bet in the draft. It would be unimaginable for Joeckel to be unemployed in six years. The Aggie OT has terrific footwork and balance, and is a great athlete in his own right. He not only dominated the Big XII, but he dominated the SEC, which features the nation's best defensive linemen. Joeckel takes great angles and picks up any type of blitz; he will not struggle with the mental aspect demanded of NFL OTs.
Projected: 1st overall to Kansas City
3. Chance Warmack, OG -- Alabama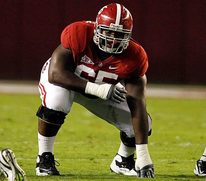 Warmack is arguably the best run-blocking guard to come out in recent memory. While he wasn't the most impressive prospect at the combine, it does not matter; he is a guard and will not be expected to play in space like a LT. He has great functional power and is one of the main reasons the Tide have not been slowed down on the ground during their recent dynasty. The question many teams will face on draft day will be: "H
ow high do you draft a guard?"
Projected:
11th overall to San Diego
4. Barkevious Mingo, OLB -- LSU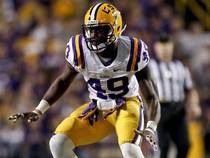 Mingo is the ultimate boom-or-bust prospect. He has the athleticism that every team covets, yet he doesn't have the production to match it. I argue that he does have decent production (8.5 sacks during his sophomore year) and wasn't used at LSU the way he needed to be. First, he certainly will not be a 4-3 DE in the NFL. Second, he is the type of guy, at this point, who should be let loose on every snap. He will need to learn how to be a three down player in the NFL, but you take him very high in the draft because getting to the quarterback is that important.


Projected: 9th overall to New York Jets
5. Ezekiel Ansah, DE -- BYU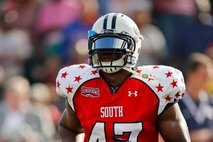 Another high-potential pass rusher, Ansah is a more traditional DE that should flourish in a 4-3 system. Some have compared Ansah to Jason Pierre-Paul for being super-athletic, yet relatively new to the game. Ansah shined in the Senior Bowl, which can be a great indicator that he will succeed in the NFL. He was often used in multiple schemes at BYU that did not translate to high sack numbers.


Projected: 6th overall to Cleveland


6. Jonathan Cooper, OG -- North Carolina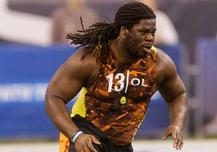 North Carolina has quietly had great success on the ground while dealing with mediocre play at QB and Cooper may be the most important reason for this. Some analysts argue that Cooper may be a better prospect than Chance Warmack. Although I do not agree with this sentiment, I could believe that Cooper will have more success in a zone-blocking scheme than Warmack. Either way, both guard prospects are two of the safest prospects in this draft.


Projected: 20th overall to Chicago
7. Dee Milliner, CB -- Alabama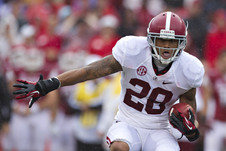 It seems that cornerbacks are being selected higher and higher every year and this year should be no different. Milliner is an elite prospect at the position and will surely be a top ten pick on Thursday. Although I have him being selected tenth overall, I would be surprised if he actually lasts that long. If he makes it past Detroit at 5, expect a team to trade up into the top ten to select him.


Projected: 10th overall to Tennessee
8. Tavon Austin, WR -- West Virginia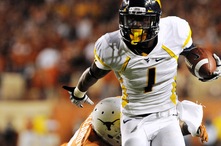 Tavon Austin is a one-of-a-kind, dynamic playmaker. Given his size and explosiveness, there are not many players that Austin compares to. He is more explosive and versatile than Wes Welker, who he probably compares most favorably to. He will need to prove that he has the mental capacity to understand complex NFL offenses otherwise he may end up as a running back somewhere. Don't be surprised if Austin goes as high as 5.


Projected: 16th overall to St. Louis


9. Xavier Rhodes, CB -- Florida State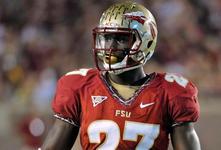 Xavier Rhodes is a huge cornerback, and with any huge cornerback comes questions like, "is he a safety?" Rhodes has shown the ability to lock down players like Notre Dame's Michael Floyd and will almost certainly project as a big cornerback in this league. With the emergence of Seattle's two big CBs, expect teams to fight to acquire a player like Rhodes, who has ideal length and straight-line speed.


Projected: 12th overall to Miami
10. Dion Jordan, OLB -- Oregon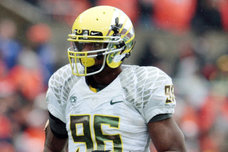 As I mentioned, Dion Jordan has all the talent in the world, but his production doesn't match it. If the Jordan makes it past the Eagles, coached by Jordan's college coach Chip Kelly, then other teams will have to wonder about Jordan's future. However, one team will certainly fall in love with his upside. He has the potential to be an elite pass rusher and also defend opposing tight ends with his length and athleticism.


Projected: 5th overall to Detroit
11. Sharrif Floyd, DT -- Florida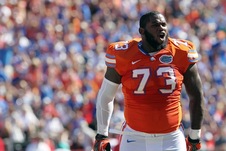 Sharrif Floyd began the draft process as a second round prospect but has ascended up draft boards with an impressive combine showing. He was an excellent player for the Gators this year as he moved back to his natural interior position. The one knock against Floyd are his short arms, which may prevent him from every being an elite pass rusher from his position, but is still an excellent player that should be a top 10 pick.


Projected: 3rd overall to Oakland
12. Lane Johnson, OT -- Oklahoma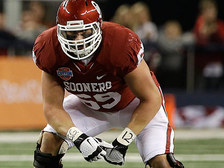 Lane Johnson's emergence as the third elite OT may have surprised some people, but his showing at the combine was epic. Johnson ran the 40 yard dash in 4.72 seconds and recorded a 34" vertical jump. He is one of the most athletic offensive lineman to enter the draft in recent memory, which means that his upside is immense. However, he has also played QB, TE, and RT before moving to LT so we do not really know how he will project in the NFL.


Projected: 7th overall to Arizona
13. Sheldon Richardson, DT -- Missouri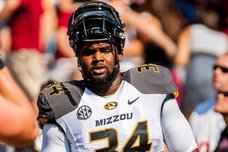 Richardson is another boom-or-bust type player who must answer questions about his character, not his lack of production. He is a freak athlete, which is why he should be selected very high in the draft. He is agile, has long arms, and should be able to get to the QB at the next level. While he only had one outstanding year, he did it against the improved competition in the SEC.


Projected: 23rd overall to Minnesota
14. Star Lotulelei, NT -- Utah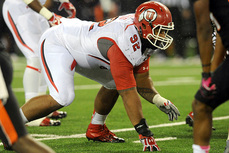 Before the combine, Lotulelei was a perennial top 10 pick. Not due to a poor performance did his stock drop, but rather an unknown heart condition had him packing his bags before doing a single drill. Still, Lotulelei is a first round pick and some teams may ignore the heart condition because he has since been cleared. He is the only true nose tackle at the top of the draft, which could result in him being taken as high as 3 to Oakland.


Projected: 14th overall to Carolina
15. Eric Reid, S -- LSU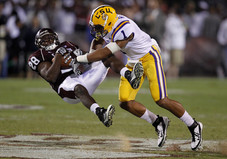 I am in the minority who have Reid ranked in the top 15, but I believe he is a future star at safety. Most people had Reid this high after his sophomore season, but a disappointing junior season has him on the fringe of the first/second round. Reid has all the tools to be a pro bowler, but some have questioned his instincts after studying his film this season; I still feel that his instincts are solid. It's unfair to have expected Reid to match his production in 2011 this season because of the amount of talent that departed around him.


Projected: 22nd overall to St. Louis
16. Keenan Allen, WR -- California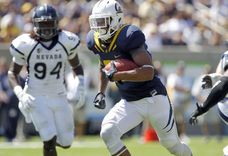 Allen is one of the more interesting prospects in this draft. He has had good production every year and is a superb athlete. However, he posted poor 40 times at his pro day, which may have been due to a recovering knee injury. Regardless, Allen is not a "speed receiver," but is also probably the safest WR pick in the draft. He may not be the fastest, but he is an athletic specimen that can get off jams easily and is probably the most natural pass receiver in the draft as well.


Projected: 27th overall to Houston
17. Jarvis Jones, OLB -- Georgia
Jones is a great pass rusher from the linebacker position and has proved it every time he has taken the field. He finished with 14.5 sacks this year in only twelve games and 13.5 the year before. He did not post the greatest workout numbers, which is why he has dropped a bit. I am a little scared of his 7.43 three cone drill, but he may end up being a successful third down defensive end, which would not require elite agility.


Projected: 15th overall to New Orleans
18. Tyler Eifert, TE -- Notre Dame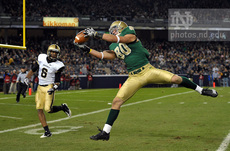 Tight End has become a position that requires players to provide just enough in the blocking game, and a lot in the receiving game. Eifert is certainly the top at the position this year, and will certainly be taken in the first round on this years draft. He catches the ball well, can win jump balls, and is a huge target for his quarterback.


Projected: 26th overall to Green Bay
19. Alec Ogletree, ILB -- Georgia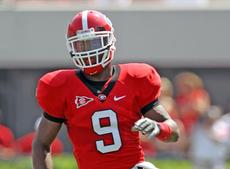 Ogletree's talent and athleticism are undeniable. He is a monster in the middle that plays a bit out of control. He does not shed blocks like a top 10 pick would, but if it weren't for character concerns, I would still have Ogletree in the top 10. He is the type of linebacker that is prized in today's NFL; he can stay on the field all three downs and cover just as well as he can stop the run.


Projected: 19th overall to New York Giants
20. Manti Te'o, ILB -- Notre Dame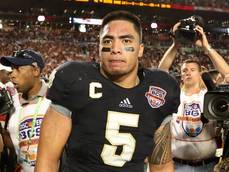 The only reason I have Ogletree ahead of Te'o are his undeniable ability to cover on third down. However, Te'o is a much more instinctive player and may end up being much more impactful. In the end, Te'o's girlfriend hoax and poor National Title Game performance may only help Te'o moving forward as they have been the first bit of controversy he has faced in his college career. Even though Te'o doesn't have the ideal measurables to stay on the field in passing situations, he is instinctive and smart, which is why he almost led the nation in interceptions in 2012.


Projected: 25th overall to Chicago
22. Desmond Trufant, CB -- Washington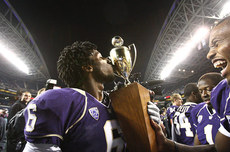 Trufant has been a consistent player for Steve Sarkisian's Huskies, but was never considered a top-tier cornerback until he made it to the combine. At the combine he showed off his fluidity and great straight line speed, displaying all the tools an elite CB possesses. He has a great pedigree; his brothers, Marcus and Isaiah, and both NFL cornerbacks. Trufant should be a top 15 pick given the importance of the position and his potential to be great.


Projected: 13th overall to Tampa Bay
21. Khaseem Greene, ILB -- Rutgers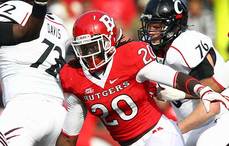 Khaseem Greene is a projected 2nd-3rd round draft pick, and I expect him to be selected in that range. However, I think he is a first round talent because he can do everything. He is not elite in dropping back into coverage; but then again, neither is Te'o or Minter. Greene is instinctive, sheds blocks well, and can rush the passer well in blitz situations. He is also a terrific leader and should have a great impact as a rookie.


Projected: 45th overall to San Diego
23. DJ Fluker, OT -- Alabama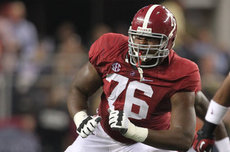 Fluker is the elite Right Tackle in this year's draft. He is adequate in pass protection, which is why he is a right tackle, but is an elite run blocker. Fluker's frame is massive, his arms are long, and his hands are huge. Fluker is a multi-year starter on the Crimson Tide's dominant, championship-winning offensive lines and should have a lot of success in the NFL.


Projected: 18th overall to Dallas
24. Matt Elam, S -- Florida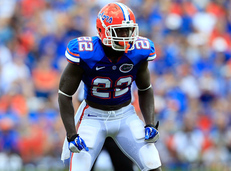 Elam's main knock is his size. However, many safeties in this league have had less-than-ideal size with great success. He is a very physical safety that can also take the ball away, recording four interceptions in 2012. Elam may or may not be a first round pick because this crop of safeties probably only has one surefire first round pick in Kenny Vaccarro, while Elam, Reid, and Jonathan Cyprien will round out the next three taken in the late first/early second.


Projected: 31st to San Francisco
25. Sylvester Williams, DT -- North Carolina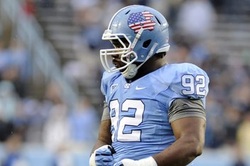 North Carolina has produced many top-notch defensive lineman over the years, and this year it has another first-rounder in Sylvester Williams, who is the best pass-rushing defensive tackle in this year's draft. He recorded the most QB hurries from the position in FBS football in 2012. He possesses a quick burst off the line and uses his hands well, which should lead to early success in the NFL.


Projected: 24th overall to Indianapolis
26. Justin Hunter, WR -- Tennessee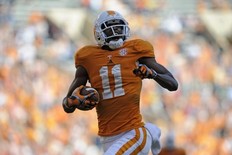 Hunter is a very polarizing prospect. After his freshman season, we were all ready to call him the next AJ Green. However, a knee injury kept him off the field his sophomore year and an inconsistent junior year has him labeled as a boom-or-bust type prospect. He certainly has the athleticism that teams look for in elite wide receivers, but he is still raw at this point.


Projected: 32nd overall to Baltimore
27. Kawann Short, DT -- Purdue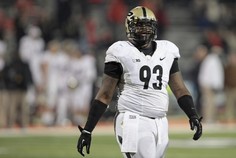 Purdue may have had a rough season in the Big Ten, but Kawann Short's ability to make plays from the interior did not go unnoticed. Short is very powerful and explosive, proved by his 18 sacks over the last three seasons. Short plays inconsistent at times and will need to play with better leverage.


Projected: 50th overall to Chicago
28. Johnthan Banks, CB -- Mississippi State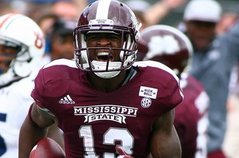 Banks was one of the players hurt most by the combine, where he posted a 40 yard dash time of 4.61 seconds, raising questions of his ability to stick with some of the faster receivers in the league. However, Banks is a tall, long cornerback at 6'2" and nearly 34" arms. He still needs to improve his technique, but all the tools are there despite less than ideal speed.


Projected: 30th overall to Atlanta
29. Larry Warford, OG -- Kentucky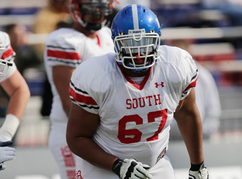 The third OG on my big board is Larry Warford of Kentucky. After watching Kentucky's film against Florida, it was evident that Warford is an elite guard. Warford was able to move Sharrif Floyd, who should be a top five pick on Thursday. Warford would undoubtedly be a first round selection if he were not a guard, a position teams are reluctant to spend a first round draft pick on.


Projected: 35th overall to Philadelphia
30. Kevin Minter, ILB -- LSU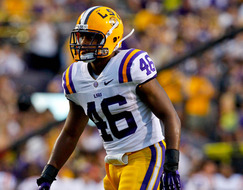 Kevin Minter is a very explosive, powerful MLB that can do everything. He is a bit on the shorter side (he is listed at 6'0"), but uses leverage well to effectively shed blockers. Minter can have unbelievable games--for example, when LSU played Alabama--and he can have games where he disappears. Still, having such success against a team like Alabama shows his potential.


Projected: 41st overall to Buffalo
Projected first round picks not listed:
4. (Philadelphia) -- Geno Smith, QB, West Virginia
8. (Buffalo) -- Ryan Nassib, QB, Syracuse
17. (Pittsburgh) -- Kenny Vaccaro, S, Texas
21. (Cincinnati) -- Cordarrelle Patterson, WR, Tennessee
28. (Denver) -- Bjoern Werner, DE, Florida State
29. (New England) -- DJ Hayden, CB, Houston
30. (San Francisco) -- Jonathan Cyprien, S, Florida International