ACC - Atlantic Division
1. Florida State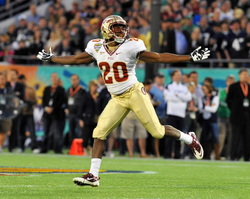 Safety Lamarcus Joyner
Once the alpha dog of the ACC, Florida State has slowly become the alpha dog of the preseason and the recruiting circuit. But this year seems likely to finally be the year for the Seminoles as they return 17 starters from a talent-laden, yet inconsistent, 2011 squad. E.J. Manuel will try to stay healthy for an entire season to finally fulfill the potential the rest of the nation sees in him; the offensive line, which returns 4 starters, must improve from last season if FSU wants to compete on a national level this season.

With depth at nearly every position, especially at its skilled positions, the offense could be tops in the ACC and among the leaders in the nation. However, E.J. Manuel has been efficient, yet unspectacular, thus far in his career. At 6'5" and 240 pounds, Manuel looks the part, and at times, acts the part of an All-American QB. The problem, however, is consistency and protection; the offensive line allowed 41 sacks and Manuel only threw 18 touchdowns despite an impressive 65.3% completion percentage and 8 interceptions in 12 games played. Fortunately for the 'Noles, each offensive line starter returns except for LT Zebrie Sanders, and young depth continues to develop. Aside from O-line concerns, there are not too many worries for Seminole fans on the offensive side of the ball. FSU returns a stable of capable running backs and fullbacks: Devonta Freeman, Chris Thompson, James Wilder, Lonnie Pryor, and Debrale Smiley. And while some of Florida State's 2nd and 3rd stringers in the backfield could start for a number of programs throughout the country, its the receiving corp that should garner the most attention, which goes a legitimate 8 deep, not including the impact TE Nick O'Leary. In short, if the Seminoles can protect Manuel, look for some gaudy numbers to be put up by the men in garnet and gold.

While the offense could be dominant, the defense will be dominant as Mark Stoops enters his 3rd year as defensive coordinator. The defense returns 8 starters and key depth at nearly every position from a squad that ranked 6th nationally in total defense and 4th nationally in scoring defense. In addition, the 'Noles welcome an all-time great defensive line haul featuring perennial top-5 overall recruit Mario Edwards, who will help bolster an already imposing defensive line including bookend All-American candidates Bjoern Werner and Brandon Jenkins who combined for 15 sacks with another 5.5 added by back-up Cornelius Carradine. In the news this summer: electric return man Greg Reid yet overrated cornerback, albeit a starter, was booted off the team for various arrests. Promising sophomore Nick Waisome will try to fill his void, but will have help from the physical senior Xavier Rhodes, who by the end of the season was the best cornerback on the roster. Budding stars Telvin Smith and Karlos Williams will bolster already impressive linebacking and defensive back units, respectively.

Expect FSU to continue its annual ascent in the national defensive rankings; if the offense can come together, expect the Seminoles to take advantage of a soft schedule and make a run at the national title in 2012.
2. Clemson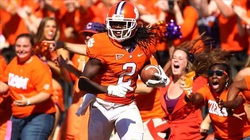 Wide Receiver Sammy Watkins
For the first time in 20 years, Clemson finally didn't do what Clemson typically does: blow its shot at an ACC championship in a fashion that fans were positive only Clemson could do. No, 2011 marked a year for the Tigers that signaled that a new era was underway, led by head coach Dabo Swinney and newly-acquired offensive coordinator Chad Morris. It certainly didn't hurt for Morris that Tajh Boyd played quarterback at a level Clemson hadn't seen since Charlie Whitehurst and that Sammy Watkins became just the fifth true freshman ever to garner 1st team AP All-American honors.

It is Clemson's offense that should lead the Tigers to another successful season in 2012. The star-studded receiving corp returns for another year to serve as toys in Chad Morris's play bin; Sammy Watkins, DeAndre Hopkins, and Jaron Brown combined to have 2603 receiving yards and 21 touchdowns last year and look to improve upon that this go-around. Andre Ellington returns at running back to provide firepower when Boyd and company will not be the providers. The only question mark on this offense is the offensive line, which returns only two starters and will need to break in two new tackles. Beginning to notice a pattern in the Atlantic with deep talent at the skilled positions and questionable offensive lines?

While Florida State and Clemson are similarly built on the offensive side of the ball, the respective defensive units are why Florida State is a national title contender and Clemson is a rock-solid number two in the Atlantic division. Clemson returns its entire back seven on defense, but will only return Malliciah Goodman from an impressive defensive line, losing NFLers Brandon Thompson, Andre Branch, and Rennie Moore. On paper Clemson is solid on defense, but they will be breaking in new defensive coordinator Brent Venables who struggled last season at Oklahoma, but has shown flashes of brilliance in the past.

Clemson had success due to its offense last year; the defense allowed over 30 points on 7 separate occasions last season. Unless Brent Venables is a miracle worker or Clemson gets Sammy Watkins-like production out of its new starters on defense, there is no bigger lock in the ACC standings than for Florida State and Clemson to finish 1-2 in the Atlantic division. However, Clemson is loaded on offense and should still compete for a BCS at-large bid.

3. North Carolina State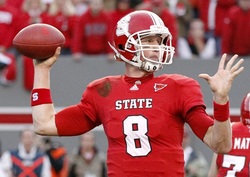 Quarterback Mike Glennon
Sometimes the difference between a middle-of-the-pack squad and a conference champion is one or two game-changing players, and NC State fans are hoping that ACC player of the year candidates QB Mike Glennon and CB David Amerson can do just that. Its going to take a monster year from the 6'6" Glennon if the Wolfpack want to overtake Clemson for the Atlantic while also holding off favorite Florida State. He will need to improve upon his 234 yards passing/game average and continue to develop as the leader of this team. The defense has shown flashes, like its shutout of North Carolina, but must perform better overall than it did last year taking into account the entire season.

If State has one advantage in the Atlantic its their ability to protect Glennon with 4 starters returning along the line and the once-highly-touted Rob Crisp filling in for Mikel Overgaard. Glennon will be joined by senior running back James Washington in the backfield, who fell 75 yards short of an 1000 yard season while averaging 4 yards per carry. The most important hole that the Wolfpack offense must address is wide receiver T.J. Graham's exit to the NFL. Graham opened up the offense with his sub-4.4 speed and was Glennon's favorite target accounting for nearly 25% of receiving yards and touchdowns. Either Bryan Underwood, Quintin Payton, or promising redshirt freshman Hakeem Flowers must step up this season to fill the void opposite of starting receiver Tobais Palmer.

NC State, like Clemson, also returns its entire secondary on defense, led by the aforementioned David Amerson who was an AP All-American after leading the nation in interceptions with a whopping 13 (that is averaging more than one per game for those statistically-challenged readers). The biggest concern on the team will be its defensive line and brand-new linebacking corp. Only 17 sacks from last season were accounted for by players currently on the roster. Converted safety Rodman Noel will have to play like the also undersized hall-of-fame basketball player Dennis Rodman at strongside linebacker for Jon Tenuta's defense to improve upon last season. It would be nice for an emergent pass-rusher to come out of camp, but Tenuta--a man that probably thanks God everyday for the creation of the blitz--will have to get creative in his zone blitzing scheme to generate some sort of pass rush for his ballhawking secondary to prey on opposing QBs.

The Pack gets a break by not having either Virginia Tech or Georgia Tech on its schedule, but does not get the fortune of playing Duke. If Florida State slips up and State takes care of business, Wolfpack fans would love to see what their future top-10 pick David Amerson can do against fellow All-American Sammy Watkins and Clemson on November 17th in an epic duel that could ultimately decide the Atlantic.
4. Maryland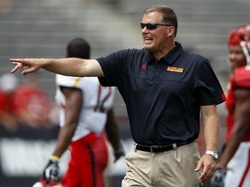 Head Coach Randy Edsall
Positioned in a hotbed for high school football players, Maryland has been playing second fiddle to the likes of Florida and Penn State for its home-grown players. But when the Terps hauled in perennial top-10 overall recruit Stefon Diggs to close the recruiting season, people around the country could sense that times were changing for Maryland. Head Coach Randy Edsall returns in his second season with his players and his plan to guide his team out of the cellars of the ACC. After a rocky start with some of Ralph Friedgen's leftover players, Edsall went 2-10 last season, but an impressive 2-10 season nonetheless. Maryland beat a formidable Miami team and lost in close games to West Virginia, Georgia Tech, Clemson, and NC State. A young team last season, the 2012 squad returns 17 starters including the entire defensive front seven as they transition from a 4-3 to a 3-4.

The offense took a big hit when QB CJ Brown was injured during camp and will be out for the year. True freshman Perry Hills figures to be the starter now and not much is known of his game. The offense loses leading rusher Davin Meggett who will be replaced by sophomore Justus Pickett. The receiving corp returns leading receivers Kevin Dorsey and Kerry Boykins while also welcoming in the star recruit Diggs. Perhaps the biggest threat in the passing game will be preseason All-Conference TE Matt Furstenburg who returns after having a solid season last year. Unlike its division-mates, Maryland returns most of its offensive line, which will feature 4 players who all played significant time in 2011. The main problem for the offense was consistency last season, scoring anywhere from 7 points against Temple to 45 against ACC Champion Clemson. In Brown's first offseason as the starting QB and leader of the offense, the offense should improve its consistency as it heads into this season. The only thing worst than a 2-10 year is a 2-10 year with no hope for the future. That is not the case with this unit, however, as there were times where they looked like a well-oiled machine.

All-American Joe Vellano will make the tricky transition to the 3-4 much easier as he will play all positions along the line this year. He is joined by starters Andre Monroe and AJ Francis, but Defensive Coordinator Brian Stewart will employ a heavy rotation because of the depth returning from last season's roster. Not only do the Terps return their entire starting linebacking corp, but they return leader Kenny Tate who sat out 8 games last season with a season-ending knee injury, but was a second-team AP All-American as a junior in 2010. While the number of returning starters on the front seven is certainly not a bad thing, the Terps must improve on its results from last season, allowing nearly 220 yards rushing per game and 54% opponent conversions on 3rd down.

Maryland is the most intriguing team in the Atlantic; FSU, Clemson, and NC State will all be very good while Wake Forest and Boston College certainly have ceilings. Maryland flashed potential last season, but was not able to tap that potential consistently enough to post a winning record. Maryland has that same potential this season to go to a bowl; it also has the potential to finish the season with 2 wins again and lose all the momentum it is building.


5. Wake Forest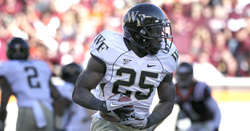 Running Back Josh Harris
As has been the common theme in the Atlantic, the Demon Deacons will go as far as their offensive line will take them (or at least as far as they can without their offensive line holding them back). Quarterback Tanner Price returns alongside RB Josh Harris to provide an explosive and experienced backfield, which could be the foundation for a successful year hinging on the development of the offensive line that will be breaking in four new starters and lost two potential starters Daniel Blitch and Steven Chase to transfer and injury, respectively. While the O-line works out its growing pains, the defense will have to be the strong point for this team to start the season. Wake returns five starters from its front seven that had an rocky season in 2011. Jim Grobe will need to ensure that the experienced unit solidifies its run defense that allowed 4.6 yards/carry to prevent an upset from Army, Duke, or Maryland to start the season.

Chibuikem Okoro is a new name, but an old face, returning to lead the secondary in his 3rd year holding down a starting cornerback spot. Formerly Kenny Okoro, Chibuikem returns alongside junior cornerback Merrill Noel to give the Deacons a duo that will rank as one of the best positional units on the team. Up front, the 3-4 defense lives and dies by the Nose Tackle, especially at the collegiate level, and Wake Forest has a proven veteran in Nikita Whitlock anchoring its line. At only 5'11" and 260 pounds, Whitlock isn't a prototypical run-stuffer, but gets terrific penetration, which led to 14 tackles for loss and a team-high (sadly) 3.5 sacks. The team had a putrid 11 sacks all year and must improve upon the pass rush if they want to make another bowl; defensive coordinator Brian Knorr will have his hands full addressing these issues while also replacing his top-two tacklers Cyhl Quarles and Kyle Wilber from a season ago.

While the offense will feature at least two starters along the line who weren't even in the two-deep last year, optimistic fans will look to new offensive line coach Jonathan Himebauch to offset these losses. In addition to losses along the line, inlcuding second-team All-ACC performer Joe Looney, the offense will need to replace WR Chris Givens, whose departure to the NFL leaves a large void in the passing game; Givens had 77 receptions, 1330 receiving yards, and 9 touchdowns. While the most important player on offense is returning in quarterback Tanner Price, look for the offense to take a step back this season because his supporting cast will struggle to produce at the level of last year's squad.

While Wake Forest may look weak on paper, Jim Grobe always produces a smart football team full of late-bloomers and 5th year seniors. The Demon Deacons also get a favorable coastal division schedule avoiding Georgia Tech and Virginia Tech while also getting to play Duke. Wake Forest does not look very good on paper; but, Grobe has turned many teams like this into winners and it wouldn't surprise me if Wake ends up in 4th place and goes bowling.
6. Boston College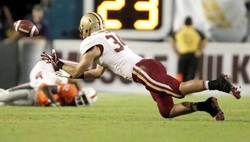 Linebacker Sean Duggan
Boston College returns 17 players in all, yet they are still ranked below Maryland or even Wake Forest. Two reasons: Montel Harris and Luke Kuechly. Harris was among the top RBs in the nation the last three seasons and BC's all-time leading rusher before he was booted off the team for a repeated violation of team rules. He only played in two games last season before suffering a season-ending injury. Kuechly, who was drafted 9th overall by the Carolina Panthers in this year's NFL draft, was the heart and soul of BC's defense and was a 3 time All-American for Frank Spaziani's ball club. These two subtractions will prove to be fatal for the Eagles.

Chase Rettig returns for another season under center after averaging 163 yards/game passing and -7 yards/game rushing. Rettig needs to lift his 4:3 TD:INT ratio to lead BC to a successful season. With the loss of Kuechly, the defense will struggle even moreso than they did last year, thus putting pressure upon Rettig and the offense to carry the load. Rolandan Finch returns after starting 10 games at RB last season while averaging 4.5 yards per carry; the rushing game was clearly the strong point for the Eagles on offense and must maintain production at a minimum. Both the receiving corp and the offensive line return for another season, but of course, must improve from 2011. Returning Tight End Chris Pantale was among the positional leaders in the conference, but will miss about half this season. This loss will be tough on Rettig who is still developing and would like to have Pantale as a safety blanket.

On defense, coordinator Bill McGovern has his work cut out for him. BC was outgained by nearly 100 yards/game, allowing nearly 400 yards/game. Kuechly is gone, as is leading sack-man Max Holloway with 2.5; BC had one of the nation's worst pass rush producing only 11 sacks all year. The linebacking corp should be the strong point for this unit as it returns nearly everyone except Kuechly.

Not only does Boston College have its own internal struggles that it must overcome, but its schedule is not conducive to success. Its out-of-conference schedule includes a trip to Northwestern and a home game against Notre Dame. Its Coastal Division schedule, which is probably the most important factor in determining the Atlantic standings, is tough with games against Virginia Tech, Georgia Tech, and Miami. Between key losses from a losing 2011 squad and a tough conference schedule, look for Boston College to continue its ongoing downward trend in 2012.