ACC - Coastal Division
1. Virginia Tech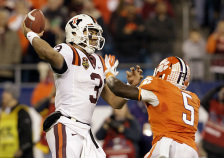 Quarterback Logan Thomas
Logan Thomas came on strong last season as the Hokies won the Coastal for the 4th time in the last five years. Virginia Tech is susceptible to early season losses like James Madison two years ago and nearly East Carolina last season. This season's beginning may be the most crucial for the Hokies as their season-opener against Georgia Tech has conference implications. VT returns its front seven on defense, which will have to carry them early on as Logan Thomas gets a new-look offense up to speed. Only Center Andrew Miller returns from the offensive line and stud RB David Wilson is now in the NFL.

Logan Thomas passed for over 3000 yards in his first season as a starter, but only had 19 touchdowns to 10 interceptions. These aren't bad numbers; but if Thomas is going to carry the offense, he will need to do better. Dyrell Roberts returns after an injury cut his season short last year to start alongside Marcus Davis to provide a solid 1-2 punch at WR. The biggest question of the season will be how the line will protect Thomas and open up holes for redshirt freshman Michael Holmes at RB. If the line can produce at a solid level, then VT should win the Coastal yet again; however, winning the ACC will be a much taller task given Florida State's world-beater D-line.

Bud Foster should produce one of his best defenses this year--that statement should open some eyes. Jayron Hosley's exit will hurt the pass defense, but the other nine returning starters should more than compensate for this loss. The defense has only allowed an average of over 20 points once in the past seven years and none of those seven years did VT return the nine starters they are this season. LB Bruce Taylor and the two Hopkins DTs will provide strength up the middle for the Hokies as they prepare to face strong run games from GT and UNC. Antone Exum and Kyle Fuller will help VT forget about the loss of Jayron Hosley at cornerback. Overall, Hokie fans should be very excited to see this unit take the field this fall.

Virginia Tech certainly draws a difficult schedule with games against Clemson and Florida State, which could give Georgia Tech an edge even if VT wins in the Labor Day matchup. Still, the combination of Logan Thomas and a killer defense should position the Hokies for a third straight division title.
2. Georgia Tech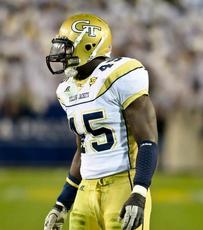 Linebacker Jeremiah Attaochu
While he may not be the best passer or runner on the roster, QB Tevin Washington is most effective operator of the spread option. He returns for his second full season running the offense for Paul Johnson and must improve his passing for the Yellow Jackets to win the division. Hopefully the third time is the charm for Defensive Coordinator Al Groh who enters his 3rd season for GT after struggling to install his patented 3-4 defense in 2010 and 2011. Similar to Virginia Tech, Georgia Tech must get the offense rolling to start the season if they want to win that key Labor Day matchup.

Washington loses 2nd round draft pick Stephen Hill who struggled to consistently catch the ball but stretched the defense and was their best option in the passing game. Big target Jeff Greene looks to replace him and hopefully provides the Jackets a red-zone threat that Hill surprisingly did not. This year, Paul Johnson has said that A-back (wingback) Orwin Smith will be more of a focal point than previous A-backs have been in the past as he has been the best runner for Tech the past two years. The offense should be no worse than it was last year as every key lineman returns in front of Washington including AP All-American Omoregie Uzzi. A-back Roddy Jones' loss will hurt because his blocking was a key factor in a lot of long runs.

On defense, TJ Barnes' play will be crucial at Nose Tackle; he has been inconsistent in the past but has been reportedly taken his conditioning very seriously now that he is assuming the starting role. Linebacker Julian Burnett was injured in the bowl game and will probably never play again, which will hurt the defense tremendously. NFL prospect Jeremiah Attaochu will be relied upon to provide a consistent pass rush off the edge and the athletic Brandon Watts will hopefully have a breakout season to add pressure from the other side. Rod Sweeting and Louis Young return to provide a terrific cornerback duo and Jemea Thomas, Isaiah Johnson, and Fred Holton will all play significant minutes at safety to complete a very good secondary. The pieces are in place for Groh and co. to step their game up this season and hopefully provide the offense more of a cushion than in previous seasons.

Georgia Tech does not have to face Florida State, but has Clemson on the schedule as their Atlantic rival. This game will prove to be very tough in Death Valley, but GT has had great success in this annual matchup. While North Carolina will mix things up in the Coastal, the Labor Day matchup with Virginia Tech should continue to be the de facto division championship game.
3. North Carolina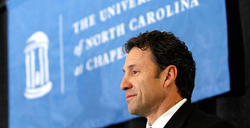 New Head Coach Larry Fedora
Amidst an ongoing academic coverup scandal, the North Carolina football team will return a lot of talent that newly-acquired head coach Larry Fedora will use to have a successful first season. The Tar Heels will return key lineman on both sides of the ball who will prove to be the heart and soul of this team. Not to mention, quarterback Bryn Renner returns after a 3,000 yard season and has four out of his top five receiving targets back. North Carolina would be a darkhorse to win the ACC this season, but is
banned from postseason play, including the ACC championship game
.
Renner returns alongside ACC Freshman of the Year Giovani Bernard who rushed for 1,324 yards and took the league by storm. Erik Highsmith and Jheranie Boyd are back at receiver, but leading receiver Dwight Jones is gone and TJ Thorpe will need to utilize his speed to replace Jones' production. Four lineman return this year anchored by All-American candidate LT James Hurst. The talent is there on offense, but Renner will need to be more consistent as he struggled in most of their six losses.
Similar to the offense, the defense all starts in the trenches led by All-American candidate Sylvester Williams inside. Kareem Martin will solidify the edge with sophomore OLB Norkeithus Otis providing a speed rush. Like Renner, the defense can be very good, but needs to be more consistent after allowing over 450 yards on five separate occasions last year. Defensive coordinator Dan Disch will provide more looks for the Tar Heels with a base 4-2-5 look that will take advantage of a QB-driven league.
It is a shame that the postseason ban is in effect this year because North Carolina is primed for a great season. They draw an easy Atlantic schedule with Maryland and Wake Forest; and they have Virginia Tech and Georgia Tech at home.
UNC has traditionally struggled against Georgia Tech and NC State and will have to win at least one of these games to have a shot at the coastal regular season crown
. We will get a solid gauge of Coach Fedora's in-game coaching this season as Butch Davis hardly left the cupboard bare.
4. Miami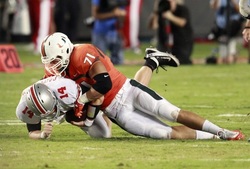 Defensive End Anthony Chickillo
I am going out on a limb by putting Miami ahead of Virginia, but I believe Al Golden's second season will resemble Mike London's second season just last year. Quarterback Stephen Morris will take on the full-time starting position under center after having to split time with the erratic Jacory Harris in 2011. The Canes had a tough out-of-conference schedule with Ohio State and Kansas State giving out two losses. Aside from mind-blowing losses to Maryland and Boston College, Miami either won or narrowly lost in all of its games. With another offseason under this current regime, look for the Canes to take a step forward in 2012.

Miami loses RB Lamar Miller to the NFL and is fortunate to have Mike James, Eduardo Clements, and heralded freshman Duke Johnson waiting in the wings as his replacement. Only 2 lineman return, but replacements Seantrel Henderson, Malcolm Bunche, and Shane McDermott are young and talented and have the potential to produce at a high level. There will be big question marks at WR with the losses of Tommy Streeter and Travis Benjamin, but Miami will always have talented skill players and true sophomore Phillip Dorsett looks to be the next great Hurricane receiver.

Ray-Ray Armstrong had an up-and-down career for Miami, but was one of the most talented players on the roster; he was dismissed from the team during the offseason and his loss will be felt at safety. Miami returns two starters at every level of defense providing reasonable continuity from last season, which should help to start the season. Sean Spence's loss will hurt as he was the leader of the defense and consistent 4-year starter. This unit has improved each of the past four seasons and will look to improve its rush defense, which allowed 162 yards/game.

Al Golden inherited a mess when he took over for Randy Shannon and battled a lot of criticism for the Nevin Shapiro scandal. Golden has handled the entire situation with great class and deserves recognition for that. This new-era Hurricane squad will surprise people this year and go bowling for the first of many times under Golden.
5. Virginia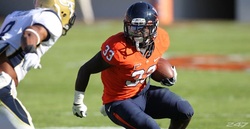 Running Back Perry Jones
2011 was a breakout year for up-and-coming head coach Mike London. Virginia finished the season 8-5 after a 4-8 2010 campaign, going to its first bowl game since 2007. However, Virginia may have to take one step back to take two steps forward this season. Virginia loses some important cogs in the trenches, which is where they won most of their battles just a season ago. Still, Morgan Moses and Oday Aboushi return to form one of the best bookend duos in the nation.

On defense, the biggest void will be left by All-Conference CB Chase Minnifield who led the 'Hoos with three interceptions last year. Demetrious Nicholson started as a true freshman last year and will look to step in for Minnifield as he tries to defend the ACC's best receiving threats. Fortunately, he misses Sammy Watkins this year. The line will take a major hit this year losing All-Conference performer Matt Conrath, Cam Johnson, and Nick Jenkins; this trio combined for 132 tackles and 8.5 sacks. The linebackers will be solid yet again for UVA, returning everyone except Aaron Taliaferro.

Virginia faces QB issues yet again, but was successful last season with the same faces. With added pressure this year, however, these QBs may need to carry more of a load on offense as the running game may take a hit with the holes left along the interior line. Michael Rocco seems to be the likely starter on day one, but expect David Watford and Alabama transfer Phillip Sims to push Rocco during the season for the top spot. Perry Jones is back after rushing for 960 yards and five touchdowns along with key backups Kevin Parks and Clifton Richardson who combined to add another 11 touchdowns. Talented underclassmen Dominique Terrell and Darius Jennings will have to step up to replace leading receiver Kris Burd.

Virginia is in an interesting position this year. They are clearly on the upswing and Mike London has the program headed in the right direction. However, I believe they will field a weaker team this year, but may catch a break with the schedule missing FSU, and Clemson, while also getting a weaker-than-expected Penn State team at home. They may surprise people yet again this year, but ultimately their QB and defensive deficiencies will do them in. Look for a strong 2013 season.
6. Duke
Quarterback Sean Renfree
Maybe known better for being the Manning brothers' quarterback coach, David Cutcliffe is entering his fifth year as head coach at Duke winning just six games in the past two years. Quarterback Sean Renfree was the starter for both of those seasons as he enters his senior year, hoping that he will be more Manning-esque in his final go-around. Renfree has shown flashes of high-level quarterbacking, like throwing for over 300 yards on three separate occasions in 2011. Renfree will have to capture these types of efforts in more games if Duke wants to win more than three games this season because his surrounding cast is not going to carry them.

Duke will have to outscore opponents as the defense gave up an average of 425 yards/game last season and the outlook this season doesn't seem much different. Renfree will team up with All-ACC receiver Conner Vernon who has been a staple in the passing game for the last three years. Projected starter at WR Blair Holliday was in a jet ski accident this offseason and will now be out of the lineup for the foreseeable future. Four starters along the line return as do three productive RBs in Desmond Scott, Juwan Thompson, and Josh Snead. Its not that the offense has been bad; its that the defense has been bad and the offense hasn't been great enough to overcome this problem.

The defense returns nine starters. That is the good news. The bad news is that Duke has allowed an average of over 31 points/game in each of the last two seasons and this season should not be much better. Defensive End and leading sack-getter Kenny Anunike returns after missing the last eight games. The Blue Devils struggled to defend both the run and pass last year and its depth is lacking at each positional unit.

Not only is Duke the weakest team in the Coastal, but it also draws a very difficult Atlantic Division schedule with games against Florida State, Clemson, and Wake Forest. Maybe its time for Coach Cutcliffe to recruit some of Coach K's players because the traditional high school football recruiting has not been working.