SEC - Eastern Division
1. Georgia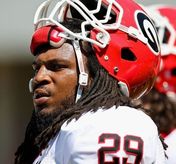 Linebacker Jarvis Jones
Mark Richt, who averages 10 wins per season, found himself on the hot seat last season after losing to Boise State and South Carolina to start the season. The team bounced back to reel off 10 straight victories that resulted in an SEC East crown. This season the defense that carried the Dawgs last year returns 9 starters including OLB Jarvis Jones who turned down an NFL opportunity. Aaron Murray could be the best QB in the conference as he returns for his third year under center. The Dawgs could make national waves this season as they hope Mark Richt can finally get over the hump and make it to the national title game.

Freshman All-American RB Isaiah Crowell was dismissed from the team during the offseason and his loss will be felt. The Bulldogs do not have an easy fill-in for him, but have a stable of capable backs including Carlton Thomas, Richard Samuel, and top-notch recruit Keith Marshall. In addition to Crowell, LT Cordy Glenn was a staple on the line for the past few seasons and will not readily be replaced; Murray's favorite target Orson Charles has moved on to the NFL after a terrific junior campaign. All three starting WRs return as well as true sophomores Malcolm Mitchell and Chris Conley. Mitchell will provide a nice vertical threat while Marlon Brown and Chris Conley will provide great size. This is a balanced offense that should flourish under Murray's leadership.

The defense only allowed 400 yards once all season and was truly fantastic under Todd Grantham's watch; fellow SEC schools Alabama and LSU may have overshadowed the Dawgs with their all-time great defenses. Southern Cal transfer Jarvis Jones notched 13.5 sacks last season and was really a catalyst in the turn-around from disappointing 2009 and 2010 seasons. NT John Jenkins and LBs Alec Ogletree and Michael Gilliard will be formidable up the middle; Bacarri Rambo and Shawn Williams combined for 12 picks last season at safety and will form one of the nation's best duos.

Not only are the Dawgs the most talented team in the Eastern Division, but they also draw an easy SEC schedule by dodging Alabama, LSU, Arkansas, and Mississippi State. Georgia will have a hard time winning the SEC championship because Alabama and LSU are lurking in the West, but would otherwise be national title contenders.
2. Florida
Safety Matt Elam
The Gators are a darkhorse team in the East that could produce one of the nation's elite defenses. 10 starters return from a very good unit in 2011 and the team overall should be improved as Will Muschamp enters his 2nd season as head coach in Gainesville. The only thing that separates Florida from UGA is quarterback play as the Gators don't have that rock solid number one guy. The likely starter will either be Jeff Driskel or Jacoby Brissett who both saw time last season in relief of struggling John Brantley who has graduated. Florida draws LSU at home this year, which should tack on an extra loss that UGA will not have.

Andre Debose and Quinton Dunbar return at receiver to provide either Driskel or Brissett above-average targets on the outside. Brissett, the better passer, or the more athletic Driskell will probably share time during the season because of their different skill sets. Whoever the starter is will receive great protection with 4 starters returning from a solid 2011 line. Olympic silver-medalist Jeff Demps and fellow speedster Chris Rainey will have to be replaced and Mike Gillislee will be the most likely starter. Gillislee is fast for normal football standards, but may be a notch below his predecessors. Regardless, the running game should be solid as Gillislee, Hunter Joyer, and Mack Brown will split carries.

Florida will find its success however by relying on this defense that will resemble some of Urban Meyer's championship units. Dominique Easley, Sharrif Floyd, and Omar Hunter will anchor an impressive line until Ronald Powell returns from an torn ACL. Powell, the former number one high school recruit, had finally realized his potential after having a monster offseason that ended with the injury in the spring game. He has worked hard by all accounts and is expected to do big things this season upon his return. Jelani Jenkins and Jon Bostic will lead one of the nation's best linebacking units while Matt Elam and Josh Evans head up a formidable secondary. Muschamp, a defensive mind, has plenty to work with this season and this side of the ball should be scary after another offseason of work.

As if fans needed another excuse to get excited for their rivalry games with Georgia and Florida State, these games will have huge implications this season. The division title could be decided in Jacksonville at the World's Largest Outdoor Cocktail Party and the State Championship will be on the line in Tallahassee to close the season that could sway perhaps the nation's largest and most lucrative recruiting war in one direction or another. Unlike last season, Florida will be ready for these challenges this year.
3. South Carolina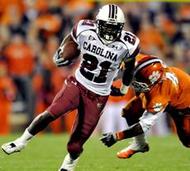 Running Back Marcus Lattimore
Despite only getting seven games out of Heisman candidate Marcus Lattimore, South Carolina won 11 games last season and finished the season ranked 9th in the AP poll. Although they lose impact players Melvin Ingram, Alshon Jeffery, and Stephon Gilmore, this season looks to be another successful one for the Gamecocks. The defensive front seven should carry them in tough games while Connor Shaw has the potential to balance out the offense. The Ol' Ball Coach will be looking for redemption this season as UGA stole the division title last season due to a weaker SEC conference schedule.

Three new starters along the line will be broken in to help propel Marcus Lattimore into the forefront of Heisman candidacy. Both tackles will be new faces; last year's starters allowed 30 sacks, which is too many but some were due to inexperience at QB. Connor Shaw should flourish without having to split time with Stephen Garcia. Shaw is a good athlete and is the son of a football coach with a good mind for the game. Aside from Jeffrey, all top receiving targets return while also welcoming in top-notch recruit Shaq Roland, who should play a lot in his first season.

The defense has been consistently good in recent seasons and should continue to impress. Stud recruit Jadeveon Clowney was the Rookie of the Year in the SEC last season after recording eight sacks and should be a force this season at DE. Between Clowney and 6'8" Devin Taylor on the opposite side, the Gamecock bookends will look like NBA power forwards wreaking havoc off the edges. DT Kelcey Quarles and LBs Shaq Wilson and Devonte Holloman are impact players up the middle of this defense. The secondary will be young, but talented.

Steve Spurrier has righted the ship in Columbia, but is facing the same difficulty that Mark Richt is facing: turning into a national title contender. This will not be the year that the Gamecocks make that leap, but will yet again be another solid season for Carolina.

4. Tennessee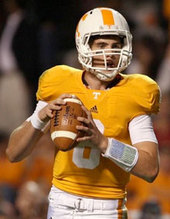 Quarterback Tyler Bray
After a disappointing 2nd season for Derek Dooley, Tennessee is primed for a much better year. They should be bowling this year led by a high-flying passing attack that returns everybody from a season ago. Only RB Tauren Poole doesn't return from the offense and WR Justin Hunter returns after only playing in two full games last season. The offense should be much improved from last year's squad that only averaged 20.3 points/game. With the defense returning 9 starters, Tennessee returns the most players in the conference this year including kicker Michael Palardy. After the Lane Kiffin debacle, Tennessee can finally say its back on track.

Quarterback Tyler Bray is garnering a lot of attention from NFL scouts for good reason. Bray threw for nearly 2000 yards in seven games last season and had a 60% completion percentage. Bray could make a bad team better, but is surrounded by plenty of talent on offense including All-American candidate Hunter. Stud receiver Da'Rick Rogers will not return after being suspended indefinitely for violating team rules. Rogers led the SEC in receiving last year, but was overshadowed by Hunter while he was available. The entire offensive line returns, but must improve after a shaky season in the run game. Talented true sophomore Marlin Lane will assume the starting running back position and should succeed in that role.

An improved unit a season ago, look for the defense to take another step this season. The pass rush must improve with only 16 recorded sacks and opposing QBs throwing for a nearly 60% completion percentage. Lineman Austin Jackson and Malik Jackson are gone from last year's team after solid seasons, but Darrington Sentimore and Marlon Walls will be solid replacements. The entire back seven returns led by Freshman All-American performers LB AJ Johnson and FS Brian Randolph. This unit is still young across the board and should only improve in coming seasons to resemble the UGA, UF, and SCar defenses.

While Tennessee will not be mistaken for world-beaters this season, they will be much improved and go bowling for the second time in Dooley's tenure. They have to play Alabama at home and have to travel to Georgia and South Carolina, which will make it extremely difficult to eclipse 9 wins. Tennessee should almost certainly finish fourth in the East as there are noticeable gaps between the top three teams and the bottom three teams when compared to the Vols.
5. Vanderbilt
Wide Receiver Jordan Matthews
We have now reached the James Franklin segment of the SEC East preview as Vanderbilt Head Coach James Franklin will try to hold off Missouri QB James Franklin for 5th place in the division. Vanderbilt James Franklin has done a great job at the school to bring the program back to relevance in just his second season. He has been known to arrive to high school football games in helicopters and has been recruiting at a level that Vanderbilt hasn't seen before. The offense improved its points per game by a whopping 10 points/game in 2011 after returning its entire unit.

This year, the offense returns eight meaning that eight players will be entering their 3rd season as starter giving Vandy one of the most experienced units in the nation. Dual-threat QB Jordan Rodgers returns for his senior season all of his weapons at RB and WR. Jordan Matthews and Zac Stacy were both 2nd Team All-SEC a season ago; and Chris Boyd had a great freshman season catching 8 touchdowns. The offensive line was much better last season than in 2010 and returns three starters. Replacements Spencer Pulley at Center and Andrew Bridges at Right Tackle both have experience and should do fine in their roles. Look for Vanderbilt's offense to improve yet again in year two.

The defense had a remarkable 10 points/game improvement as well in 2011. This season Vandy will hope that this unit can match last year's performance as All-American CB Casey Hayward and stud LB Chris Marve have moved on. 2nd leading tackler on the team SS Sean Richardson is also gone, leaving two big voids in the secondary. Overall, Bob Shoop's unit will be solid yet again as capable depth will assume leading roles, but may not be able to match 2011's production, especially with improved offenses in the division.

2011 marked an all-time great season for the Commodores. They reached a bowl for just the fifth time in school history and have finally found their coach. They avoid Alabama, LSU, and Arkansas but still face a difficult schedule. Vanderbilt should be an improved squad from a season ago, but will still be on the cusp of making a bowl.
6. Missouri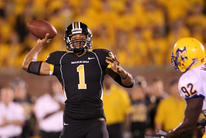 Quarterback James Franklin
Quarterback James Franklin will be one of the best in the SEC, but the team will struggle to adapt to the style of play in the south. The defenses are much better than they are used to in the Big 12 and Franklin is not a miracle worker. Only six starters return on each side of the ball, which will make the conference transition that much harder.

Mizzou will be breaking in two brand new starters on the line and will struggle to protect Franklin against some of the top D-lines in the country. This will be the biggest challenge for Missouri because the skill positions will be fine including number one recruit in the nation Dorial Green-Beckham who will provide a Calvin Johnson-like presence down the field. RB Kendial Lawrence will team up with 1st team All-Big 12 RB Henry Josey who looks to return near the end of the season after obliterating his knee last year. Overall, if the line surprises, look for Missouri to put together a solid offensive output this season.

On defense, Brad Madison is the only returning starter along the line, but Nose Tackle Sheldon Richardson had a terrific season last year in his first season after being one of the best junior college players in the nation. The majority of the back seven returns from a unit that struggled in a pass-happy league. Overall, this unit should struggle to adapt to the SEC of balanced attacks.

Missouri also plays tough games against Arizona State and UCF, which will not help the record if Mizzou wants to go bowling. The tigers also draw tough Western Division games with Alabama and Texas A&M. In its first season in Southeastern Conference play, look for Missouri to struggle in comparison to recent years.
7. Kentucky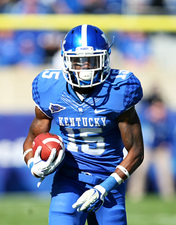 Safety Martavius Neloms
The Wildcats haven't been ranked since 2007 in a season that put the state in the forefront of the college football world when Kentucky and Louisville were both ranked in the top 10 of the national polls. Since then, it has been downhill that included a coaching change to Joker Phillips in 2010. Last season, Kentucky failed to make a bowl for the first time in six years, which was quite a run for a program that has only played in 15 bowls. There will be a quarterback battle that may not be resolved by the end of camp; incumbent starter Morgan Newton and true sophomore Maxwell Smith will fight for the starting position. While the QB play will not be terrific, it should be improved as both candidates played last year and will be more experienced this year.

Smith and Newton will be protected by an inexperienced line that features All-Conference performer Larry Warford at Guard. Last season the offense only averaged 3.5 yards/carry and struggled to get a push up front. La'Rod King returns at receiver after catching seven out of the only 12 touchdowns thrown all year. On six separate occasions, the offense was held to 10 points or less, struggling to score on many SEC defenses. Unless the quarterback play has an unexpected turnaround, expect more of the same from the Wildcats this season.

The defense will have issues this season in Lexington as five of the top seven tacklers are gone from last year's average unit. The stats were a little skewed after allowing 639 yards against South Carolina and 520 yards against Florida; aside from these outbursts, the defense as a whole was respectable. Still, this season provides new challenges for Joker Phillips and co. as the back seven loses a lot and does not have much proven depth to fill voids. The defensive line will be the strength as the starters will all have either started or played meaningful minutes with success.

Coach Phillips hopes that he can return to a bowl game this season, which will be tough playing in an improved SEC East Division. Kentucky avoids LSU and Alabama, but will have to face Arkansas, Mississippi State, and Missouri. The Wildcats can hope for a bowl, but that is about it as Phillips' team will struggle again in 2012.