Fashion Wars

How Important is a Program's Look?
Mike Nowoswiat - May 23rd, 2016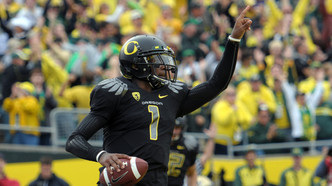 Everybody knows what a uniform is. Some may say a uniform includes the helmet, the shoes, and every imaginable piece of fabric in between. Some may limit it to only the jersey and the pants. To put it simply, the uniform is the appearance of a football player and team. On game days, it can provide a small pre-game confidence boost, at best. In the big picture, the uniform's impact is up for debate.
​
A team's uniform certainly contributes to its overall brand, as does winning, visibility, stadium size, conference affiliation, and many, many more factors. However, a "brand" is much murkier than a uniform. Think of the brand as the fruits of a team's marketing program while the coaches are its sales force. Long before coaches even recognize them, young football players begin to perceive and rank different schools in their minds based upon what they see on TV and what they hear from the people around them. The better the perception, the easier the recruiting pitch will be. Sometimes one has much more influence than the other. For example, at the height of Texas' dominance in the mid-2000s, the Longhorn brand was so powerful that Texas filled out most of its recruiting classes when Mack Brown offered players for the first time at the UT Junior Day in February—the 2008 class had 17 players commit in February and March of 2007. Kids were literally lining up to play for the Longhorns. Oppositely, when a new coach is building a program from scratch, the sales pitch is going to have to carry the poor perception.
The debate here is just how much of that intangible brand one should attribute to the uniform. One way to find out would be to simply ask the recruits themselves—so we did. We surveyed 100 FBS football recruits, all sophomores or juniors in high school. None of the recruits were committed to a school. We avoided seniors because they are deep into the recruiting process and their answers may be heavily swayed by the sales pitches of coaches. The goal of this survey was to gauge how well schools are positioning themselves in the minds of recruits
before
perceptions may be altered by relationships with coaches, official visits, and the rest of the "sales" process. Of course, recruiting begins prior to senior year, but this method at least limits some of those influences.
Note: survey was taken prior to National Signing Day for seniors (before the juniors became the primary focus).
---
---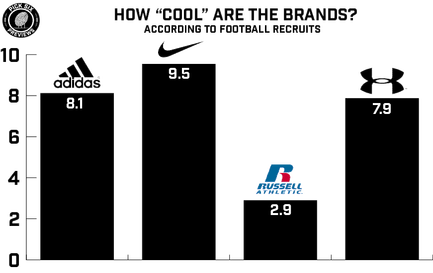 First, we asked recruits to answer: "Uniforms have a great impact on my perception of a team." The recruits could answer 'Very True', 'Moderately True', 'Moderately False', 'Very False', or 'N/A'. Only 11 out of 100 prospects responded 'Very False', while 72 responded either 'Moderately True' or 'Very True'. Next we asked: "A school's uniform will impact my college decision." The results were: 'Very True' (7), 'Moderately True' (26), 'Moderately False' (24), and 'Very False' (31). To be honest, I expected even more 'Very False' responses than there were. I imagine most prospects place education, winning tradition, and other criteria much higher than uniform design; if they had a checklist, there probably wouldn't even be a box for "uniforms" because it sounds so shallow and meaningless. However, considering there are many schools that check the same boxes, appearance and perception could become the main differentiators. For example, 12 ACC schools are ranked within 70 spots of each other in the 2016
US News
National University Undergraduate Rankings. Similarly, six ACC teams finished with seven or eight wins in 2015. There is not a lot of separation between the majority of Power 5 teams, and most of them offer a similar overall package in terms of academics, competent coaching, and, to some degree, program history. At the very least, there are multiple options within each category (i.e. Football Blue Blood, Academic, etc.).
​
Further, we asked which uniform manufacturers are preferred. In 2005, Nike made 70.8% of all Power 5 conference uniforms. Adidas made 20%, Russell Athletic made 6.2%, Under Armour made 1.5%, and Reebok made 1.5%. In 2015, those numbers changed to: Nike (69.2%), Adidas (16.9%), Under Armour (12.3%), Russell Athletic (1.5%), and Reebok (0%). Under Armour's upward trajectory (and apparently Allen Iverson's retirement) has dramatically shifted the landscape today. And with the growing "athleisure" trend, athletic brand names are bigger than they have ever been. We simply asked prospects how "cool" the brands were. Unsurprisingly, Nike topped the charts. Also unsurprisingly, Russell Athletic (Georgia Tech), fared the worst. Nike spent $3.2 Billion on "demand creation" in 2015, which includes things like athlete sponsorships, advertisements, events, product launches, etc. If Nike spends that type of money to increase its brand perception, it's no wonder the swoosh reigns supreme in the minds of high schoolers. Conversely, Russell Athletic doesn't invest nearly as much money in its marketing strategy and is not viewed, nor priced, as a premium brand.
Of course, Nike does not have one cookie-cutter design for all 46 teams it outfits, so the uniforms can vary greatly by school. We then asked which uniform style recruits preferred: modern or classic. Of course, this question does not factor in the execution of the uniform design, but the results provide some insight into the minds of these prospects. The most popular answer also implied that the execution was critical, as "both could be cool" (47%). However, the surprising statistic was that 43% of respondents favored modern uniforms while only 5% preferred classic uniforms. If you polled the alumni bases from Power 5 schools, you would probably see drastically different results.
---

---
Finally, to see which teams actually appealed the most to these prospects, we asked each player to write in the team he thought had the best uniform and the team he thought had the worst uniform. Oregon had the overwhelming majority of votes for the best uniform—60 of 94 respondents voted for the Ducks (some players wrote in more than one team). There was a greater variety of responses for the team with the worst look. One player said, "worst uniforms I do not know, but baggy jerseys I do not like." Alabama and Penn State, Nike schools, were the leading vote-getters for this question, which reinforces the recruits' preference towards modern, not classic, uniforms. Clearly, the unfavorable uniforms have not hurt the Crimson Tide brand, which is perhaps the strongest in college football. However, the 22 teams receiving votes for "best uniforms" averaged 8.86 wins in 2015, while the 29 teams receiving votes for "worst uniforms" averaged only 6.5 wins in 2015. Since average number of wins takes into account actual coaching ability, we also looked at the average 2016 recruiting class rankings according to Rivals.com. The 22 teams receiving votes for "best uniforms" had a combined average recruiting class ranking of 24.0—the 29 "worst" looking teams had a combined average of 53.9 (note: teams ranked outside of the top 96 were given a ranking of 97).
​
The best-looking teams are clearly favored by the younger demographic. How big of an impact does this make? Well, that is the million-dollar question. Certainly, a program's overall brand is crucial as it tries to attract top talent. And while we can't quantify the impact a uniform has on a brand, the uniform is, at the very least, one of the most manageable factors. Stadium size, conference affiliation, location, and on-field results are much more difficult, if not impossible, to improve. Dressing your team up in subpar uniforms is the marketing equivalent to cutting corners in practice.

For better or for worse, uniforms matter more than ever.
How important do you believe uniforms are? Please follow us on twitter and tweet/message us @PickSixPreviews


You May Also Like...
| | |
| --- | --- |
| | You hear it every year: "I chose [Insert School] because they put players in the NFL." It is one of the go-to recruiting pitches for every coach with NFL experience, and every coach who employs a pro-style offense. For instance, Duke's David Cutcliffe—QB mentor to the Manning brothers and a pro-style offense aficionado—took jabs at Georgia Tech coach Paul Johnson's spread option attack: "You're not seeing what you're going to see in pro ball, if you think you're a pro-type of player. If I'm a receiver, why?" Of course, Paul Johnson has been pumping out NFL receivers like no other, so is there any merit to what Cutcliffe is saying? How about the coaches who are negatively recruiting against Oregon's offense? Continue Reading... |
After decades of dreaming about it, years demanding it, and months arguing about it, the Playoff Era is finally here. The old BCS system would have produced a National Championship Game of #1 Florida State (only undefeated) and #2 Alabama (SEC Champion), but with both of those squads losing in the National Semifinals, the new system is instantly validated.

Continue Reading...