Heisman Corner
December 13th, 2013
By Mike Nowoswiat, Brett Ciancia, and Julian Pritcher

Heisman Ballot

With no more games to play, the Heisman race has seemingly figured itself out. Jameis Winston is a virtual lock to win the award after being freed of any charges last week. He is both our pick to win the award and our prediction. The rest of the field is more uncertain. AJ McCarron is the media darling that is somehow making the trip to New York. In our eyes, he has been the benefactor of the world's best supporting cast in the last few years. Not to say he is bad, or even good; he is a great quarterback. But is he one of the best players in the nation? Is he even the most valuable player on his team? Maybe because of the nature of the position, but we do not feel he is worthy for his performance this season. Andre Williams and Tre Mason represent the running backs with Williams being a one-man force up in Boston while Mason used the SEC Championship game platform to catapult himself over candidates like Arizona RB Ka'Deem Carey and Fresno State QB Derek Carr for a NYC invite. Williams won the Doak Walker award and surpassed the critical 2,000 yard threshold that is essential for a Running Back's candidacy in the age of the Quarterback. And finally, Johnny Manziel and Jordan Lynch round out the finalists as both dual-threat signal callers have had amazing individual success on less-talented teams than Winston's juggernaut Seminole team. However, both players recently disappointed in the final week(s), seriously hurting their chances to win the award.

The Pick Six Previews staff has taken a vote consisting of three votes per person. The results:
1. Jameis Winston, Florida State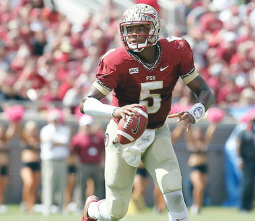 2013 Stats: 3,820 yards passing, 38 TDs, 67.9% completions, 193 yards rushing, 4 TDs (13 games)

Mike's Take (Ranked Winston 1st): Even though Winston looked mortal against Miami, his two primetime victories over Clemson and Miami gave him the spotlight he and his team needed as the Seminoles cruised to huge victories in both games. Not to mention, the evolution of this offense with Winston at the helm certainly helps his perception. He replaces a first round draft pick--EJ Manuel--and has improved the offense exponentially. And, finally, Winston was cleared of any rape charges.

Brett's Take (Ranked Winston 1st): Winston has been far and away the best player of the season. Combine that with leading the nation's best team to an undefeated season - Winston should be a lock for the Heisman.

Julian's Take (Ranked Winston 1st): There is a reason Winston is the ONLY guy we all agree on. If Winston isn't a lock for the number 1 overall pick next year (2015 Draft), scouts haven't been watching.
2. Andre Williams, Boston College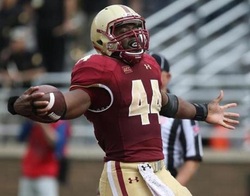 2013 Stats: 2,102 yards rushing, 6.39 yards/carry, 17 TDs (12 games)Mike's Take (Ranked Williams 2nd):
Williams has single-handily (along with the offensive line) carried the Eagles to a winning record after living in the FBS basement last year. Again, we are faced with the age-old question: how important is team success in the Heisman race? While Boston College isn't ranked--let alone a title contender--the improvements made from last year will certainly work in Williams' favor. Winston has the benefit of an extra game, while Williams has the benefit of a clean police record.
Brett's Take (Ranked Williams 2nd):
Andre has been unstoppable, and his sheer production puts him in the discussion. But he has risen up my leaderboard due to the fact that he plays on a one-dimensional offense, and defensive coordinators know exactly what is coming (and cannot stop him). His last three rushing totals before last week's injury: 295, 339, 263. While I do not have Williams number one anymore,
HERE
is why I had Williams as my Heisman winner heading into Week 14.
Julian's Take (Ranked Williams 3rd):
Williams will drop from most people's Heisman rankings after a poor performance against Syracuse. Williams only rushed for 29 yards against a bad Orange team. If you've never seen Andre Williams play, you're in for a treat during bowl season. He is a beast of a back that would rather run through you than around you. You don't see a player who looks like a man among boys very often (see Calvin Johnson). Williams is that player, breaking tackles and out running safeties into the end zone. He is the reason Boston College is relevant and bowl eligible.
3. Johnny Manziel, Texas A&M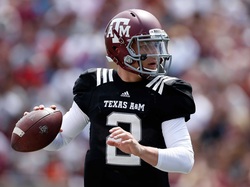 2013 Stats: 3,732 yards passing, 33 TDs, 69.1% completions, 686 yards rushing, 8 TDs (12 games)

Mike's Take (Ranked Manziel 3rd): Manziel has been the best player in college football for the past two years, so if anyone deserves a "lifetime achievement award," it's JFF, not AJ McCarron. Manziel had arguably a better season this year than he did a season ago considering his supporting cast. His defense was much worse and he lost some key cogs on an offense that was arguably the best in the nation last year. Manziel didn't have the signature win this year, but his game against Alabama was possibly the best performance by any player all year. Manziel ended the season with two bad games, which will take him out of serious contention, but are there really any serious contenders besides Winston?

Julian's Take (Ranked Manziel 2nd): Even though Manziel is not having quite as good a season as last year, he is still the sole reason the Aggie's are able to compete in the SEC. He deserves credit for keeping the program above water in a much tougher conference.
4. Jordan Lynch, Northern Illinois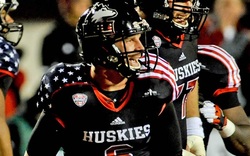 2013 Stats: 2,676 yards passing, 23 TDs, 63.1% completions, 1,881 yards rushing, 22 TDs (13 games)

Brett's Take (Ranked Lynch 3rd): Lynch is the definition of a dual-threat quarterback. He already held the NCAA season record for rushing yards by a quarterback coming into 2013 (1815 yards in '12), and broke his own record this fall (1881 yards RUSHING). Incredible production for a guy that lacks the supporting cast of the other quarterback candidates. "But he plays in the MAC!!!" - yes, Lynch plays in a non-BCS conference, but what has he done in the context of his league? dominated. Back-to-back perfect regular seasons, a BCS bowl bid last season, and came just short of another MAC crown. He means more to his NIU team than any other player in America. After watching several of his weekday performances, Lynch is deserving of Top 3 consideration, and earns my 3rd place vote.