BIG TEN - LEADERS DIVISION
1. Wisconsin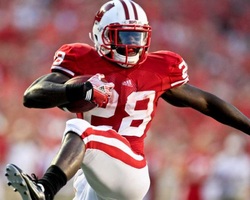 RB Montee Ball
July 2010 marked the BigTen expansion to 12 teams with the addition of Nebraska; the two divisions were devised to separate what many viewed as the 4 powerhouse programs: Michigan and Nebraska in the "Legends" and Ohio State and Penn State in the "Leaders." Much overlooked was Wisconsin, who since then has posted back-to-back 11 win seasons, winning the BigTen title both years. Despite coming up short in both Rose Bowls (losses to TCU and Oregon) Bielema's Badgers have represented the conference well in the national spotlight. With scandal plaguing the other top teams in the Leaders Division, the path to Pasadena will pass right through Madison, Wisconsin for a third straight season.
Overshadowed by RB Montee Ball's video game-esque stats (1923 yards, 39 total TD) was QB Russell Wilson. Wilson (transfer from NC State) was the key difference maker for the Wisconsin team last year, turning the rush-heavy offense into a well-rounded attack. After his graduation, a void was once again present at the QB position, but lightning struck twice as Wisconsin again picked up a 'free agent' QB transfer from the ACC. 2010 Freshman of the Year QB Danny O'Brien (from Maryland) will take his talents up north to lead the Badger offense. However, Wilson was one of a kind, and it is doubtful that O'Brien will match his 2011 production. Ball returns for his senior season, making the backfield strong yet again (Ball was involved in a campus altercation and his status is currently uncertain). Wisconsin, known for its massive offensive line, needs to replace 3 of last years 5 starters. Top receiver Jared Abbrederis will stretch the defense vertically to help open up the lethal run game. This unit will be strong but not elite like the 2011 group.
6 starters return from a solid defense that allowed only 19 points a game a year ago. The linebackers will be the strength, led by Mike Taylor and Chris Borland. Former role players now need to produce on the starting unit, a task that Bielema always seems to prepare them for. You'll never find Wisconsin atop the recruiting rankings, but that's why games aren't won in February; Bielema always gets total effort and dedication from his less-heralded players.
With Ohio State and Penn State ineligible for postseason play, and other contender Illinois undergoing a coaching change,
there is not a bigger lock than Wisconsin winning the Leaders Division
. They will coast to 5-0 but then have to travel to Nebraska for their first 2012 test. After that, the Badgers get Michigan State and Ohio State at home. Look for Wisconsin to be dominant yet again; they'll be 'Jumping Around' in Camp Randall again this season.
2. Ohio State*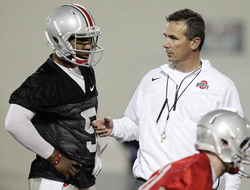 QB Braxton Miller and Coach Urban Meyer
Many predicted Ohio State to be a national championship contender in 2011 with QB Terrelle Pryor entering his senior season. Then scandal struck Columbus, Ohio in the form of 'tattoo-gate.' Coach Jim Tressel was tied up in the mess and forced out, leaving behind a decade of dominance that included a National Championship (2002), a Heisman winner (Troy Smith), and 7 BigTen titles. Last season, Defensive Coordinator Luke Fickell stepped up as Interim Head Coach and was clearly not ready for the task resulting in a poor 6-7 season. With the dismissal of Pryor, true freshman Braxton Miller started at QB. Besides the last-second touchdown to upset Wisconsin, the 2011 season was one to forget for Buckeye Nation. The NCAA imposed a scholarship reduction and 1 year postseason ban. Nothing was going right for O-H-I-O until the hiring of legendary coach Urban Meyer.
Already Meyer is setting a new tone for the program, establishing a clear intolerance of violations and behavior problems. Several players have been dismissed or suspended, even previous starters and seniors. Meyer will attempt to install his spread offense that was popularized by Tim Tebow from his Florida days. Braxton Miller, a dual-threat QB, is the perfect player to lead this offensive attack. Top RB Jordan Hall suffered an injury in spring practice and will miss at least 3 games in the fall- look for big back Carlos Hyde to fit well as the power runner. It is difficult to overhaul an entire offense in one offseason, but if any coach is up for the challenge it is Meyer.
For the uncertainties with offense development, the Buckeye defense will be very strong. With Fickell back at defensive coordinator, and 9 starters returning, the defense will return to its 2000's dominance. DE John Simon and DT Jonathan Hankins are both gaining All-American attention, and rightfully so. The dismissal of starting LB Storm Klein wont hurt as bad as most think- Ryan Shazier and Entienne Sabino are playmakers in the Linebacking core. 'Defensive Back U' returns all 4 starters in the secondary.
Meyer has his hands full in year 1 at Ohio State. The 5 and 4 star talent is there; but how quickly will he be able to install his system and gel this torn program? Further, how can he motivate his team week-to-week with no possibilities of playing in the conference title or bowl game?
The Buckeyes season finale with the 'School up North' will serve as their 2012 championship game
; motivation shouldn't be a problem for this one.
3. Illinois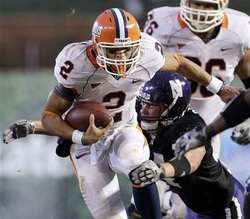 QB Nathan Scheelhaase
Illinois was off to a 6-0 start and ranked for the first time in 3 years until being shut down by rival Ohio State in week 7. The 17-7 loss took the wind out the Illini's sails, as they plummeted down the stretch, losing the last 6 regular games to finish 6-6. The second straight loss to Minnesota was the nail in the coffin for inconsistent Coach Ron Zook. Enter Coach Tim Beckman, who turned mediocre Toledo into a bowl team in 3 short seasons.

The offense is led by creative QB Nathan Scheelhaase, who led the team in passing AND rushing last season. Scheelhaase is an accurate passer, but also knows just when to tuck the ball and scramble effectively. He has serviceable receivers and offensive lineman this season, and could approach the 2000 yard pass – 1000 yard rush club.

Last year the Illini defense was the strength of the team allowing 19 points per game while achieving 41 sacks. Losing first-round draft pick Whitney Mercilus will be tough to replace along the defensive line. But overall, 7 starters return from the talented 2011 group.

Coaching transitions are always tough to gauge, but in the relatively weaker Leaders Division, I see Illinois matching or even surpassing last season's 7 wins. They draw Penn State and Purdue at home, which are key for division standings. The season finale at Northwestern for the Land of Lincoln Trophy could impact bowl placement for both squads.


4. Purdue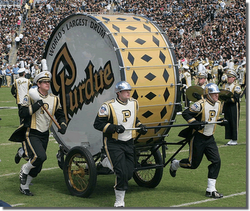 World's Largest Drum
In the two years following the Curtis Painter era, Purdue struggled and missed bowl season in 2009 and 2010. Coach Danny Hope reached a bowl in his third campaign winning the Little Caesars Bowl last December. The Boilermakers hope this bowl win sparks the program to return to its competitive standing it once had.
The old football adage states, 'if you have 2 quarterbacks, you truly have none.' Coach Hope wants to disprove the theory this season in using both of his Senior quarterbacks: Caleb TerBush and Robert Marve (Miami transfer). The top 5 rushers return along with top receiver Antavian Edison giving the quarterback duo some surrounding talent at the skill positions. All in all, the offense was decent a year ago, and with 8 starters back the unit should improve.
Purdue boasts one of the best defensive lines in the BigTen featuring All-Conference DT Kawann Short who registered 10.5 sacks in 2011. Even the secondary has star power with shut-down Cornerback Ricardo Allen. Look for this unit to be Coach Hope's best Purdue defense yet.
The schedule makers dealt Purdue a curveball; an October stretch of Michigan, Wisconsin, and AT Ohio State looks grim for the gold and black. However, with enough senior leadership I think Purdue should take care of most winnable games, make a second consecutive bowl, and
that World's Largest Drum (pictured) should be more active than in recent seasons
.
5. Penn State*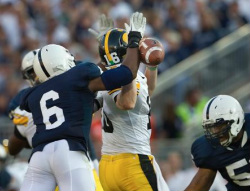 LB Gerald Hodges
The iron fist of the NCAA came down hard on State College, Pennsylvania this summer in response to the Sandusky-scandal and ensuing decade of cover-up by university officials including long-time head coach Joe Paterno. The sanctions: No bowl games for 4 years, 4 year scholarship reduction, 60 million dollar fine, and vacating of 112 wins back to 1998. But most importantly lost is the Penn State tradition of honor and dignity- totally wiped away forever.
How can a program possibly return to normalcy? It can't, and wont. Penn State must embrace a new identity- new coach Bill O'Brien attempts to re-brand PSu football and try and survive through absolutely crippling sanctions.

The outlook is grim both short-term and long-term.
A pathetic offense a year ago that averaged just 19 points a game
(second-worst in BigTen) was set to return just 5 starters...until the mass exodus of transfers began. Fast forward two weeks, and the 9 key members of the team are scattered across the nation, adapting into new programs and universities. The offense was hit hard by transfers, as star RB Silas Redd departed for USC, team-leading receiver Justin Brown left for Oklahoma, and shifty WR Devon Smith is at Marshall. The only remaining starters are center Matt Stankiewitch, and QB Matt McGloin who struggled a lot last fall. He literally has no experienced players around him, and is forced to learn an entire new offensive system heading into his senior season. This offense will be awful yet again this fall.
Last season, the defense was relied on week after week due to the inept offense, and it usually did enough to win games, albeit close ones. With just 4 starters returning, and several key 2-deep players transferring, it is far-fetched to assume there will be no drop-off.
Seniors Gerald Hodges and Jordan Hill need to step up big time and rally the younger players.
Penn State wont be able to hide behind a great defense like it did a year ago. Some didn't think it possible, but this offense will be worse than last season's atrocious unit. Not only is the BigTen a grueling schedule, Penn State's non-conference slate presents several challenges. Ohio is a difficult season opener, the road trip to Virginia will be tough, and Navy shouldn't ever be taken lightly. Then a matchup with Temple that nearly knocked off the Lions last year in the 14-10 nailbiter. If SMU was dealt the 'death penalty' back in the 80s, then consider this PSu situation

'life in prison

', as the Nittany Lion football program will slowly wither away into mediocrity. Look for a losing season this fall...the first of many for Penn State.
6. Indiana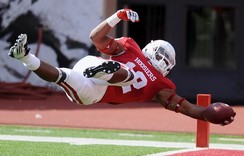 RB Stephen Houston
Indiana has one win over a BCS conference team in the last two seasons, and failed to defeat a Division 1-A team in 2011 finishing with a 1-11 record. 2nd year coach Kevin Wilson was part of the Oklahoma staff of the 2000's that went to countless BCS bowls and produced multiple Heisman quarterbacks. If he can bring even a fraction of that success to Bloomington, it'd be a miracle. This football program has been the punching bag of the conference.

The Hoosier offense went through some growing pains last year starting true freshman QB Tre Roberson. With the installation of a pass heavy offense, the starting job is very much undecided heading into fall camp. The strong point of the offense is electrifying RB Stephen Houston whose role may adjust a bit with the new offensive strategy.

The defense returns 7 starters, but this stat is irrelevant considering they allowed over 37 points per game in 2011. This unit needs improvements from top to bottom if they hope to achieve a conference win.

Look for another year in the conference cellar for Indiana. They don't even get to play Minnesota this season, which would have represented their best chance at a conference victory.