BIG TEN - LEGENDS DIVISION
BRETT CIANCIA
August 20th, 2012
1. Nebraska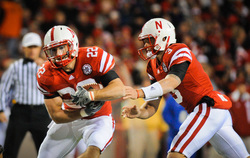 RB Rex Burkhead and QB Taylor Martinez
"It's Time"… At the Big Ten Media Day, head coach Bo Pelini and his three senior leaders constantly repeated the phrase, "it's time." It's time to take the Cornhusker football program from good to elite, back to a legacy it once had. It's time to win a conference championship, a feat the team has failed to accomplish since 1999. Finally, it's time to get back to the greatness of old: the unstoppable rushing attack, the feared "Blackshirt" defense, and the piercing chants of GO BIG RED ringing through sold-out Memorial Stadium.

Last season Nebraska underwent the transition from the Big 12 to the Big Ten, a challenge that meant game-planning for 11 new opponents. Pelini's successful 4-2-5 Peso Defense (designed to stop the pass-heavy offenses of the Big12) struggled against the rush-heavy Big Ten offenses. Despite being one of only 6 FBS teams to win 9 or more games in each of the last 4 seasons, Nebraska fans were disappointed with the 2011 campaign (9-4).

The Huskers return a majority of the offense including junior QB Taylor Martinez, all-conference senior RB Rex Burkhead, and the entire receiving core. Martinez has been close to breaking 1000 yards rushing the past two seasons and will approach that figure again in 2012. The rushing game has had proven success, but to climb back to elite status, Martinez needs to become a more efficient passer on third and long. The fact that finally, for the first time in his career, Martinez had coaching stability in the offseason raises optimism that the offense will thrive this season. The Husker receiving group is perhaps the best in the conference led by speedy Kenny Bell, and sure-handed Quincy Enunwa. Throughout the Pelini era, the offensive line has been very average, and needs to cut down on untimely holding and false start penalties this season.

After losing a star from each level of the defense (DT Crick, LB David, CB Dennard) Pelini has his strongest rebuilding challenge yet. However, the overall experience is up from last year, with a strong defensive front and solid secondary. DE Cam Meredith and DT Baker Steinkuhler will receive all-conference hype, and LB Will Compton will be a disruptive force in the middle. If Pelini can develop some of his younger linebackers and mold the defense to a more traditional 4-3, this group will impress.

Nebraska is way better off than last year in terms of familiarity in the conference; Pelini knows what to expect from opposing offenses this time around. With a potent offense, and key matchup vs. Michigan at home, I'm picking Nebraska to win the Legends Division. IT'S TIME for 'N' to return to the national scene and play for titles again.


2. Michigan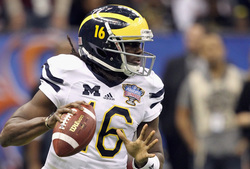 QB Denard Robinson
After 2 losing seasons in his short 3-year tenure as Michigan head coach, Rich Rodriguez was replaced by alumni Brady Hoke. The Rich-Rod era was a dark time for the Maize and Blue, including a 3-9 campaign in 2008, which was the fewest wins in 50 years. There were mixed expectations surrounding the program with the addition of Coach Hoke, but his 2011 team exceeded most. The Wolverines powered through the BigTen, but an untimely loss to Michigan State cost them a spot in the inaugural conference championship game. The 10-2 regular season was capped off with a Sugar Bowl victory over Virginia Tech. Perhaps most important to the Michigan faithful was their win over rival Ohio State- a feat unaccomplished in 7 years.

Michigan will again be atop the conference with electrifying Senior QB Denard Robinson returning. Despite some inconsistencies in the passing game, Robinson's top rushing performances are of Heisman quality. However over the last 3 seasons he has failed to string together such games long enough to avoid upsets within the talent-rich BigTen. While some of the playmaking receivers return, question marks surround one of the key cogs to the offense – Junior RB Fitzgerald Toussaint. Toussaint, a 1000-yard rusher a year ago, was arrested and suspended indefinitely on DUI charges this summer. Without a strong threat at RB, defenses will be able to focus on Robinson's running and possibly make the offense one-dimensional.

Despite the lack of success over the past 4 years, the offense was rarely the problem- it was a weak defense that failed them. That was perhaps the biggest difference after the coaching change- the return of a strong defense. Last year's unit allowed less than half the points as the '10 squad (17.4 ppg). However, most of the defensive front must be rebuilt and the trenches are where BigTen games are won or lost.

The 2012 season starts fast for Michigan with a matchup against defending National Champion Alabama. It will be a challenge to refocus if in fact Roll Tide rolls the Maize and Blue. Michigan's two toughest conference games are on the road this year in trips to Nebraska and a season finale at rival Ohio State. The October 27th primetime game in Lincoln is essentially the Legends Division Championship sending either the Huskers or Wolverines to Indianapolis.


3. Michigan State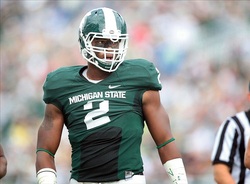 DE William Ghoston
It has been quite a 2 year stretch for Michigan State football. The Spartans accomplished its best run in school history since its 1966 National Championship squad winning 11 games in both 2010 and 2011. And it didn't lack memorable plays: the 2010 fake FG touchdown pass in overtime over rival Notre Dame, and last seasons' Hail Mary TD pass to upset #4 Wisconsin are true classics.

With both career passing record QB Kirk Cousins and career receiving leader BJ Cunningham graduating, there is much uncertainty on the offensive side of the ball. The main strong spot is workhorse RB Le'Veon Bell who will have to carry the ball 20 times a game. The run game should be effective behind 4 returning starting lineman, but without its top 4 receiver targets from 2011, will this offense be too one-dimensional?

For all of the concern with the offense, Sparty Defense is clearly the conference's best unit and should keep them in most games. The star combo of Defensive End William Gholston and Cornerback Johnny Adams will lead another strong defense. Coach Mark Dantonio's defense stifled Michigan to its lowest point total of the season, and even held Ohio State to a mere 7 points. If a repeat division title run exists, the defense will be leading the way.

Nationwide, this is the most hyped Michigan State team in recent memory. While the defense should be top-notch, I can't totally back a squad that loses its best QB and WR in school history with no experienced players to help step in. If the opener against Boise and home game against Ohio State go well, don't be surprised to see Sparty 7-0 and top 10 ranked heading into a killer three game stretch: AT Michigan, AT Wisconsin and vs Nebraska. That late October stretch is hard enough to navigate, even IF they develop a passing game…


4. Northwestern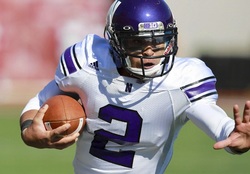 QB/RB/WR Kain Colter
Once the punching bag of the conference, Pat Fitzgerald's Northwestern Wildcats are poised for a fifth consecutive bowl appearance. Despite losing dominant Quarterback Dan Persa (NCAA record for completion percentage 72.7%) to graduation, the Cats will rally behind do-it-all Kain Colter.
It isn't often when a team's top passer, rusher, and receiver is the same player- for Northwestern Colter fits that rare title.
Bigger programs are wishing they paid more attention to Colter out of high school; under-the-radar prospects play with a chip on their shoulder. That chip was never bigger than his unbelievable performance in Northwestern's upset over #9 Nebraska. Colter isn't the best passer, or the quickest runner, but he is a crafty scrambler and always makes the right reads. This guy will carry his offense time and time again. He was thrown into difficult situations and split snaps with an injured Persa but should thrive as the full-time leader.
The defense isn't that intimidating (27.7 ppg in 2011) but should improve under fiery former-LB Fitzgerald. A decent front 7 will have to over-perform to compensate for a very inexperienced secondary.
Northwestern gets both swing games at home with Iowa coming for homecoming and rival Illinois as the season finale. Assuming NW takes care of the out-of-conference matchups and handles Indiana, PSU, and Minnesota, an 8 win season isn't out of the question. With a full year and offseason under his belt,
look for Colter to pick up for the loss of Persa - and then some
, adding a new element to the offense.
5. Iowa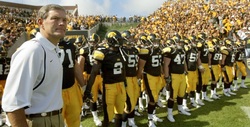 Coach Ferentz and his Hawkeyes
Late 2010, Iowa was ranked 13th, and was heading to the Horseshoe for a chance to claim the BigTen title. After Ohio State's game-winning field goal, it just hasn't been the same for the Hawkeye football program. The following week resulted in a rivalry loss to Minnesota. That offseason included drug scandals, and winter conditioning incidents and led to an underwhelming 7-6 campaign in 2011. This offseason was no better with the suspension of top RB Marcus Coker leading to his transfer.

The sole bright spot for the Hawkeye offense is Senior QB James Vandenberg who threw for over 3000 yards (25 TD) in 2011. He will have an increased responsibility with the departure of Coker, the transfer of RB Mika'il McCall, and the ACL tear of RB Jordan Canzeri. There is no experienced running back returning on the depth chart- a high task for incoming true freshmen to handle in the unforgiving BigTen. Further, Vandenberg loses top receiving target Marvin McNutt who caught 12 of his 25 touchdowns last season.

From 2007-2010 Iowa was known for elite defense, a title that slipped away last season as they allowed 23.8 points per game. Only 5 starters return, so Coach Ferentz has his hands full with this creating a dominant defense this season.

The silver lining despite all of these perceived setbacks is the back-loaded schedule. Iowa eases into the 2012 campaign with only one legit challenge (Iowa State) out of the first 5 games. This will give the young running backs and inexperienced defense valuable playing time to prepare for the conference slate. Still, there is too much missing for this to be a classic, gritty Ferentz team. Most key division matchups are on the road at Michigan, at Michigan State, and at Northwestern.


6. Minnesota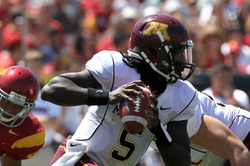 QB MarQueis Gray
Heavily overshadowed by its collegiate hockey program, the Minnesota Gopher football squad has trouble competing in the prestigious BigTen. They also struggle with Division 1-AA teams, losing to South Dakota in 2010 and North Dakota State in 2011. Even despite going through a coaching change, last year's squad did have a few bright spots. The Gophers went toe-to-toe with Southern California and nearly pulled out a win (17-19 loss). QB Marqueis Gray helped retain the iconic Floyd of Rosedale trophy in the 22-21 victory over rival Iowa. In the final game of the season, Minnesota rallied to a dominant 27-7 upset of Illinois.

Gray is a dual-threat quarterback who should end up with the rare distinction as a 1000-yard passer AND 1000-yard rusher. The offense returns enough lineman to help Gray have a special senior season; receivers Brandon Green and Malcolm Moulton should also aid in production.

It is hard to find praise for a defense that has allowed over 32 points per game the past two seasons. This unit must improve if the Gophers want to become bowl eligible after a 2 season hiatus.

The main story coming out of Minneapolis was the legislature that allows for beer consumption at U of M football games; this may be the biggest win these fans will experience in 2012. As Wisconsin is hanging a half-hundred on them in mid October, 'at least its almost hockey season.'