Manifest Destiny: NFC East
September 3rd, 2013
By Julian Pritcher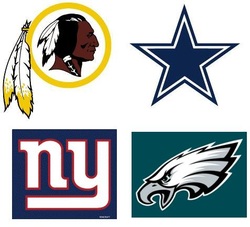 Football's most polarizing division, the NFC East has the big names, big states, big markets, the big apple and our nation's capital. You have the former butt of every quarterback joke (Romo), the best Madden player of all time (Vick), the future best Madden player of all time (RGIII) and the gump (Eli). But, what makes this division so interesting is its parody. The NFC East has had a different winner in each of the past four seasons.
2009 was the Cowboys year. Though Philadelphia had the same record as Dallas that year (11 – 5), Dallas came out with a division title and a chance to beat the pesky Eagles in the wild card round of the playoffs. Dallas went on to beat Philadelphia for Tony Romo's ONLY PLAYOFF WIN IN HIS CAREER. How many times are we going to hear that statistic all season long? Jesus.
Washington is hoping for better playoff results in year two of the RGIII era and if you believe in superstition, it's a great year to be a Redskins fan. Let me explain. Every year that the Redskins have opened the season with a win over the Eagles, they have either won the Super Bowl or at least made the NFC Championship. In 1982, the Skins beat Philadelphia in overtime and went on to win their first Super Bowl. Washington smoked the Eagles 41 – 14 on their opener in '86. That season got them an NFC Championship game appearance. The next year the Skins won it all for a second time after beating the Eagles 34 – 24 to begin the season.
Need more proof that the Eagles are a doormat for Super Bowl winners? Well the last four Super Bowl champions have been the Eagles home opener. The Ravens, Giants, Packers, and Saints have all strolled through Lincoln Financial Field early in the season en route to a title. Following this trend, it looks like San Diego will hoist the Lombardi Trophy this year. Your move Philip Rivers.
But enough of that, this is an NFC East prediction, not a Super Bowl prediction. What you need to know is there is only one truly reliable quarterback in this league and that is Eli Manning. Say what you want about his appearance or apparent lack of anything resembling swagger. But what he lacks in cool sleeves, bands, or ability to make plays with his feet, he makes up for with his sheer clutch gene. Watch for Eli to win games in the fourth quarter and will his Giants to the playoff berth they missed last year.
NFC North Standings
1. New York Giants (10 – 6)
2. Washington Redskins (9 – 7)
3. Dallas Cowboys (8 – 8)
4. Philadelphia Eagles (6 – 10)