TOP NFL STORYLINES: WEEK 3 EDITION
GRANT BORGEN
September 18th, 2013
Andy Reid's Return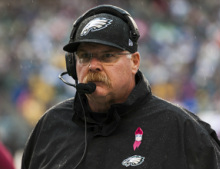 This week's Thursday night game features a family reunion in the city of brotherly love as the 2-0 Chiefs take on the 1-1 Eagles. As I'm sure most of you remember, it was only this last offseason that Andy Reid was fired as the coach of the Eagles and then signed with Kansas City shortly after. Reid coached the Eagles for 14 years until a string of disappointing seasons forced Philadelphia to go in another direction, hiring Chip Kelly in hopes that his dynamic college offense could transition to the NFL. After 2 games, it's safe to say the offense is doing just fine, but unfortunately you can't say the same about the defense. It will be interesting to see if there is any love lost between Reid and that ruthless Philadelphia fan base, but it goes without saying that both sides wouldn't mind a dominating victory.

The Browns being the Browns

The news broke today that the Browns will no longer be starting 2nd year player Brandon Weeden at quarterback this Sunday versus the Minnesota Vikings due to a thumb injury. Weeden has been shaky at best in his first two games this season, as Cleveland has lost both their games against the Dolphins and the Ravens. Who is starting in his place you wonder? Yup, you guessed it, 3rd string quarterback Brian Hoyer. You know how the saying goes, God hates Cleveland. The Vikings opened as 4-point favorites, but with this news I'm guessing the spread will move to around 5 or 6, even with Minnesota being winless also. Having your starting quarterback go out with an injury in week 3 of the season is tough to handle, even more so when you're a first year coach like Rob Chudzinksi. If you're a fantasy football player like myself, you might want to take caution before starting any of Cleveland's skill players.

This is nothing new to Browns fans, who will be cheering on their 19th different starting quarterback since 1999.
Battle of the Rookie Quarterbacks

This Sunday will feature two rookie quarterbacks facing off for the first of their two meetings this season. EJ Manuel and the 1-1 Bills travel to MetLife stadium to take on Geno Smith and the 1-1 Jets. Divisional games are always fun, especially in the AFC East this year where the usually 1st place Patriots are looking like a shell of their former selves. With the Bills and Jets both playing the Patriots very competitively, this game could actually have playoff implications down the road. Last week, EJ Manuel played exceptionally well, leading his team on a 4th quarter comeback drive that ended with a touchdown pass to Stevie Johnson. Geno Smith had a subpar game against the Patriots last week, but it was a Thursday night game on the road, and thus you can't really blame him. This game should be a close one as both teams feature solid defenses and blossoming offenses. I believe the winning team will be the one with the rookie QB that plays the best.