PAC-12 NORTH DIVISION
1. Oregon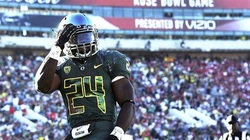 RB Kenjon Barner
It's been a dominant run for "Nike U" over Coach Chip Kelly's 3 year tenure, including 3 straight PAC-12 titles, a Rose Bowl win, and a BCS National Championship appearance. Kelly has brought the program from consistently good to consistently great. Some will question how he will replace dynamic QB Darron Thomas, but this scenario is all too familiar for Oregon, who in 2010 replaced starting QB Jeremiah Masoli and transitioned well.
At the top of discussion around Eugene, Oregon is the quarterback competition between 2011 backup Bryan Bennett, and redshirt freshman Marcus Mariota. Bennett has the game experience (369 yards, 6 TD in '11) and Mariota had the thrilling Spring Game running for a long TD. Kelly can't go wrong as both are viable options to lead the Duck offense, but I think Bennett will win the job in the fall. Whoever is under center this fall has tremendous playmakers behind him in RBs Kenjon Barner and De'Anthony Thomas. These two will again put up crazy stats in Kelly's unique speed offense. The offensive line is about par with past seasons, and as a unit this group will again put up 40+ points per game.
Last year's defense took a step back from its dominance of 2010. The overall defense should be just fine this season with All-Conference, Senior leaders on both the defensive line and in the secondary. DE Dion Jordan leads a strong and experienced front 4, which will be the strength of the defense. Meanwhile, the team's leading tackler Safety John Boyett leads the physical defensive backfield.
Despite losing Thomas and UO all-time leading rusher LaMichael James,
Oregon will still be a PAC-12 favorite and national contender
. With Andrew Luck leaving for the NFL, Stanford is less of a force in the North Division, and Oregon will be playing in the PAC-12 title yet again. However, USC is back up to its elite status of old, and the first of possibly two meetings is scheduled for November 3rd AT Los Angeles. Last season, USC stole a 38-35 thriller in Autzen Stadium; expect the 2012 edition(s) to be just as exciting, this time with BCS implications.
2. Stanford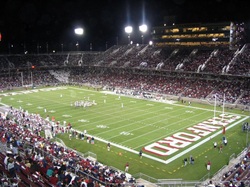 Can Stanford stay relevant without Andrew Luck?
"With the first pick in the NFL Draft, the Indianapolis Colts select: ANDREW LUCK, STANFORD"… It is impossible to replace a legend quarterback; Coach David Shaw has his hands full and will struggle to find such production. After a 11-2 season that included a Fiesta Bowl appearance, Stanford has high expectations to follow. This is a program that in just a few years has gone from the conference punching bag to an annual contender, and is desperate to stay afloat.
Replacing Luck simply wont happen. The main strategy of the offense will remain the same though, as it will again be a strong rushing attack, with a run-first mentality. RB Stepfan Taylor is one of the nation's best, and will look to duplicate his 1330-yard, 10 TD 2011 season. Taylor will get an increase of carries and responsibility with a young quarterback (most likely Brett Nottingham) under center, and the loss of the top 3 receivers. While this offense should be sufficient, there is no way it will get back to averaging 43 points per game again.
A strong front 7 will have to pick up the slack for an inexperienced defensive secondary. This isn't too far fetched, as the Cardinal Linebacking core is possibly the best in the PAC-12 led by Jarek Lancaster. Look for a defense similar to the past two Stanford units…strong enough to keep them close in big-time games.
While Stanford will again be one of the stronger teams in the conference, it takes a step down from elite status. Gone are the days of simply outscoring the other high-powered offenses of Oregon and USC. This team is not built to put up crazy offensive numbers and may have issues slowing down other teams.
9 wins is definitely possible this season
, with swing games at Washington and Notre Dame. Assuming losses to USC and Oregon,
Stanford should finish 2nd in the North again
.
3. Washington

QB Keith Price
Washington took the correct steps in fixing the embarrassment that Heisman Trophy winner Robert Griffin III made of their defense last December in the Alamo Bowl. The 67-56 Baylor victory was reminiscent of a video game with the defense set on 'rookie' difficulty; even the announcers were jokingly stating that they should start attempting onside kicks after scores. Coach Steve Sarkisian attempted to fix his defense by hiring former Boise State Defensive Coordinator Justin Wilcox, who hopes his 3-4 scheme will be a solution in Seattle.

The offense clearly wasn't holding the team back, as it scored 33 points a game led by QB Keith Price. Price, who I think will end up as a better college quarterback than UW great JAKE LOCKER, threw for over 3000 yards and 33 touchdowns in 2011. With two Freshmen All-American targets (WR Kasen Williams, and TE Austin Seferian-Jenkins) with another year of development in the system, look for Price to match his breakout sophomore year stats. The issue facing the 2012 Husky offense is replacing star RB Chris Polk.

As mentioned above, Coach Wilcox steps in to right the ship and hopes his 3-4 scheme will be a quick fix here. 7 starters return, but that stat is irrelevant here as Wilcox will reassess the talent on the defensive side of the ball. Either way, CB Desmond Trufant is a lockdown corner that offenses will be avoiding this fall. The team's potential is essentially dependent on how quickly Wilcox can get the defensive scheme installed and for the unit to gel together.

This year's Washington squad should be stronger overall than last year's 7-6 campaign, however a tough schedule may impact the win column. Road trips to LSU and Oregon are death traps; the Thursday night game with Stanford, and the Friday night matchup with Cal will impact division standings. I see Washington outscoring Cal and taking care of lower opponents to secure 3rd place of the South division and return to bowl season.


4. California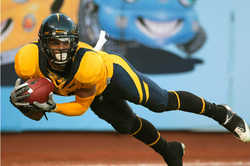 WR Keenan Allen
Earlier in Jeff Tedford's tenure, California frequented the top 25 rankings and played in some above average bowl games. Recently, Cal has fallen down a peg, going just 12-13 over the past two seasons. This year, the Golden Bears return to their renovated Memorial Stadium after a year playing away from campus and hope for improvement.

The offense has been stagnant under starting QB Zach Maynard whose questionable decision-making is displayed through his 17-12 TD to INT ratio. That said, he should make a significant improvement in his second year under center. All-American candidate WR Keenan Allen will surely help Maynard again this season, as will returning 1300-yard rusher Isi Sofele. 2 freshmen starting on the left side of the offensive line should be an interesting development as the season progresses.

The defense has been consistently good under Tedford, but top playmakers from last season have moved onto the NFL including star LB Mychal Kendricks. Overall this will be a young unit with only 3 starting seniors and just 5 returning starters from '11. The secondary should be the strongpoint of the Bear defense with Steve Williams and Marc Anthony locking down the corners.

Back to back road trips to Ohio State and USC is simply brutal. Cal must quickly rebound from that tough stretch as their conference schedule hits hard and their bye week isn't until after 12 straight game-weeks. Look for yet another classic 6-6 Tedford Cal team that will have just enough success for him to retain his head-coaching job for yet another year.


5. Washington State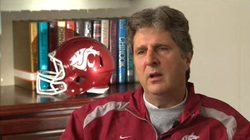 Coach Mike Leach
Over the past 8 or so seasons, the Washington State Cougars were on the short list of worst BCS football programs joining the poor company of Duke, Indiana, and Syracuse. Cougar Nation hopes that the hiring of high-profile coach Mike Leach will spark some life into the program. Leach brings proven success with his pass-heavy offense and hopes to bring WSU to its first bowl game since 2003.

Usually I doubt teams undergoing drastic offensive changes, but the pieces are there for Leach's passing attack. Senior QB Jeff Tuel is the real deal, and has key WR target Marquess Wilson to help. If the offensive line is adequate, Tuel will put up some impressive numbers and lead an uncharacteristically solid WSU offense.

This spring, the Cougar defense underwent a transition to a 3-4 scheme and coordinator Mike Breske brought in some key JUCO prospects to fill some open voids. Travis Long has started every game of his 3 season career at DE, but will become a hybrid LB this fall. 7 starters return from a mediocre 2011 squad, but the new scheme and coaching should improve this side of the ball as well.

The hiring of Mike Leach will pump some energy into the dead WSU football program, and the parts on offense are there for some legit success in year 1. I think WSU will improve on its 4 wins of 2011 and will return to bowl season for the first time in 8 seasons. If UW fails to improve its defense, WSU has a significant chance to reclaim the Apple Cup this November.


6. Oregon State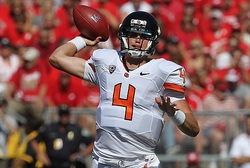 QB Sean Mannion
It's hard to believe how low Oregon State football fell last fall. They had beaten USC 2 out of 3 years, and were a late Oregon TD from playing in the 2009 Rose Bowl….And then, Sacramento State happened. OSU could never rebound from that devastating 29-28 upset loss to division 1-aa SSU. Coach Mike Riley has seen better days for his Beavers, and has quite a rebuilding project on his hands after last year's 3-9 meltdown.

Part of the problem was playing a full season with a true freshman quarterback, but Sean Mannion will surely improve with a year of experience this time around. Gone are the days of the Rodgers brothers running all over the field posting highlight runs and receptions. However, the top 4 rushers and 3 of the top 4 recievers return and collectively hope to improve from the 2011 unit that only scored 22 points a game. Without significantly higher production, OSU will remain in the cellar of the PAC-12, a conference known for high scoring-shootouts.

The defense has gotten progressively worse since 2006, but figures to take a step in the right direction with 8 starters back. This is an experienced group that will improve overall from last season. DE Scott Crichton had a heck of a freshman season, recording 6 sacks; CB Jordan Poyer added in a team high 4 INTs.

A difficult out-of-conference slate (Wisconsin and BYU) will make things tough on this OSU team. The only guaranteed win is week 1 against Nicholls State, but then again, could this be a repeat of last season's Sacramento State disaster? Look for another poor season for OSU, who will fail to make a bowl for the third straight season.