NOVEMBER ROAD-TRIP - PART 1

NEBRASKA AT MICHIGAN

BRETT CIANCIA
November 13th, 2013
Pick Six Previews' first official road-trip was a success - 1650 miles round trip to see the Big House and a matchup of historic football programs in the heat of the BigTen Legends Division race. Surely by now you know the result - Nebraska 17, Michigan 13 - here I will discuss some of the odds and ends of a major football weekend experience in Ann Arbor, followed of course by a post-game review.


The Brown Jug Restaurant


With the most complete rivalry trophy database on the Internet, I was immediately intrigued by the The Brown Jug Restaurant, named after the historic rivalry trophy. The Little Brown Jug is played for annually by Michigan and Minnesota. The trophy itself is the first rivalry trophy ever created with roots in the 1903 heavyweight bout between the schools. Coach Fielding Yost brought a 5-gallon jug of water for the trip, but it was lost in the post-game excitement. Minnesota seized the jug stating "You'll have to win it back next year." Since its inception, the series has been dominated heavily by the Maize and Blue (69-22-3).
So naturally, The Brown Jug Restaurant is covered wall-to-wall in Michigan memorabilia and history. Pictures and paintings of the greatest Brown Jug games are everywhere. There was even a full-size trophy replica (pictured). As outsiders, we were fortunate to discover this spot.



Michigan Gameday


The 3:30 kickoff, late by Michigan standards, allowed us the chance to experience all facets of the pregame festivities: frat house row was overflowing with maize-clad students, while the tailgate area was filled with the standard grill and beer cooler setups. Notorious for traveling really well for away games, there was a sizable amount of Nebraska fans. The interactions between the fan bases seemed more respectful and welcoming than in most venues I've experienced. Through talking with fans from both teams, it appeared to be a strange mindset: I don't want to say that both sides were "scared to lose," but neither were overflowing with optimism. Husker fans were relieved by their season-saving Hail Mary, but worried about the young defense and its injuries on offense. Wolverine fans were still numb from their in-state beating last week at East Lansing.
President's Halftime Speech, Drunk?


University of Michigan President Mary Sue Coleman was honored at halftime with a "jersey retirement" to pay respects to all of her accomplishments as their leader. Following a formal video depicting her achievements and the school's progress during her tenure, Coleman was given the microphone, but she sounded just a little different from the speeches in the video...almost like she stumbled in straight from the Phi Gamma Delta pregame tailgate. Listen for yourself, she sounded absolutely hammered! The students and fans were laughing the whole time, and I am sure it went viral on Twitter immediately. The school released a statement blaming the audio system and how she was talking slow to account for the reverb (yet she has spoken here and in big stadiums several times with no issue). Maybe Coleman should just be upfront about it and blame Coach Borges' joke of an offense for her gameday drinking, like

THIS GUY

charged with a DUI after last game.
The Slippery Rock Tradition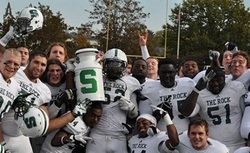 Midway through the 3rd quarter, the PA Announcer started rattling off scores of other games. There was a nice cheer when the Minnesota-Penn State score came in, some chuckles about the futile Eastern Michigan - Western Michigan overtime thriller, but then came the surprise of the day: "And one last score, Slippery Rock 55, Seton Hill 21". What followed was the loudest cheer of the day, an absolute eruption. Confused, I turned to ask the locals why they cared about a tiny Division 2 school from North Pennsylvania. Most just called it a weekly tradition so I did my own research. Apparently during a 1959 game, the PA Announcer saw the school come across the score wire, and thought it would add some energy to a boring game. He announced the score, and the fans loved the unique (and even funny) name - Slippery Rock. Every Saturday since, the scores of 'The Rock' ring through Michigan Stadium. They even have a game scheduled here next fall, during a Wolverine bye week. The first time Slippery Rock played here, they drew over 60,000 fans!

Post-Game Recap


NEBRASKA 17 MICHIGAN 13




If you are reading this, you probably watched the game, saw the score, or have at least heard that Nebraska won this BigTen defensive battle. But was it stingy defense, or just awful offense? Michigan became the first team in over 10 years to be held to less than negative 20 rush yards in consecutive games. All-American Tackle Taylor Lewan simply couldn't stop the Nebraska D-Line, especially Randy Gregory, who recorded THREE sacks. Give credit to the Nebraska secondary for forcing some coverage sacks, but often, it was Gardner's indecisiveness that was crippling. Also give credit to Nebraska's Freshman QB Tommy Armstrong (in for injured Martinez) who kept his cool in the Big House, and led a game-winning drive late in the 4th. 4th down & 2, he hit Kenny Bell for the first down. On 3rd and Goal, his speed option - fake pitch - then forward pass to Ameer Abdullah won the game for Big Red. Leaving the stadium there were several "Fire Hoke, Fire Borges, (Fire Everybody), and even "Its all Rich-Rod's fault"'. Regardless of who is to blame, it was a brutal showing for the Wolverine offense, and yet another resilient win by Pelini's Huskers.
We will be in State College, PA for Round Two of the November Road-Trip 11/23