"POSITION U"
Nfl draft trends since 2000
Brett Ciancia - April 21st, 2016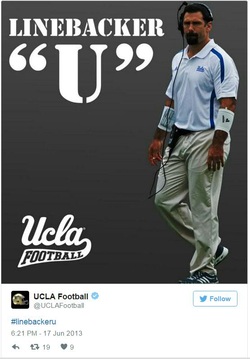 One of the most common debates between fan bases centers around which programs produce the most talent at each position, and who can claim the title of "Position U." In 2013, UCLA dubbed themselves "Linebacker U" which enraged Penn Staters everywhere who had claimed the moniker for decades. Meanwhile, Clemson and Tennessee fans are very vocal about why they are the real "Wide Receiver U." Miami, LSU, and FSU love to argue about who really owns the secondary as "DB U."

After analyzing NFL Draft selections back to 2000, none of these schools are correct in their claims. We broke down every pick from every round of the last 16 NFL Drafts for a detailed view of trends by school, conference, and position. We will be tweeting out the all-time "Common Draft Era" stats all week leading up to the Draft, but for a more recent scope we limited our research here to NFL Drafts in this millennium -- sorry, Pitt and Minnesota, all those ancient draft picks don't apply here.

First, we will take a look at the total numbers per position, the pure quantity category. Then below you will find a ratio analysis showing which schools produce more of a certain position in relation to their total draft picks produced. This doesn't necessarily prove dominance in a certain position since it is scaled to each school's pool of draft picks, but it can highlight some program strengths.
---
DRaFT PICK TOTALS SINCE 2000
QUARTERBACK U
6 - LSU, USC


5 - FSU, Georgia, Louisville, Oregon




4 - Michigan, Stanford, Texas A&M

RUNNING BACK U
12 - LSU, USC


10 - Alabama




9 - Auburn




8 - Georgia, Miami, Ohio State, Wisconsin




​7 - FSU, Kansas StATE, Nebraska, OU, Oregon

WR U
15 - LSU


14 - USC




13 - Florida, FSU, Ohio State




11 - Miami, OU




10 - Michigan




9 - Michigan St, Texas A&M
TIGHT END U
10 - Miami, Notre Dame


8 - Iowa


7 - Penn State
6 - Florida, Georgia, Stanford, Wisconsin

O-LINE U
17 - WISCONSIN


16 - Miami


15 - FSU, IOWA
14 - Alabama, Notre Dame
13 - Boston College, Florida, Ohio State, USC

D-LINE U
22 - LSU


19 - FSU, Georgia


18 - Texas
17 - Florida
16 - Alabama, Ohio State
15 - Miami, Tennessee

LINEBACKER U
15 - FSU, Georgia, Ohio State, USC


14 - Miami


12 - Oklahoma
11 - Florida, Penn State, Tennessee
​10 - Alabama, Michigan, Nebraska

DB U
22 - Ohio State
20 - Virginia Tech
17 - FSU, Georgia, LSU
16 - Alabama, Miami
15- Florida, Nebraska, ND, OU, SC, Texas

​It isn't surprising seeing LSU dominating the offensive skill positions, but it is shocking to see them leading the pack at quarterback given their recent struggles at the position. As expected, run-heavy Wisconsin controlled the offensive line category with 16 drafted linemen coupled with 8 drafted running backs. Ohio State owns the secondary, while FSU and Georgia lead the front seven. Four teams tie for the title of Linebacker U - none of which is Penn State who notoriously owned the moniker since the 1970s. Wisconsin (61%), Rutgers and Virginia (59%), Boston College and Baylor (58%) lead the pack in terms of highest ratio of offensive players drafted compared to their defenders drafted. The opposite unbalance, defense-first, is led by NC State (67%), Mississippi State (65%), Texas (63%) and Clemson (62%).
---
DRAFT PICK RATIOS SINCE 2000
QUARTERBACK U
11% - Louisville


10% - Washington


9% - Oregon, West Virginia
8% - Baylor, Texas A&M

RUNNING BACK U
19% - Minnesota


18% - Kansas State




17% - Auburn




15% - Miss. State, Rutgers, Syracuse, Virginia




​14% - LSU

WR U
21% - Georgia Tech, West Virginia


20% - Kansas State




19% - Texas A&M




18% - Michigan State




17% - LSU, TCU




16% - Arizona, Arkansas, Michigan, UCLA
TIGHT END U
15% - Notre Dame, RUTGERS, VIRGINIA


14% - Iowa


12% - Maryland, Penn State
11% - COlorado, Miami, Stanford

O-LINE U
42% - BOSTON COLLEGE


36% - OLE MISS


28% - ILLINOIS
26% - Arizona State, IOWA
25% - Purdue, wisconsin
D-LINE U
32% - MIssissippi State
31% - Missouri
30% - TExas
28% - Purdue, Utah
26% - Auburn, Clemson
25% - LSU
24% - Syracuse, UNC


LINEBACKER U
26% - Washington


21% - Georgia Tech


20% - Oregon State
19% - Penn State
18% - Miss. State, NC STATE, PURDUE
​17% - GEORGIA

DB U
31% - Virginia Tech, Wake Forest


29% - SOUTH CAROLINA


28% - NC STATE
26% - Rutgers
25% - Texas, UTAH
24% - Maryland, Nebraska

​This section of data takes scale into account, showing each teams' percentage of draft picks by position to see where they relatively excel. By far the highest ratio is Boston College's 42% of all its draft picks as offensive linemen; BC is also 2nd (only to Miami) in terms of 1st Round draft pick percentage, as 30% of all BC drafted players are in the first round. Georgia Tech is at the top of the WR ratio leaderboard, despite running a triple option offense. Paul Johnson has been excellent at producing star receivers, even within his system, as we discussed in our
Football Factories
research piece. In the secondary, Virginia Tech leads the pack in DB ratio, a position unit that hit its peak in the mid to late 2000s under Beamer's most successful stretch but has cooled in recent years.
IF you would like to see your team's rank in a certain category or year span, please follow us on twitter and tweet/message us @PickSixPreviews


you may also like...
| | |
| --- | --- |
| | You hear it every year: "I chose [Insert School] because they put players in the NFL." It is one of the go-to recruiting pitches for every coach with NFL experience, and every coach who employs a pro-style offense. For instance, Duke's David Cutcliffe—QB mentor to the Manning brothers and a pro-style offense aficionado—took jabs at Georgia Tech coach Paul Johnson's spread option attack: "You're not seeing what you're going to see in pro ball, if you think you're a pro-type of player. If I'm a receiver, why?" Of course, Paul Johnson has been pumping out NFL receivers like no other, so is there any merit to what Cutcliffe is saying? How about the coaches who are negatively recruiting against Oregon's offense? Continue reading... |
After decades of dreaming about it, years demanding it, and months arguing about it, the Playoff Era is finally here. The old BCS system would have produced a National Championship Game of #1 Florida State (only undefeated) and #2 Alabama (SEC Champion), but with both of those squads losing in the National Semifinals, the new system is instantly validated.

Continue reading...
Every college football season is packed with highlights, memorable plays, and last-second victories. But every once in a while a superstar player leaves his mark on the game, and clinches the sport's most prestigious honor in a single play. These are the plays that you remember

exactly

where you were when watching live, the plays that your father and grandfather still discuss, the plays you will be talking about for decades ... these are the HEISMAN MOMENTS

Continue Reading...
​