Terrell Owens Interview

January 18th, 2017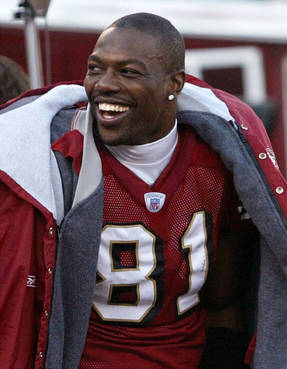 The great Terrell Owens comes on the Triple Option Podcast to discuss how far he has come since high school where he barely played on the varsity football team. He talks about what he did to advance himself, get recruited, and flourish at UT Chattanooga and in the NFL. Terrell also provides insights into his new career as an entrepreneur as he launches his new premium athleisure clothing line, Prototype81.
Show notes
Where is Terrell from and when did he started playing football? (01:07)
Why Terrell didn't get playing time in high school (02:45)
Terrell talks about his lack of athleticism in high school and how he improved his game (04:50)
What were Terrell's experiences like playing at Clemson, Ole Miss, Alabama, and Auburn? (09:14)
How Terrell got recruited to play at UT Chattanooga (10:12)
Terrell talks about his time in Philadelphia (11:00)
Terrell discusses Donald Trump's compliment and dives into his new venture, Prototype81 (12:18)
How Terrell envisions penetrating the crowded athleisure apparel market (14:36)
Links
​Website:
Prototype81.com
Instagram
: @prototype81ofl
See below for more information on Prototype81
The Triple Option is now on iTunes (see link below) -
please subscribe to hear about every new episode from the "Most Accurate BCS/P5 Previews in America." Be sure to subscribe to hear about every new episode!
---
---
You May Also Like...
| | |
| --- | --- |
| | You hear it every year: "I chose [Insert School] because they put players in the NFL." It is one of the go-to recruiting pitches for every coach with NFL experience, and every coach who employs a pro-style offense. For instance, Duke's David Cutcliffe—QB mentor to the Manning brothers and a pro-style offense aficionado—took jabs at Georgia Tech coach Paul Johnson's spread option attack: "You're not seeing what you're going to see in pro ball, if you think you're a pro-type of player. If I'm a receiver, why?" Of course, Paul Johnson has been pumping out NFL receivers like no other, so is there any merit to what Cutcliffe is saying? How about the coaches who are negatively recruiting against Oregon's offense? Continue Reading... |
After decades of dreaming about it, years demanding it, and months arguing about it, the Playoff Era is finally here. The old BCS system would have produced a National Championship Game of #1 Florida State (only undefeated) and #2 Alabama (SEC Champion), but with both of those squads losing in the National Semifinals, the new system is instantly validated.

Continue Reading...
Video Vault: Heisman Moments
Every college football season is packed with highlights, memorable plays, and last-second victories. But every once in a while a superstar player leaves his mark on the game, and clinches the sport's most prestigious honor in a single play. These are the plays that you remember

exactly

where you were when watching live, the plays that your father and grandfather still discuss, the plays you will be talking about for decades ... these are the HEISMAN MOMENTS

Continue Reading...
​