WEEK 6
Record: 3-3
LSU at Florida

Saturday, October 6th. 3:30 PM. CBS. AT Ben Hill Griffin Stadium
LSU dropped in the polls after another win, albeit an unimpressive home victory against the mighty…Towson Tigers. Still, LSU is 4-0 heading into this top 10 matchup with the Florida Gators that will be the first major SEC test for both teams. On September 8th, LSU defeated Washington 41-3; the same Washington team that just defeated then-top-10 ranked Stanford. Zach Mettenberger, now cleanly shaven, will have to play better after accumulating very pedestrian statistics through the first four games against defenses much less imposing than the one he will see on Saturday. Florida is expecting to get stud LB Jelani Jenkins back into the lineup this week, which will be critical as they face the power run game LSU possesses. The Gators were able to limit Tyler Bray and the rest of the Tennessee offense to only 20 points—impressive after seeing the Vols put up 44 against Georgia. Neither team should exceed 20 points in this matchup, however, as both teams rank in the top 10 nationally in points allowed while neither squad is an offensive juggernaut. Florida is coming off a 38-0 spanking of a very bad Kentucky team while LSU has been punished in the polls the last two weeks after victories. In a matchup as close as this one, the mentalities of each team will make the difference, and Florida may be riding high while the undefeated Tigers still have something to prove. LSU by 6.
Oklahoma at Texas Tech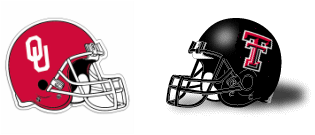 Saturday, October 6th. 3:30 PM. ABC/ESPN2. AT Jones AT&T Stadium
Two Saturdays ago, Sooner Nation was stunned by Bill Snyder's upset-minded Kansas State Wildcats, and had their National Title hopes shattered. Oklahoma simply came out flat, was the victim of the turnover bug, and couldn't make the clutch plays (
Klein
had that covered). They must move forward in league play, but face a seemingly explosive offense in Texas Tech. Stoops is 26-2 coming off of a loss, but the Texas Tech game has never been an easy win. Meanwhile, Tommy Tuberville has benefited from a very easy first 4 games, (blowout wins over NW State, Texas State, New Mexico) averaging 44 points on offense and just 10.8 on defense. But are these numbers even relevant, considering the 1-AA level of opponents? Fresh off a league win over Iowa State, they will face a whole new caliber of talent this Saturday. There is no avoiding Seth Doege; the Red Raider quarterback has put up prolific numbers in his first four games in the pass-heavy offense. But every position group of Oklahoma's defense is vastly superior to any he has faced in September. Look for Doege to take a few possessions to adjust to the blue-chip speed of the OU defense. While Doege is struggling, Landry Jones will refocus and return the offense to the level that experts had been expecting. Also, the Sooner ground game will help keep Texas Tech's offense on the sideline. Sooners bounce back, and bounce TT from the Top 25 rankings.
Oklahoma by 14
West Virginia at Texas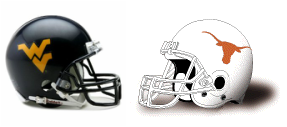 Saturday, October 6th, 7:00 PM, FOX. AT Texas Memorial Stadium
Established Powerhouse vs. Conference Newcomer … David Ash vs. Geno Smith … Texas vs. West Virginia. This will be a battle of top ten teams, each with premier offenses led by a
Heisman candidate
. Both teams are coming off of thrilling shootouts: Smith threw for 636 and 8 TD in WV 70-63 win over Baylor, while Ash led a last minute drive to defeat Oklahoma State in Stillwater. Even the WR sets are similar, each packed with playmakers (Texas: Goodwin, Shipley, and Davis; WV: Bailey, Austin, Woods). While both offenses are elite, the game will be decided by which defense can make more key plays down the stretch. The Longhorn defense has more talent and depth at each position group and is giving up 10 less points per game than WV. Look for the strong Texas defensive line led by Ends Alex Okafor and Jackson Jeffcoat to not only control the line of scrimmage, but also put pressure on Smith. The Mountaineer O-line struggled at times against Maryland, and this Texas defense is way more talented than that unit. This will be West Virginia's first primetime game and first road trip of the season, are they ready for the big spotlight and new Big12 environment? Look for Texas to defend Darrell K Royal field and send the newcomers home with their first "L". Ash will lead Texas to a classic Big12 shootout victory, that very well can come down to the final possession.
Texas by 3
Georgia at South Carolina

Saturday, October 6th. 7:00 PM, ESPN. Williams-Brice Stadium
Between Florida being matched up against #4 LSU this week and Georgia taking a trip east to Columbia, the SEC East picture will be much more clear after this week. South Carolina has won the last two matchups, but Georgia hasn't had an offense this explosive in quite some time. The Bulldogs are averaging 48.2 points per game against decent opponents (Tennessee, Vanderbilt, Missouri). However, Todd Grantham's defense has been a bit of a surprise, allowing 22 points per game; last week, Tennessee posted 44 points in a shootout. Fortunately, LB Alec Ogletree and S Bacarri Rambo returned to the lineup last week after being suspended the first four games—the end result was not how Bulldog fans imagined. Georgia will need to work out problems in its secondary if it wants to compete for a national title, but South Carolina is not built to exploit Georgia's weaknesses. Connor Shaw is having a terrific season for the Gamecocks, but there are question marks along the offensive line, which will struggle to contain UGA's pass rush led by All-American Jarvis Jones and Jordan Jenkins. While South Carolina will showcase its top 10 defense, Aaron Murray is a
Heisman contender
that will still be able to execute on offense. Georgia goes about 7 deep at receiver and freshmen Todd Gurley and Keith Marshall are playing well at RB. South Carolina has a gauntlet of a schedule coming up with trips to LSU and Florida in the following weeks; this three game stretch will decide just how prosperous the 2012 season will be for the Gamecocks. Unfortunately, Georgia is probably the worst matchup of the three and should outscore Connor Shaw and company.
Georgia by 7
Miami (FL) vs. Notre Dame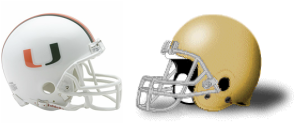 Saturday, October 6th. 7:30 PM. NBC. AT Soldier Field (N)
A traditional college football rivalry that will only get better with Notre Dame's soon-to-be quasi-addition to the conference, the 'Catholics vs. Convicts' will be in primetime at Chicago's Soldier Field. Miami has looked solid in wins against Boston College, Bethune-Cookman, Georgia Tech, and North Carolina State, but was beaten to a pulp in its visit to Kansas State. The Miami offense has been prolific in wins, highlighted by Stephen Morris' 566 yards through the air last week. However, the defense is giving up 33.4 points per game and is struggling to defend both the run and the pass. Notre Dame is coming into the game undefeated after completing the first third of its gauntlet schedule. The Irish are led by their defense that is only allowing 9.0 points per game, providing a classic strength vs. strength matchup as Manti Te'o and the Notre Dame Defense look to bring this Hurricane attack to a screeching halt. Irish DE Stephon Tuitt is ninth in the country with 6 sacks and will be a problem for the Miami offensive line. The Hurricanes have not seen a team as physical as Notre Dame and will struggle to adjust to their style of play. Look for Stephen Morris to struggle as the Notre Dame Fightin' Irish continue its ascent further into the top 10. Notre Dame by 14
Washington at Oregon

Saturday, October 6th. 10:30 PM. ESPN. AT Autzen Stadium.
Washington shocked the nation last Thursday night with their upset win over then-top 10 Stanford. Not only are they ranked for the third week in 8 years, but "U-Dub" finds itself in the thick of the Pac-12 North Division race. Already holding the head-to-head tiebreaker with Stanford, Washington would claim the inside track with a win Saturday. But that is easier said than done, as Chip Kelly has Oregon looking like a serious national championship contender yet again. This 2012 edition has no shortage of star power; dynamic quarterback Marcus Mariota is surrounded by explosive running backs including Kenjon Barner (the workhorse) and De'Anthony Thomas (the highlight reel). The Ducks are averaging over 52 points a game and simply haven't looked challenged over the first month of the season. Their 49-0 dominance of upstart Arizona was a statement game, and since then, UO has risen to #2 in both major polls. Meanwhile, Washington has a strong leader at quarterback, Keith Price, but has struggled with serious offensive line issues. LSU totally destroyed them 44-3, making the Stanford upset even more confusing. Which Jeff Wilcox defense will we see Saturday, the porous unit that let LSU dominate, or the fierce unit that shut down the vaunted Stanford attack? It's back to reality for Washington this week; while the upset win was nice, Oregon will bring the Huskies back down to earth. In front of a crazy home crowd in the Autzen Zoo, Oregon should coast to another division victory. Oregon by 21