WEEK 9
Record: 5-1
Cincinnati at Louisville

Friday, October 26th. 8 PM. ESPN2. AT Cardinal Stadium
This would have been a top-15 battle of undefeated squads had Cincinnati not been upset by Toledo. Still, this is a battle between two teams atop the Big East standings and one that will put the loser at a severe disadvantage the rest of the way. The new-look Big East is certainly top-heavy with these two teams and Rutgers aiming for undefeated seasons in conference play. Cincinnati will play six straight conference games to close the season featuring Rutgers and South Florida at home. However, it will be a challenge for the Bearcats to win out
and
see Louisville lose two more games if the Cardinals win on Friday night. With only Temple, Syracuse, and Connecticut left on the schedule before its season finale with Rutgers, Louisville seems primed to be 11-0 heading into this potential de facto Big East Title game. Heisman hopeful Teddy Bridgewater has been spectacular this season in his true sophomore year. He has thrown for 1,694 yards, 11 touchdowns and 3 interceptions. He took over the game last week against a talented South Florida with the Cardinals' final two touchdowns and ending with an 84% completion percentage. The Bearcats have a prolific rushing attack, averaging 5.9 yards/rush, including dual-threat QB Munchie Legaux. This should be a high scoring affair, but with Louisville having home field advantage on a Friday night…look for the Cardinals to stay undefeated, and
reclaim the Keg of Nails
.
Louisville by 6
Florida vs. Georgia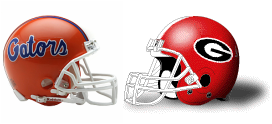 Saturday, October 27th. 3:30 PM. CBS. AT Jacksonville (N).
Just two weeks ago this was looking like a top-5 matchup, and although it still is a top-10 matchup, the game has lost some of its luster with a hobbling Georgia team stumbling in after being embarrassed by South Carolina and narrowly escaping the lowly Kentucky Wildcats in its last two outings. Todd Grantham's defense has looked susceptible all year, but even after the returns of Bacarri Rambo and Alec Ogletree from suspension, it has still shown weaknesses. Aaron Murray was once a Heisman frontrunner after UGA's offense was scoring no less than 40 points per game through its first five games before sputtering in its next two. Florida is on top of the world right now with a stomping of South Carolina despite being outgained. Jeff Driskel struggled to do anything through the air with only 93 yards passing, while Aaron Murray was not able to do much better against the same defense. The difference in this game will be either the superiority of Aaron Murray over his counterpart Jeff Driskel or the superiority of the Florida defense over Georgia's respective unit. Murray has a plethora of weapons on the outside that will allow the Dawgs to stretch this Gator defense and bring them out of their base 4-3. Georgia's main question marks on the defensive side have been in its secondary and Florida does not have a prolific passing attack. The Georgia front seven should be able to hold its own against the Gator rushing attack. This is a classic matchup of two top-10 teams coming together with one team looking invincible and the other team looking like a mess. It is also the World's Largest Outdoor Cocktail Party, which means anything goes. This could be the beginning of Mark Richt's classic late-season run after losing to a rival early in the season…Georgia by 5


Texas Tech at Kansas State

Saturday, October 27th. 3:30 PM. FOX. AT Bill Snyder Stadium.
It was no surprise that Kansas State beat West Virginia last Saturday night in Morgantown, but it was the total domination and blowout that were shocking. QB Collin Klein put together another masterpiece, and clearly asserted himself as the leading Heisman candidate after 9 weeks. It was the defense's total control of Geno Smith that moved KSU from a one-man show to a BCS title contender. From what we have seen from Klein all season, and how well the defense played against an air-raid offense (WV), there is no reason to think Texas Tech can win this game. However, college football doesn't follow the rules of reason. 2 games in Texas this weekend combined for a total of 217 points, including the Red Raiders 56-53 3OT win! Texas Tech coach Tommy Tuberville has experience in these high-profile games, but pales in comparison to KSU Head Coach Bill Snyder, surely the front-runner for Coach of the Year again. Lubbock, Texas has been a graveyard for visiting Top 10 teams the past decade- but thankfully for E.M.A.W. Nation, this is a home game in the Little Apple. Look for more dominance from Klein, with an upset scare from Texas Tech falling short in the 4th. Kansas State by 6

Michigan at Nebraska

Saturday, October 27th. 8:00 PM. ESPN2. AT Memorial Stadium.
Two of the conference's powerhouse programs will meet in Lincoln, Nebraska to all but settle the BigTen Legends Division. Michigan enters 3-0 in Big Ten play, with Northwestern and Ohio State matchups in November, while Nebraska is 2-1 with meetings with Penn State and Michigan State looming. Essentially, the tie-breaker from this head-to-head game should determine who will go to Indianapolis to play for the conference title. Both teams are fresh off of 4th quarter comeback wins and emotional highs. Nebraska QB Taylor Martinez was flawless last week, passing for 342 yards and 3 TD. His counterpart, QB Denard Robinson has struggled passing-wise this year, barely over 50% completions and a 9 TD to 9 INT ratio, but beat rival MSU for the first time since 2007. "Shoe-lace" has been a dangerous run-threat yet again this fall, which could be nightmarish for Husker Nation. Due to Pelini's match-zone defense, mobile quarterbacks have been a struggle to defend. Does the recurring theme continue this Saturday, with perhaps the best running quarterback in the nation coming to town? I don't see the Huskers completely shutting down Robinson, but they will be able to make enough stops to stay alive. Look for Pelini to pack the box and force Robinson to beat them through the air. The difference between last years squad that got blown-out against Michigan is a balanced offensive attack that has been lethal all season. Look for a rare Big Ten shootout, with Nebraska's potent rushing attack opening up passing lanes for Martinez, and the home primetime atmosphere being the difference. It has been 50 straight years of sellouts at Nebraska (NCAA record), but these fans will see their first Big Ten division title…Nebraska by 3

Notre Dame at Oklahoma

Saturday, October 27th. 8:00 PM. ABC. AT Oklahoma Memorial Stadium.
This is a rare matchup of two of College Football's blue-blood programs, rich with history, tradition, and dominance. This year it features a team that is clinging onto its Undefeated record, barerly surviving each week against a team surging and attempting to overcome an early loss to re-enter the BCS Championship discussion. Can Notre Dame continue to grind out victories with its elite defense picking up the slack for inefficient quarterback play? Will it be able to stop this dynamic Sooner offense, ranked 5th in the nation? The Fighting Irish are yet to face a top 50 offense, so this will be its first elite matchup on that side of the ball. It is also worth noting that Notre Dame has primarily faced run-based offenses, which played well into their strength (front-7); Oklahoma brings a high-powered passing attack ALONG with a strong ground game. A lot of pressure will be placed on Notre Dame's secondary, and outside backers in pass coverage. On the other side of the ball, Notre Dame has struggled with a rotation of quarterbacks. OU is just too strong on defense to let Rees/Golston control the game. Look for the game to be close and low scoring early, as the defenses control. But as the game progresses, the OU offense will start getting into rythym and ultimately make the difference. In front of an electric home atmosphere (77-4 under Stoops), OU knocks out ND, climbs back into the top 5, AND quiets Lou Holtz. Oklahoma by 13

Mississippi State at Alabama

Saturday, October 27th. 8:30 PM. ESPN. AT Bryant-Denny Stadium.
In a battle of two undefeated SEC squads this late into the season, you would think that we would be talking about another Game of the Century like Alabama's regular season matchup with LSU last year. However, Mississippi State started the year off on the fringe of being ranked and Alabama has breezed through every team it's played this season showing no signs of stopping. The defense has reloaded and AJ McCarron is playing at a higher level this season and is even being talked about as a Heisman candidate by some people. Mississippi State has shown no signs of slowing down this season and has looked very impressive through seven games this season. However, the 11th-ranked Bulldogs have not exactly gone through the traditional SEC gauntlet thus far playing only three conference games against Auburn, Kentucky, and Tennessee and four out-of-conference games against Jackson State, Troy, South Alabama, and Middle Tennessee State. Regardless of its schedule, Mississippi State is undefeated and there is something to be said about that. Tyler Russell has given Mississippi State its best option at QB in recent memory throwing for 15 touchdowns and only 1 interception, but the team has been led by the nation's ninth best scoring defense: the best under Mullen. We will see if Mississippi State is for real. Its next three games are Alabama, Texas A&M, and a trip to Baton Rouge to face the sixth-ranked LSU Tigers. My prediction: the Bulldogs go 1-2 in this stretch and the win coming against A&M or LSU. Alabama by 14