SEC - Western Division
1. Alabama
National Champions
What a year it was for the Tide. After seeing its in-state rivals win the title just a season prior, Alabama recaptured it for themselves two years after Saban won his first with the program in 2009. I did not feel comfortable with my pick of Alabama to win the title last season because AJ McCarron struggled in 2010, but surprised me in 2011 with his improvements. McCarron will not be mistaken for Andrew Luck this season, but will again be an effective QB that will force opponents to respect the pass. The defense may not be as good as last year's unit, but will again be dominant. Everyone will be gunning for the Tide this season, especially the Tigers of LSU, who failed to make it home after the title game last January because someone painted a 50 yard line in front of their bus.

The offense will at least be one of the most effective teams on the ground with the nation's best line and a wealth of capable RBs despite losing Heisman-finalist Trent Richardson. Outland Trophy-winner Barrett Jones returns at center along with DJ Fluker, Chance Warmack, and Anthony Steen. Cyrus Kouandjio looks like he can start for NFL teams and one day will be as he is one of the most talented young players in the nation. The biggest question mark on offense will be at WR as three new starters will be broken in headlined by Cris Carter's son Duron Carter.

The defense will be anchored by physical specimen Jesse Williams at Nose Tackle who will make it extremely difficult for opponents to run the ball. Nico Johnson and CJ Mosley will provide additional beef up the middle at Inside Linebacker. The secondary loses first round draft picks Dre Kirkpatrick and Mark Barron, but returns Robert Lester at safety and Demarcus Milliner at CB who should both be dominant in their roles. Regardless, Saban recruits talent and is known for his work with defensive backs so you can expect another very strong unit in 2012.

Bama takes trips to LSU and Arkansas providing daunting tasks, but the Tide match up well with LSU's roster and Arkansas is just not as good of a team. They also avoid the top three teams from the Eastern Division making it less likely that there will be a slip-up. To start the season, Bama will make a statement that they are ready to defend their title in Jerry World against Michigan.
2. LSU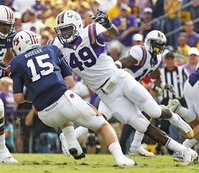 Defensive End Barkevious Mingo
LSU had such a dominant season last year that couldn't have ended worse for the Tiger faithful. The defense was dominant and, at times, the offense was too. Even the punter, Brad Wing, was the best in the nation at what he does. But still, quarterback play ultimately did them in when they were embarrassed by the Crimson Tide defense in New Orleans. Death Valley will need to be the most intimidating place to play like it is billed to be for the Tigers to take advantage of their home field advantage in the matchup against Bama that will decide the division.

Offensively, the Tigers return a lot of weapons with Odell Beckham and Russell Shepard leading the way at wideout. The line is a very good unit despite being embarrassed by Bama last year; so expect a very good unit again in 2012, but it will need to be much better against the Tide if the Tigers want to win a championship. The QB situation is very hard to gauge as Zach Mettenberger is a strong-armed and promising replacement, but is still an unknown until he starts to back up his hype on the field. I would not be surprised to see him take the offense to a new level, but I also could see him struggling as he finally takes the reigns. At RB, LSU may have the best stable of runners in the land with its three-headed monster comprised of Spencer Ware, Kenny Hilliard, and Michael Ford.

The defense will be dominant again; but the question will be "how dominant?" Perhaps the best cornerback duo in the last 25 years is gone with Morris Claiborne off to the Dallas Cowboys and Tyrann Mathieu checking in to drug rehab. In addition, Ron Brooks is now a Buffalo Bill and his loss will certainly be felt Michael Brocker's loss will be felt at DT, but Freshman All-American Anthony 'Freak' Johnson will be a great one inside. Defensive Ends Sam Montgomery and Barkevious Mingo will perhaps be the best duo off the edge in the nation. The linebacking unit will be the weakest part of this defense and will have to step up. The secondary will still be very good despite its losses with Bednarik candidate Eric Reid being one of the best safeties in the country.

There is no question that LSU will be favored in every game it plays except for November 3rd when a possible "Game of the Century" part II will occur in Baton Rouge. The Tigers could certainly slip up along the way, but I won't expect them to as they are so talented. The question: are they good enough to beat Alabama? We will find out. I expect Bama's offensive line to have success on the ground against a weaker LB corp making the difference in another low-scoring battle.

3. Arkansas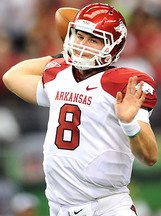 Quarterback Tyler Wilson
Tyler Wilson returns without his teacher Bobby Petrino after a wild offseason for the Hogs. Petrino crashed his motorcycle with his mistress riding alongside him and his world came crashing down. This season, former Michigan State Head Coach John L. Smith takes control of a program that has had great success and would have been competing for a national title last season if it weren't playing in the toughest division in football. Arkansas will have an uphill battle dethroning Alabama and LSU this season, but gets both at home for possibly two of the biggest home games in program history.

The offense should be explosive with Paul Petrino back at offensive coordinator to provide continuity at this side of the ball. Tyler Wilson is the best QB in the SEC and 2010 1st Team All-SEC RB Knile Davis returns after sitting out 2011 with a broken ankle. Some of Wilson's weapons in Jarius Wright and Joe Adams are gone but Cobi Hamilton returns and looks to have a breakout season. Tight End Chris Gragg returns and will play a bigger role in the offense this season. Three lineman return led by All-Conference performer Alvin Bailey at LG.

John L. Smith provides a strong defensive mind, which may be exactly what the Razorbacks need. The defensive line will be improved from last year as its beef in the middle returns with Byran Jones and Robert Thomas, and sophomore Trey Flowers who should be a terror off the edge after receiving Freshman All-SEC honors a season ago. The top two sack-getters return in LB Alonzo Highsmith and DE Chris Smith. The only inexperienced member of the secondary will be Darius Winston at CB who will look to fulfill his high ranking out of high school this season. In all, the defense will be improved this season, but will it be at the level needed to compete with LSU and Alabama?

The Razorback faithful got a taste of elite football last year as Arkansas made its first BCS bowl in program history. This year, fans will be expecting more out of Heisman-candidate Tyler Wilson and company as they hope to compete for a national title. They will have to take a trip to Columbia to face South Carolina on November 10th, providing just another obstacle in the way of winning the Western Division, the SEC, and the National Championship. This will be too much to ask out of new head coach John L. Smith as the Razorbacks should expect to have a season similar to last year's successful one.
4. Auburn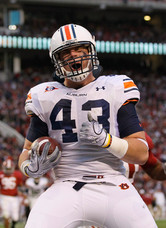 Tight End Philip Lutzenkirchen
Typically, when a team wins a national championship, an 8-5 season would be a disappointment. Last season, realistic Auburn fans realized that they would not compete for a national title after losing a generational type player in Cam Newton and a first round draft pick Nick Fairley. The Tigers have been stockpiling talent for a while now and this season they will begin to see their depth pay dividends with players like Kris Frost, LaDarius Owens, Quan Bray, and CJ Uzomah in backup roles. The defense must improve this season and has the potential to with nine returning starters and plenty of talent all around.

All-American DE Corey Lemonier returns to lead the defense that struggled last season allowing nearly 29 points/game and over 400 total yards/game. Head coach Gene Chizik was originally one of the top defensive minds in the country and his offense-driven teams in his tenure at Auburn are puzzling. He finally has his players in his system and with seven juniors lined up to start, we will get a good gauge of the future here at Auburn. The line should be a force this season after a down year last season allowing 4.6 yards/carry. Four of the top six linebackers return from last year and should be an improved unit. The defensive backs were young last year and struggled in coverage; with added talent, they will need to improve upon last years campaign.

QB Kiehl Frazier is a poor man's Cam Newton and must become more consistent to tap that potential. Last season, in spot duty, Frazier rushed for 343 yards, but only passed the ball 12 times. I am expecting a lot out of Frazier, which is the reason I have Auburn in front of Mississippi State. The receivers will be very talented with Emory Blake and true sophomore Trovon Reed leading the way. The TE unit will be perhaps the best group in the nation with All-American candidate Philip Lutzenkirchen filling the starting role and talented backups CJ Uzomah and true freshman Ricky Parks. The offensive line returns three starters from a unit that saw production drop from the 2010 season, but still was above average. The talented redshirt freshman Greg Robinson looks to fill in at LT and dominate for the next two to four seasons.

Auburn has a primetime first week matchup with Clemson after losing to the Tigers from South Carolina last year. They catch a break by not having to face the best receiver in the country Sammy Watkins, who is suspended, after being torched by him last year. Still, Clemson will provide quite a challenge as Auburn gears up for a daunting early season schedule consisting of Clemson, Mississippi State, LSU, and Arkansas in its first five games. Look for Auburn to pull off a big upset this season; but Chizik's men will not be consistent enough to compete with Alabama, LSU, and Arkansas for the division crown.
5. Mississippi State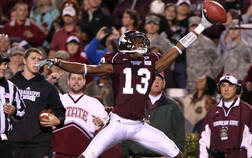 Cornerback Johnthan Banks
Mississippi State impressed people around the country in 2010 with a breakout season in Dan Mullen's second year at the helm. But last year, the Bulldogs were pretty pedestrian going 7-6 with no big wins. Mullen is hoping his team will regain focus and continue its upward trend by finishing fourth in the Western Division. Their game against Auburn on September 8th will go a long way in making this happen.

Offensively, Mullen is known to be a genius with his spread option attack. Tyler Russell returns and should have the keys to the offense himself this year, which may allow him to be more effective as QBs in battles are sometimes worried about making mistakes rather than focusing on making plays. He will have Chad Bumphis and Arceto Clark at his disposal again this season, along with the big-bodied redshirt freshman Joe Morrow to give him weapons on the outside. The offensive line does not return much, but does return All-Conference guard Gabe Jackson. The line battled injuries last season, which should help this season as every new replacement will have had game experience. This unit has produced well the last couple years and should be a strength once again as they hope to remain over 4.4 yards/carry for the 4th straight season.

While the offense disappointed last season after an explosive 2010 campaign, the defense reproduced just under 20 points/game for the second straight year. This season, Mullen hopes his defense can take a step forward as the back seven returns a lot including leading tackler LB Cameron Lawrence and All-Conference CB Johnthan Banks. The line must replace two starters along its four man front, but hopes highly-touted recruits Denico Autry and Quay Evans can provide an immediate impact. If the line can play well, then look for a unit to improve from very good 2010 and 2011 seasons.

The question marks I have at QB with Tyler Russell prevent me from putting Mississippi State above Auburn even though this might be Mullen's best all-around squad yet. He will need a playmaker to emerge on offense as all of the starters returning have been very solid, but not gamechangers. State plays a tough game against a much-improved Tennessee team, but gets a break by playing Kentucky. Mississippi State will certainly find itself in a bowl for the third straight season.
6. Texas A&M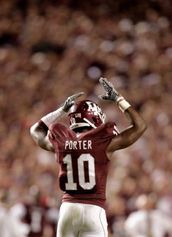 Linebacker Sean Porter
It has been a hectic year for the program with the departures of Head Coach Mike Sherman and Hard Knocks star Ryan Tannehill and the move to the vaunted SEC. Former Houston Head Coach Kevin Sumlin moves over to College Station as he will try to eventually make Texas A&M into a high-flying aerial assault team. This season will be difficult to make that transistion with a new QB and a new, improved league. I see Texas A&M competing with Auburn and Mississippi State for 4th place, but ultimately losing out due to these changes.

A&M still returns a lot on offense including All-American candidates WR Ryan Swope, RT Jake Matthews, and LT Luke Joeckel. The QB situation is very fluid featuring four candidates: Johnny Manziel, Matt Joeckel, Jameill Showers, and Matt Davis. Tannehill looks to be the starter for the Miami Dolphins this season after throwing for 3,744 yards and 29 touchdowns last season, but also threw 15 interceptions seriously hindering the offense. The passing attack may produce numbers similar to Tannehill's under Sumlin's coaching, but will need to take care of the ball better than Tannehill did.

The defense should be improved from last season after allowing 28.2 points/game in the Big 12. LB Sean Porter and DE Damontre Moore return with 18 combined sacks in 2011, which should give Aggie relief to know that A&M should be able to get after the QB again in 2012. The linebacking corp should be especially strong with all three starters back for another productive year. The secondary loses three starters from a unit that struggled last season allowing nearly 300 yards/game through the air. This will be the biggest question mark for this team, but fortunately plays in a less pass-happy league this year.

Texas A&M was starting to build some momentum with three straight bowl games, but then again was not improving on a season-by-season basis. Regardless of the season outcome, A&M fans should be excited for the future under the young Kevin Sumlin in the best league in the land. However, these changes will prove to be the downfall this season as Texas A&M will fail to make a bowl.
7. Ole Miss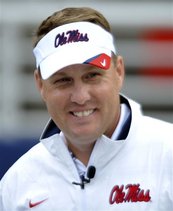 New Head Coach Hugh Freeze
It was a rough year for the Rebels after averaging only half the points of their opponents (16.1 points/game to 32.1 points/game). This season, former Arkansas State Head Coach Hugh Freeze takes control of a program that is truly in the cellars of the SEC. After Jevan Snead underperformed in the 2009 season after preseason Heisman predictions, Mississippi just has not been the same. With only one conference win in the past two seasons, don't expect much from Freeze in his first season at the helm.

Bo Wallace is the newcomer on campus after transferring over from junior college, but is the most experienced QB in the system because he played for Freeze at Arkansas State his freshman year. Wallace looks to have the edge in the QB battle and should do better than the revolving door at QB last season. The top four receivers are back, but only two starters return from the line. Wallace will have to be particularly impressive if Ole Miss wants to improve upon last season's output due to the inexperience at line.

Six of the top seven tacklers return, which should help Ole Miss bring its points allowed per game average under 30 for the first time in three years. The biggest concern on this unit will be generating a pass rush after only recording 13 sacks last year. A lot will be expected out of true sophomore CJ Johnson who started three games last season and was a top recruit out of high school. Wesley McGriff will team up with Dave Wommack to lead the D. Wommack, who has had very unsuccessful stints at Georgia Tech and Arkansas will hope to turn his career around here in Mississippi.

The outlook is bleak for Ole Miss. Don't expect more than three wins for the Rebels in '12.