FOR CURRENT HEISMAN RANKINGS - CLICK HERE

2013 Heisman Preview


By Mike Nowoswiat and Brett Ciancia
August 8th, 2013

While it is nearly impossible to peg a Heisman Winner in August, we offer up a list of the season's top contenders and why they belong in the Heisman Discussion. Starting around Week 4 or 5 (to give us enough of a new sample size), we will update this page weekly, complete with our updated Heisman rankings and commentary. But for now, here is an appetizer of sorts, a 12-pack of Star Players ... calm down Columbus, Ohio, we have them listed alphabetically:


TAJH BOYD - QB, CLEMSON (3,896 Pass Yards, 67.2%, 36 TD; 514 Rush Yards, 10 Rush TD)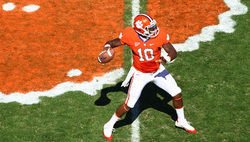 Look at his numbers. He has already posted Heisman-caliber numbers in 2012, but came up short in the big games. Against Florida State he was solid, but was overshadowed by FSU QB EJ Manuel. Against in-state rival South Carolina, Boyd played poorly, and again was overshadowed by an opposing player: Jadeveon Clowney. Boyd had one "Heisman moment," and that was against LSU in the bowl game--after the hardware had already been given out. Hopefully, that game will be a sign of what to expect. This season, its almost a guarantee that the reigning ACC Player of the Year will post big numbers once again, but he will need to deliver when the lights are the brightest. He will have a chance to move past fellow Heisman-hopefuls Aaron Murray and Jadeveon Clowney as the Tigers open and close the season with Georgia and South Carolina, respectively. If Boyd can do just that, expect to see him in New York.
TEDDY BRIDGEWATER - QB, LOUISVILLE (3,718 Pass Yards, 68.5%, 27 TD; 1 Rush TD)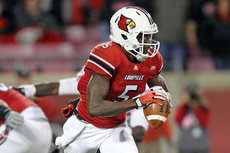 Bridgewater put up big numbers in the Big East last year, but wasn't seriously considered for the Heisman. It wasn't until January that Bridgewater vaulted into the 2013 Heisman race with his huge performance against Florida, throwing for 266 yards and two touchdowns on perhaps the nation's best defense. He now finds himself in a watered-down version of the Big East--the AAC--and will face much of the same criticism he received in 2012. However, that win versus the Gators not only will help Bridgewater counter the weak schedule arguments in his quest for the trophy, but also the Cardinals in their quest for the National Title. Now, Louisville is seen as the giant in the borderline-BCS conference rather than the tallest midget. Look for Bridgewater to use that softer schedule to his advantage as he leads the Cardinals to 10+ wins while posting huge numbers.
JADEVEON CLOWNEY - DE, SOUTH CAROLINA (13 Sacks, 54 Tackles, 23.5 Tackles for Loss, 3 Forced Fumbles)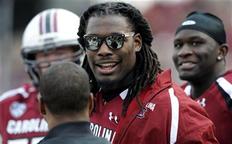 Clowney is a difficult pick. Sure, he is a freak of nature that would probably record about 30 sacks if given one-on-one blocking assignments. The problem is he will not see one-on-one matchups on any pass play. A Defensive End is easier to gameplan for than a Quarterback. I'm not saying Clowney will have a bad year, but to win the Heisman on defense alone would be, well, revolutional. He would need to post over 20 sacks and a few touchdowns. With the loss of Devin Taylor at the other DE position and the increased attention on Clowney, he certainly has a steep hill to climb. The one positive is that he will begin the season in the spotlight, unlike former Nebraska DT Ndamukong Suh who had to ascend the charts as the season went on. Then again, he has to live up to the hype of being called the best player alive (including NFL players) by Mark Richt.
MARQISE LEE - WR, USC (118 Receptions for 1,721 Yards, 14 TD; 1 Return TD)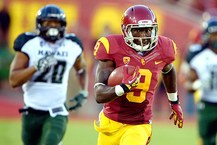 Lee, who finished 4th last season, looks to become the first WR to win the Heisman since 1991 (Desmond Howard). Lee torched Pac-12 defenses last year as both a receiver AND a returner, a role he excelled in. He is one of the most elusive players in college football, a nightmare for any Defensive Coordinator. The USC staff was even experimenting with giving him some defensive snaps in the secondary! A major red flag in Lee's Heisman candidacy is the void at QB; Matt Barkley (despite the poor perception) was an elite passer and helped Lee turn in his legendary season. Without Barkley, will the young replacement QB's be able to get Lee the ball enough? Further, will the Heisman voters be willing to extend the award to a non-QB or RB for the first time in almost two decades? If so, do not count out #9.

JOHNNY MANZIEL - QB, TEXAS A&M (3,706 Pass Yards, 68%, 26 TD; 1,410 Rush Yards, 21 Rush TD)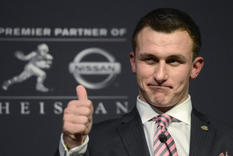 Well, he has already won the Heisman. Is that good or bad? Only Archie Griffin has won the Heisman twice, so history would suggest that last year was bad for his 2013 bid. Plus he loses Luke Joeckel to protect his blindside. Sure, Jake Matthews returns, but Matthews still played last year so his protection won't be quite as good as it was in 2012. This offseason was a wild one for the man we call Johnny Drama, which cannot have helped his focus. But still, these are all outside factors; what we haven't talked about is Manziel's talent. At the end of the season, Manziel was absolutely spectacular, throwing for at least 253 yards in his final eight games. And while he may not be the specimen that Cam Newton was, he is a dynamic runner. Whenever you have a QB that is as good at both passing and running as Manziel is--not to mention already hoisting the damn award--you have a Heisman Trophy candidate.
MARCUS MARIOTA - QB, OREGON (2,677 Pass Yards, 69%, 32 TD; 752 Rush Yards, 5 TD)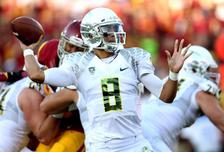 While the other two Oregon superstars (Barner, Thomas) were stealing attention and Heisman hype last season, I continued to include Mariota in the discussion and give him the credit he deserved. Now, with workhorse RB Kenjon Barner gone, it is time for Mariota to shine in the national spotlight. Mariota is both an extremely efficient passer and a fluid runner - a player that always makes the defense wrong. I look for similar passing numbers, but an increased rushing workload due to the RB inexperience from Barner's departure. Despite losing head coach and playcaller Chip Kelly to the NFL, it is undeniable that Mariota is a special player with game-changing ability. Let's not forget that he was just a freshman last year, and was a missed FG away from playing (and likely beating) Notre Dame in the National Championship. He has that key season under his belt, and if Oregon runs the table and beats Stanford on that November Thursday Night, then Mariota should book his flight to NYC for the Heisman ceremony.

TAYLOR MARTINEZ - QB, NEBRASKA (2,871 Pass Yards, 62%, 23 TD; 1,019 Rush Yards, 10 Rush TD)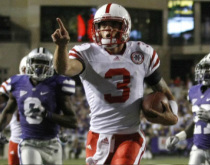 Martinez has it all: the highlight reel plays, the game-changing moments, the stats, and a Top 15 team. Over the course of his first 3 seasons as a starter, he has established himself as a household name - but sometimes for the wrong reasons. His passing form was a point of humor for a few seasons, but his vast improvement has quieted critics. One aspect that must be improved is his ball security, as he has led the nation in fumbles over the past few seasons. Regardless, his break-away speed is unmatched, and no one cuts up the middle of the defense quite like #3. Martinez led Nebraska to FOUR double-digit deficit second-half comebacks last season (4 others total in school history). Nebraska has a manageable schedule which should mean wins and a high ranking to keep Martinez in the discussion. If "T-Magic" can produce and excel in November (and repeat
these kind of plays
) he has a legit shot at getting an invite to NYC as a Heisman finalist.
AJ McCARRON - QB, ALABAMA (2,933 Pass Yards, 67.2%, 30 TD, 1 Rush TD)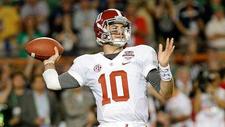 One statistic not listed above: 2 National Titles as a starter. Baylor's three losses in the 2011 season when Robert Griffin took home the hardware were the most losses by a team with a Heisman winner since 1998. There is never a team that is a lock for the National Title, but 'Bama is essentially a lock to have less than three losses, something most teams can't say. Not to mention, McCarron will have an improved receiving corp with his top target Amari Cooper back and another Heisman-hopeful to take the pressure off in RB TJ Yeldon. The man who seemingly has it all--the rings, the girl, and the fame--doesn't have one thing: the Heisman. Will he be able to cap off his glorious career with the one missing piece? He has as good of a shot as anybody does, and that is all you can ask for in the preseason.
BRAXTON MILLER - QB, OHIO STATE (2,039 Pass Yards, 59%, 15 TD; 1,271 Rush Yards, 13 Rush TD)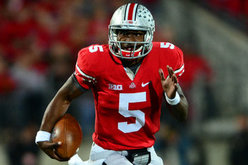 Braxton Miller tore up the BigTen last season, en route to a perfect 12-0 season and a 5th place Heisman finish. The scary part is that he is just scraping his full level of potential. After learning an entire new offense last preseason, Miller will be in his second season in Urban Meyer's system, which is one that loves dual-threat quarterbacks. There is significant room for improvement in his passing game, and with another offseason of development and an elite supporting cast on offense, I expect major gains. He has been a quiet, lead-by-example leader in the offseason, cautiously deflecting the fame and pressure - an approach that should be taught to Mr. Football in his online classes. Can Braxton make it through such a grueling rushing season, or will Coach Meyer lessen his load in the ground game? Regardless, Miller has the stats, the title contending team, and the
'wow' factor
and I fully expect him to be a Heisman Finalist.
AARON MURRAY - QB, GEORGIA (3,893 Pass Yards, 64.5%, 36 TD; 3 Rush TD)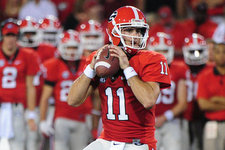 I am anticipating a huge season from Murray. Let me rephrase that: I am anticipating a MONSTER year from Murray. The Bulldog offense returns nearly everyone and another year to gel as a unit should only help. The key to Murray's candidacy will be his team's success. Unfortunately, we've seen Georgia post 10 win seasons consistently, so a 10-2 season won't do him much good compared to players like Miami's Duke Johnson or Mississippi's Bo Wallace; If Murray can win the SEC, he will be at the forefront of the Heisman race. Not to mention, he will probably be one of two QBs gearing up for the National Title Game when the award is handed out. His biggest problem, however, may be out of his control. Georgia's defense should be solid, but is not nearly as talented as the 2012 unit. Winning the trophy requires a significant amount of luck. For Murray, that luck might just be the good fortune of a better-than-expected UGA defense.
SAMMY WATKINS - WR, CLEMSON (57 Receptions, 708 Receiving Yards, 3 TD; 1 Rush TD)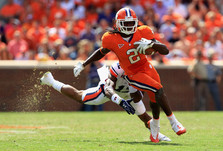 I should really just post Watkins' 2011 stat line to justify my reasoning for including him on this list: 83 receptions, 1,225 receiving yards, and 12 touchdowns...as a true freshman. Last year, Watkins had a distracting offseason that led to a two game suspension, which foreshadowed a season that never really got started. DeAndre Hopkins took over as the top receiving threat as he put up 18 touchdowns and over 1,400 yards. While he certainly benefited from the threat of Watkins on the other side of the field, it shows the damage potential that Tajh Boyd's favorite target will always possess. And as Watkins re-emerges as the team's top threat, he will also re-emerge in the Heisman race. Like Boyd, he will not only need to personally show up in the biggest games, but the team will. Three games will define the season: Georgia, Florida State, and South Carolina. If Clemson wins 11+ games, including at least two of those mentioned, you better believe that both Boyd and Watkins will be in the Heisman discussion.
TJ YELDON - RB, ALABAMA (1,108 Rush Yards, 12 TD; 1 Receiving TD)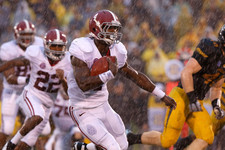 While Yeldon will assume the starting RB role after Eddie Lacy's departure, he will most definitely be splitting time with another back once again. The question is how many carries will he give up to his backup? Last year, Yeldon, the backup, had only 29 carries less than Lacy, the starter. In 2009, Heisman-winner Mark Ingram had 127 more carries than his backup, Trent Richardson. So while Nick Saban likes to have a duo in his backfield, the carries are not necessarily a 50-50 split. If Yeldon separates himself from the other RBs like I think he will, the true sophomore will have as good of a chance to win the award as anyone in the nation. You can tell from simply watching the way Yeldon runs and cuts that he is an elite running back. He is a different type of runner than Ingram, Richardson, and Lacy, which cannot be mistaken as a bad thing; he may be the best back yet. While the offensive line may take a step back from last year, I expect an improved passing game, hopefully opening up more room for Yeldon to run...run all the way to New York.
| | |
| --- | --- |
| Who did we miss, #PickSixNation? Tweet us your Heisman Candidates and why: | |