2013 Spring Football Recap

Attendance, Top Moments, Stats
Brett Ciancia
May 3rd, 2013

The end of Spring Football marks the halfway point of the seemingly never-ending offseason. But before we enter into the summer months, here is a recap of the 2013 Spring season, complete with Spring Game attendance analysis, star player's stats, and a collection of special moments over the past few weeks of spring ball.
RELATED PAGE: Our Spring TOP 25 Rankings
ATTENDANCE -

The state of Alabama, home to the previous four national champions, proved again that it is still the hub of College Football by posting the two highest Spring Game attendances in the nation (Auburn and Alabama). The SEC topped the charts this spring, with half of the conference ranked in the Top 9 for attendance, including 8 of the Top 12! While big crowds are expected at the perennial SEC powers, Kentucky filled Commonwealth Stadium with over 50,000 fans excited to see the debut of new Head Coach Mike Stoops (up from just 4,500 last Spring). Nebraska, with over 60,000
paid
fans drew 23,000 more than any other BigTen team. For a Pac-12 North comparison, the Oregon Ducks drew 36,588 fans while defending Pac-12 Champ Stanford had only 4,350 fans attend!
The under '5,000 fans' club for 2013 (BCS Teams):
South Florida, Stanford, Wake Forest, Arizona, Syracuse, Pitt, Temple, Baylor, UConn, Illinois, Cincinnati
**
On a side note, it is suspicious how Texas arbitrarily chose 46,000 as their reported attendance figure, just above A&M's 45,212... do the Longhorns also feel the power shift of the State of Texas heading east to A&M?
**
Below, the TOP 15 for Attendance:
---
NOTABLE STATS -

It should go without saying, but here is the disclaimer: Spring Games are unofficial, often non-QB contact, team scrimmages. Some teams play starters vs. starters, or a combination of first and second teams. Some stars only play a few series. These numbers may be taken out of context and should not be used for comparison purposes. THAT SAID, we know you are curious how the top Heisman candidates performed in what may be the only glimpse we see until summer practices start in August. Here is how our Top 10 preseason Heisman Contenders fared in their spring games:

Johnny Manziel - QB - Texas A&M; 24 of 30 for 330 yards, 3 TD
Braxton Miller - QB - Ohio State; 16 of 25 for 217 yards, 2 TD
AJ McCarron - QB - Alabama; 19 of 30 for 223 yards, 2 INT
Aaron Murray - QB - Georgia; 8 of 12 for 91 yards, 2 TD
Marcus Mariota - QB - Oregon; 13 of 15 for 169, 2 TD
Tajh Boyd - QB - Clemson; Did Not Play
Taylor Martinez - QB - Nebraska; 8 of 10 for 105 yards
Marqise Lee - WR - USC; 8 receptions for 148 yards, 3 TD
Sammy Watkins - WR - Clemson; 7 receptions for 156 yards, 2 TD
Jadeveon Clowney - DE - South Carolina; Did Not Play

---
TOP MOMENTS -

It is tough to rank these moments against one and another, and this list is by no means exhaustive. But there was a clear #1 moment, a moment that transcended sport.

Jack Hoffman's Run, Nebraska - Jack Hoffman a pediatric cancer patient (and dedicated Husker fan), in the midst of a 60 week radiation treatment, entered the Nebraska spring game, ran a 69-yard Touchdown, and was quickly hoisted up on the shoulders of his new teammates, to a teary-eyed standing ovation from Husker Nation:

The Final Rolling of Toomer's Corner, Auburn - A long-time Auburn tradition of rolling the iconic Toomer's Corner oak trees with toilet paper after big wins comes to an end after a crazed Alabama fan poisoned the oaks in 2011. After hosting the highest attended spring game in the nation (83,401), Tiger fans took part in "One Final Roll":

'Boston Strong' Uniforms, UMass - In response to the tragic events of the Boston Marathon, the UMass Minutemen donned commemorative uniforms to honor those lost and injured in the bombings and shootings later that week.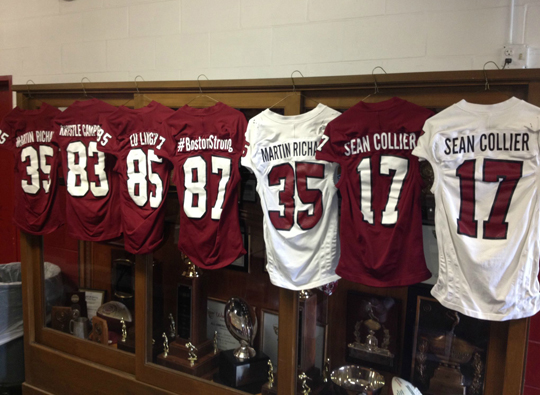 #PickSixNation sighting in Tuscaloosa - Of course we have to throw in a Pick Six to hold us over until the fall. Safety Vinnie Sunseri picked off QB AJ McCarron and took it back 85 yards for a Touchdown. Sunseri also had a Pick Six in last year's Spring Game

Clowney's Trick Play, South Carolina - All-American DE Jadeveon Clowney sat out of Spring practice and the game for "neck stiffness," a minor injury. But that didn't stop him from having an impact; Clowney ran off of the sidelines mid-play and caught a "touchdown." Many pundits, including us, consider Clowney a Heisman contender.



| | |
| --- | --- |
| What did we miss, #PickSixNation? Tweet us your favorite spring moments: | |
---