January 18th, 2013

College Football Storylines for 2013

New-Look Big 12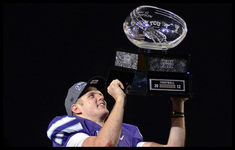 "Optimus" Klein; one of 7 departing Senior Starting QB's
7 of the 10 teams in the Conference will be replacing their Senior Quarterbacks, a mass exodus of signal-callers. Collin Klein, Geno Smith, Landry Jones, Nick Florence, Seth Doege, Steele Jantz, Dayne Crist all leave their respective schools with a quarterback vacancy. In this pass-heavy league, the identity of the entire conference will shift next fall. Texas again has a quarterback controversy between David Ash and Chase McCoy - as the old adage states, "If you have two quarterbacks, you have none." Look for Spring Camp and the Spring Games to be very telling as to how preliminary depth charts are shaping up. Will the conference continue to put up huge offensive numbers, or will this QB rebuilding year lead to a league led by defense?

The Battle of Los Angeles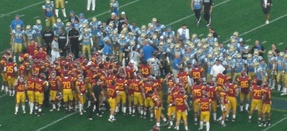 UCLA reclaimed the city, but both limp into offseason
This year, UCLA reclaimed LA and the Victory Bell for the first time in 5 years (2nd in 14) with their 38-28 win over the Trojans. The victory also claimed the Pac 12 South Title, quite an achievement by dethroning the Mighty Trojans who most pundits had pegged as the National Title Favorites back in August. Everything was going UCLA's way until back-to-back losses to Stanford and an embarrasing blowout loss in the Holiday Bowl. USC also struggled down the stretch, losing to 6-7 Georgia Tech in the Sun Bowl to finish with a weak 7-6 record. Further, USC parted ways with D-Coordinator Monte Kiffin. Despite recruiting gains, the hot seat is warming at USC. How will these two programs recover from rough ends, and who will be the best show in town?

End of the BCS era; One Final Controversy?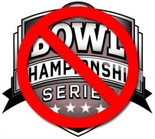 2013: The Final Year
The BCS era has certainly produced some all-time great games that remind us why we love the sport: 2003 Fiesta Bowl (Ohio State - Miami), 2006 Rose Bowl (Texas - USC), and 2006 Fiesta Bowl (Boise - Oklahoma) all come to mind. However, this era has been plagued with controversy. December, usually known for the Holiday Season, became filled with the annual tradition of griping about the BCS and strongly arguing the case for the #3 team. Who could forget when "the Computers" put #4 Nebraska in the title game over #2 Oregon? Or when an Undefeated, SEC Champion Auburn squad was left with no shot at the title? The year when 2-loss LSU was picked over several 1-loss teams...and WON. Or the monstrosity that was 2009, when 5 teams were undefeated at season's end...the list of failures goes on and on. This will be the final season under the current BCS system, with the favorable 'Final 4' playoff setup to begin in 2014. You almost get the feeling that the BCS will have one last laugh, and give us utter chaos in December. I'm talking 6, 7, 8 unbeatens, or a logjam of 2-loss squads. Something crazy will happen; and surely Boise will be involved in some way

Manziel Goes for the Repeat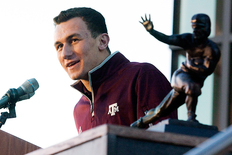 Manziel Looks for the Storied 2nd Heisman
Since Archie Griffin's back-to-back Heisman Trophies in 1974 and 1975, 15 non-Seniors have won the award. NONE have repeated in the following season. Recently, some winners have had two years to chase the elusive Second Heisman (Tim Tebow, Sam Bradford, and Mark Ingram) but couldn't follow up their special seasons. Of course, this fall Johnny "Football" Manziel won the stiff-arm trophy as a Freshman, the first ever to do so. Will Manziel break the Griffin curse and join #45's exclusive 2-time Club? It is impossible to forecast Heisman predictions in January, but still, the competition looks extremely talented. As explained on our
Early Heisman page
, there are several young QB's that were GREAT last fall but look to become ELITE in 2013. Keep in mind Mr. Football plays in the SEC, so there will be no 'easy' week on his repeat tour.
Will SEC and Alabama Continue to Roll?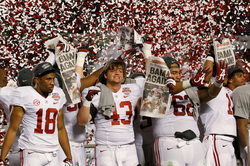 The Tide have Won 3 of the last 4 National Titles
Alabama has not only become a modern-day dynasty, but the SEC has claimed seven straight national titles: a record that will probably never be broken. The BCS era started with five national champions from five different conferences; and within seven years, all of the major conferences had claimed a title. The SEC began its run in 2006 with Florida's thundering upset of Ohio State and has also included championships from LSU, Alabama, and Auburn. This past season, Texas A&M finished the season as arguably the second best team in the country; and while the SEC did not overwhelm the competition in the bowls, they still did enough to reclaim top dog. The question remains: will the SEC do the same next year? LSU, Florida, Texas A&M, and Georgia have all lost a lot of talent on defense, but all four schools have been recruiting at an exceptional level. At this point, it would be unfair to speculate that the SEC will be dethroned; they have been the gold standard for so long and there are no signs of slowing down.
Impact of New Coaches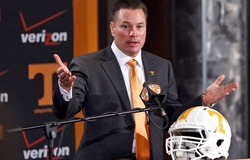 Tennessee Coach Butch Jones
Speaking of the Southeastern Conference, it seems that there is a top-notch coaching vacancy within the conference after every season. The demands that each respective fan base has for its football program are off-the-charts high. This time, the Tennessee job has opened up for the third time in four years, and the University has identified ex-Cincinnati Head Coach Butch Jones as their man. The Cincinnati program was in worse condition than many would think after Brian Kelly left and Jones was able to successfully rebuild it. Tommy Tuberville will fill his void in one of the more surprising moves of the off season. Tuberville apparently left Texas Tech in the middle of a recruiting dinner and never came back to tell the recruit. Despite the ugly departure from Lubbock, Tuberville is a proven coach that should keep Cincinnati right around 8-10 wins per season in a weak Big East. Texas A&M offensive coordinator Kliff Kingsbury will head over to his alma mater to replace Tuberville; Kingsbury provides the Red Raider faithful hope that he will be the next great TTU coach. As an alum, he is also unlikely to depart quickly if success is reached. Wisconsin, Arkansas, and Oregon all hired winners in Gary Andersen, Bret Bielema, and Mark Helfrich, respectively. It will be interesting to see how Bielema meshes with his fellow SEC coaches as he has been known to rub people the wrong way. Will this be the next version of Lane Kiffin? And finally, Oregon should see little to no drop off this season under Helfrich as the stables are still fully loaded in Eugene. The real question will be three to four years down the line: will Helfrich still have Oregon among the nation's elite programs? The most important key to Oregon's success may just be Nike CEO Phil Knight, and he is going nowhere.
Notre Dame's Future
Brian Kelly is Entering His 4th Season
Notre Dame had one of the most impressive seasons in its history as Brian Kelly and LB Manti Te'o seemingly willed the Irish to victory each week. Regardless of a team's schedule and margin of victory, going undefeated is a major accomplishment. The schedule was not a concern, but critics looked at Notre Dame's many struggles and tight games as a problem before they traveled to Miami to take on Alabama. Truth be told, Notre Dame was not a National Champion-caliber team this season; but Kelly is clearly making strides and the Irish may be soon be at that level. While we agree with the critics that Notre Dame caught some breaks on their conquest to 12-0, it may be too much to expect another undefeated season. Therefore, with the loss of Te'o and other seniors, the Irish will struggle to go undefeated again. This, however, does not mean that they will be regressing. Rather, with the infusion of a top-5 recruiting class, the Golden Domers may be stronger as a team, but it is unlikely that they will catch the same breaks this season. The only concern that Irish fans should have with their program is Brian Kelly's future as he flirted with the NFL after the title game because he certainly has Notre Dame on the fast path to success.
Can a Position Other than QB Claim the 2013 Heisman?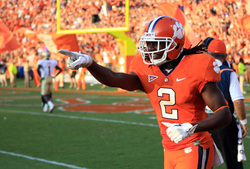 Clemson WR Sammy Watkins
We sometimes see a RB take home the Heisman with Mark Ingram being the last in 2009. However, 2013 offers a real chance for us to see a WR claim the hardware with Southern Cal's Marqise Lee and Clemson's Sammy Watkins headlining the group. Both will be losing their star counterparts to the NFL in Robert Woods and DeAndre Hopkins, respectively. However, only Watkins will reunite with is star QB in Tajh Boyd while Lee will have to catch passes from Max Wittek, who struggled mightily against Georgia Tech in the Sun Bowl. Lee was nearly a Heisman finalist this season, but fell short. Watkins was suspended for the first two games of the 2012 season and could never seem to get back on track; but with Boyd back and Watkins as the true primary target, Watkins could be primed for a record-breaking season. In the same Palmetto state, South Carolina DE Jadeveon Clowney may be the most freakish edge rusher we have seen since Lawrence Taylor and certainly has the potential to be the first purely-defensive player to ever win the award. Not limited to one position, the 2013 Heisman may go to an unsual suspect.