---
* HAPPENING NOW *


---
* MOST ACCURATE BCS/POWER5 PREVIEWS IN AMERICA *
The Stassen Accuracy Formula has been the accepted technique of rating prediction accuracy for 20+ years now. Below, we have compiled the last 5 seasons of BCS/Power5 results, along with the 5-year combined scores (2012-2016).

Since our launch in 2012, we are have finished with the MOST ACCURATE BCS/POWER5 PREVIEWS IN AMERICA
NOTE: Low scores are better, as a zero represents a perfect prediction.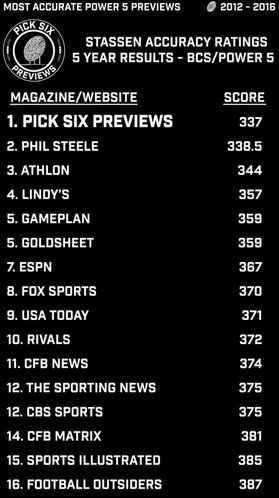 ---
* About US *
Devout followers of the game, we have developed a knack for picking games and predicting season outcomes—a college football sixth sense. In August 2012, we decided to take our talents to the Internet and to compete with the other top college football magazines, publications, and websites.
The 'Pick Six' (interception return for touchdown) is not only the best play in sports, but a total game-changer with immediate impact. Pick Six Previews was created with the same goal—to make an immediate impact of success, accuracy, and expertise on the great sport of College Football.
From our launch in 2012 to the completion of the 2016 season, we did just that, finishing as the
MOST ACCURATE WEBSITE IN AMERICA
.
Our features include a comprehensive annual season preview, weekly previews of the marquee matchups, Heisman discussion, bowl previews, and overall College Football analysis. With an extensive EXTRAS section with everything from rivalry trophies to vintage highlight clips, there is no offseason here at Pick Six Previews.
We hope you enjoy our site, and invite you to become a member of #PickSixNation on
Twitter
.
Brett Ciancia
and
Mike Nowoswiat
Pick Six Previews Owners
---
| | | | | |
| --- | --- | --- | --- | --- |
| PROUD MEMBER | VOTER | VOTER | VOTER | VOTER |
| | | | |
| --- | --- | --- | --- |
| PROUD MEMBER | PROUD MEMBER | VOTER | voter |
---