Last April, we applied and were accepted into the Football Writers Association of America, and with that we received a vote for the FWAA All-American Teams. This was a tough task narrowing the crop of elite talent down to just 25 players, and as you will see, our lists vary greatly. It is worth noting that ballots were due before the completion of the regular season, and after seeing 3 or 4 crucial weeks of ball, our picks may have altered. It's been a great honor to be included in this voting; here are our ballots, with some analysis below: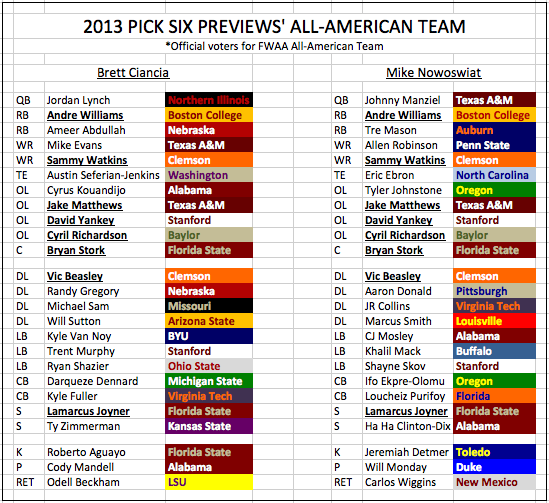 Ciancia's Take:

As mentioned above, this was a challenging task especially on defense with the high number of playmakers at the Linebacker position. Two of my LB selections are hybrid Defensive End/Linebackers but are officially listed as LBs so that created some issues for me. Trent Murphy's production and Kyle Van Noy's game-changing ability couldn't be ignored, so they secured 2 of the 3 LB spots. That left one LB and for me it came down to Ryan Shazier over CJ Mosley in a close one. Sutton and Sam have been disruptive forces and key factors in their team's division titles this season. At D-End, Nebraska's Randy Gregory has been a standout, and

I was in the Big House for his breakout game

, overpowering highly-touted OL Taylor Lewan. In the secondary, Lamarcus Joyner and Darqueze Dennard were clearly All-Americans in my eyes.

Offensively, I have to preface this with the fact that ballots were due around Week 11

-12. This also means they were submitted before the Winston decision; at the time, I was uncomfortable voting for Winston due to the uncertainty surrounding him. Lynch earned his spot thanks to incredible dual-threat production and leadership. Also before the breakout of RB Tre Mason, Ameer Abdullah impressed big-time. He was shredding Big Ten defenses weekly, and looks to still be a unanimous All-Big Ten First Teamer. Andre Williams is far and away the most dominant runner in the nation and deserves a seat in NYC next Sunday. Mike and I agree on 4/5 of the O-Line: Matthews, Yankey, Richardson, and Stork. But the 5th spot for me goes to the big hoss Cyrus Kouandijo, anchoring the Alabama line.

Lastly, FSU Kicker Roberto Aguayo himself would be 7-4-1 and BOWL ELIGIBLE if you count just his kicking points.
Nowoswiat's Take:

As Brett mentioned, we submitted our ballots a couple of weeks ago. Prior to games against LSU and Missouri, Johnny Manziel was the best quarterback in football. And it is still tough to argue against Manziel because his season as a whole was still spectacular. However, if I had to vote this week I could not vote against Jameis Winston at QB. Tre Mason and Andre Williams have been the best running backs in the nation this year, with Arizona's Ka'Deem Carey trailing slightly. Mason saved his best for last against Missouri, rushing for 304 yards and four touchdowns. And, finally, Sammy Watkins, Allen Robinson, and Eric Ebron round out my offensive skill players. Robinson has flown under the radar, but has been the best receiver in the Big Ten for the last two years despite inconsistent QB play from true freshman Christian Hackenberg. I added Tyler Johnstone to the consensus group of Matthews, Yankey, Richardson, and Stork along the offensive line. Michigan OT Taylor Lewan was one of the biggest disappointments this year after man-handling Jadeveon Clowney in last year's bowl game.
The defensive line may be ACC-biased, especially considering Louisville is moving to the conference next year. I believe that Aaron Donald and Vic Beasley are bonafide All-Americans, and JR Collins and Marcus Smith have both been dominant with great statistics. Mosely, Mack, and Skov form a great group of linebackers who have all stepped up in the big moments. Mack has two Pick Six's on the year in addition to his 10.5 sacks and 19 Tackles For Loss. And finally, the secondary is composed of Lamarcus Joyner, Ifo Ekpre-Olomu, Loucheiz Purifoy, and Ha Ha Clinton-Dix. If I submitted my ballot after the season's conclusion, I would probably substitute Darqueze Dennard for Loucheiz Purifoy, who was beaten often by Florida State WR Kelvin Benjamin.
The specialists are Jeremiah Detmer, Will Monday, and Carlos Wiggins. Toledo's Detmer only missed one field goal all year; Monday has been great all year punting for Duke; and Wiggins was the only player with three kick return touchdowns this season.