Danny Rocco Interview

March 6th, 2017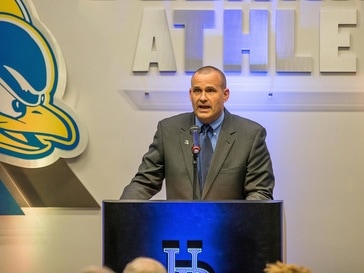 New Delaware Head Coach Danny Rocco joins
The Triple Option
to talk about his vision for the prestigious Blue Hen program. Rocco has been the head coach at Liberty and Richmond, guiding both programs to winning seasons every year despite inheriting losing teams.
Show notes
What was the number one reason you came to Delaware (01:15)
Do you want to take UD from FCS to FBS? (02:25)
How important is the state of Delaware in your recruiting effort? (04:40)
How does it feel to be the face of the state? (08:05)
Good/bad from 2016 Delaware team (11:45)
What is your style of play? (15:29)
How committed are you to the 3-4 defense? (17:45)
Links
​Website:
BlueHens.com
Twitter
: @DelawareFBThe Triple Option is now on iTunes (see link below) -
please subscribe to hear about every new episode from the "Most Accurate BCS/P5 Previews in America." Be sure to subscribe to hear about every new episode!
---
---
You May Also Like...
T.O. joins the Triple Option to discuss his less-publicized high school and college career. Owens describes how he didn't start on his high school team until his junior year, and only because the player in front of him got sick! Often criticized for his antics, Owens' extraordinary work ethic and dedication often go overlooked.

You won't want to miss his story...
| | |
| --- | --- |
| | You hear it every year: "I chose [Insert School] because they put players in the NFL." It is one of the go-to recruiting pitches for every coach with NFL experience, and every coach who employs a pro-style offense. For instance, Duke's David Cutcliffe—QB mentor to the Manning brothers and a pro-style offense aficionado—took jabs at Georgia Tech coach Paul Johnson's spread option attack: "You're not seeing what you're going to see in pro ball, if you think you're a pro-type of player. If I'm a receiver, why?" Of course, Paul Johnson has been pumping out NFL receivers like no other, so is there any merit to what Cutcliffe is saying? How about the coaches who are negatively recruiting against Oregon's offense? Continue Reading... |