2019 College Football season preview — 8th annual
| | |
| --- | --- |
| The Most Accurate Power 5 Preview 2012-2018 | |
ABOUT PICK SIX PREVIEWS
Since our launch in 2012, our BCS and Power 5 predictions have been rated the "Most Accurate" in the nation by Stassen.com who has been tracking prediction accuracy for decades.
Our daily, original content on Twitter has built a sizable following of 60,000+ college football fans. That includes hundreds of Division 1 coaches, former Heisman winners, thousands of current/former college players, thousands of high school recruits, and tens of thousands of passionate football fans.
We have been featured radio/podcast guests on shows across the country including: NBC Sports (TV), ESPN Radio, Sirius XM, Fox Sports, The Bill King Show, Sharp & Benning, Bill Riley, the Spartan Beat, the Eyes on B1G, Michigan Podcast, Gators Breakdown, Go Big RedCast among many others.
2019 SEASON PREVIEW (LINK TO PREVIEW BOOK)
This is the end result of over 1,000 hours of studying game tape, spring games, local media podcasts, talking to college coaches/coordinators, and developing my advanced stats and Game Grader formula.
I always wanted to do a deep dive into all 65 Power 5 programs, develop next-level stats and graphics, and give the college football fan the most complete preseason publication possible. Finally here in mid-July 2019, I am confident I have achieved that goal.
SAMPLE PAGES
Sample pages from the Power 5 book can be found (
here
).
NON-AQ PREVIEWS
I am researching the feasibility and interest in expanding my Season Preview book to include the 65 non-AQ teams in addition to the 65 Power 5 teams for 2020. I have great respect for these leagues/teams/fans. As a one-man operation, I was at capacity in 2019 with just the Power 5, but am looking into expansion for 2020. For 2019, my non-AQ predictions are listed below.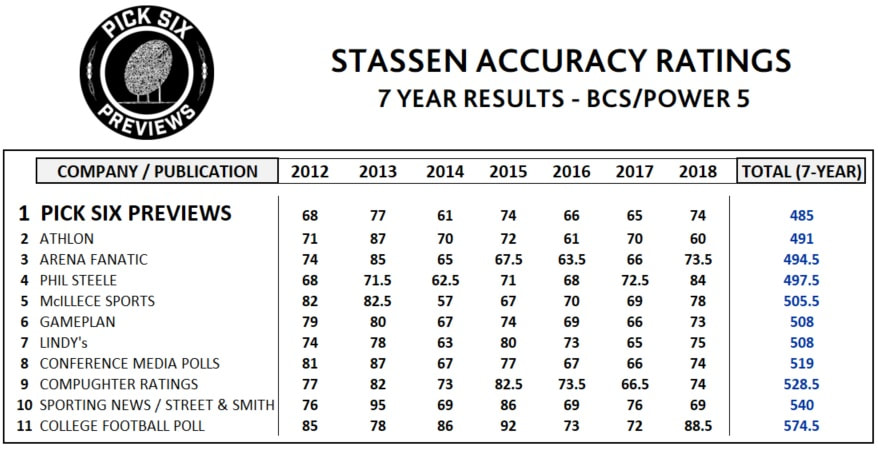 ---
- CONFERENCE PREVIEWS -
---
---
- NON-AQ CONFERENCES -

EAST
1 UCF
2 CINCINNATI
3 USF
4 TEMPLE
5 E. CAROLINA
6 UCONN

WEST
1 MEMPHIS
2 HOUSTON
3 TULANE
4 SMU
5 NAVY
6 TULsA

EAST
1T MARSHALL
1T FIU
3 FAU
4 MID TenN ST
5 W. KENTUCKY
6 OLD DOMINION
7 CHARLOTTE

WEST
1 N. TEXAS
2T UAB
2T S. MISS.
4 LA TECH
5 UTSA
6 UTEP
7 RICE

EAST
1 OHIO
2 BUFFALO
3 MIAMI (OH)
4 KENT ST
5 AKRON
6 BOWLING GREEN

WEST
1 TOLEDO
2 W. MICHIGAN
3T E. MICHIGAN
3T N. Illinois
5 BALL STATE
6 C. MICHIGAN

MOUNTAIN
1 BOISE ST
2 UTAH ST
3 AIR FORCE
4 WYOMING
5 COLORADO ST
6 NEW MEXICO

WEST
1 FRESNO ST
2 SAN DIEGO ST
3 HAWAII
4 NEVADA
5 UNLV
6 SAN JOSE ST

EAST
1 APP. STATE
2 TROY
3 GA SOUTHERN
4 GA STATE
5 COASTAL CAR.

WEST
1 ARKANSAS ST
2 UL-LAFAYETTE
3 UL-MONROE
4 TEXAS ST
5 S. ALABAMA

ARMED FORCES
1 ARMY
2 AIR FORCE
3 NAVY
- THE TRIPLE OPTION PODCAST -

---
- HELMET BOARD: 2019 Power 5 (#1 to #65)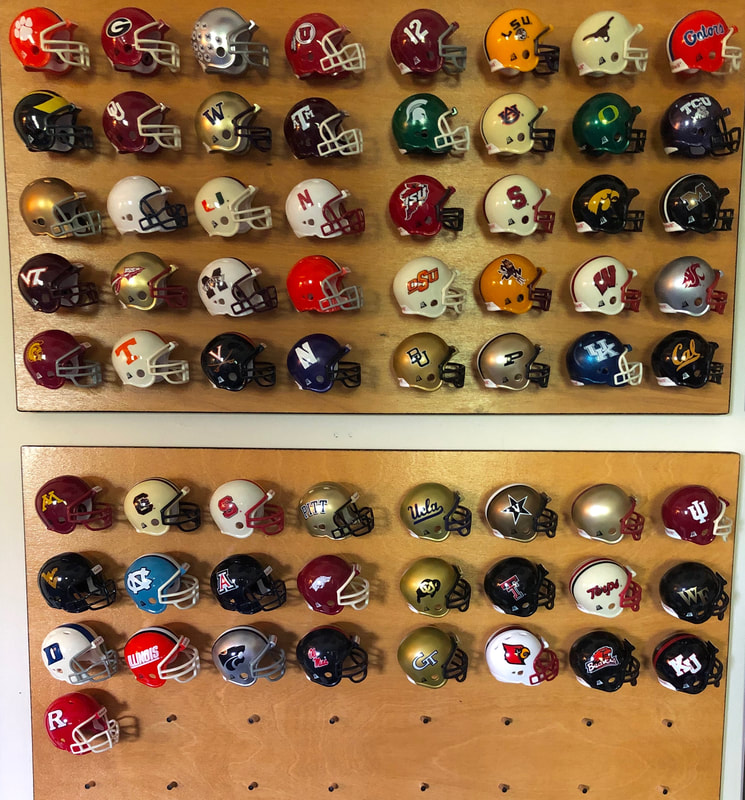 ---
---
- OFFSEASON FEATURE -
---
- BONUS FEATURES -

---
| | | |
| --- | --- | --- |
| Thank you for visiting Pick Six Previews, we invite you to join #PickSixNation on Twitter for frequent updates and more top-notch football coverage! | Share | |