PAC-12 SOUTH DIVISION
1. USC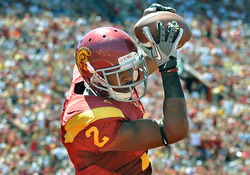 WR Robert Woods
Well, the NCAA sanctions meant nothing to this Southern California football program. If anything, they were tiny speed bumps. Sure the two-year postseason ban hurt a little, but recruiting didn't suffer a beat as both classes were in the top 5. Here we are 2 short years later with USC right back in the preseason top 5. The only difference is the man in the headset, where coach Lane Kiffin has a chance to prove himself with his best Trojan team yet. USC hopes to return to the BCS scene after a 3-year hiatus.

QB Matt Barkley shocked the football community when he announced his decision to return to USC for his senior season; his NFL draft prospects were sky-high. Centered around Barkley, this could be right up there with the most dominant USC offenses ever…yes, those famous USC offenses with Leinart and Palmer under center, White, Allen, and *Bush* in the backfield. All-American WR Robert Woods is an unstoppable force that will draw the attention of the entire secondary. However, Marquise Lee is almost as dangerous and caught 11 TD's a year ago. Barkley will have plenty of time to make decisions behind a strong offensive line that returns 4 starters. Entering the 2012 fall camp, the only question mark surrounded the RB position. But it was Christmas in July as PennState RB Silas Redd came knocking on the Kiffin's door. Redd is the missing piece to an already explosive offense.

The bigger concerns are if Lane's father Monte can turn the good defense into elite in year 3. Last season USC gave up 40+ to lowly Arizona and Arizona State…not to mention the 56 hung on them by Stanford. They do return 7 starters from the '11 group, headlined by star safety TJ McDonald. This is the most experience returning since the 2009 group that led the nation in scoring…but can this coaching regime claim the same success this time around?

As is always the case at USC, the blue chip talent is there, its just a matter of coaching it up to potential. Former coach Pete Carroll thrived on motivation and peak performance, but so far the Kiffin's have failed in this category. So that is where my skepticism of USC stems from. Is this talented offense incredible enough to compensate for the defensive collapses that have become commonplace under Kiffin? Can he continue to escape these near upsets ('10 Hawaii and Virginia, '11 Minnesota)? Tough early-season road trips to Stanford and Utah could derail the dreams of crystal ball hoisting. Regardless, this group is too good to not be playing in the BCS in January.


2. Utah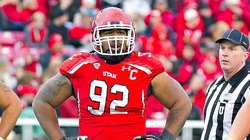 DT Star Lotulelei
Before Boise State was dubbed the 'BCS Busters,' Utah was the first ever smaller conference (non-AQ) school to be invited to a BCS bowl game. Urban Meyer's undefeated 2004 team started a winning tradition. That 7 year stretch included 2 undefeated seasons capped off by BCS wins ('04 Fiesta over Pitt, '08 Sugar Bowl over Alabama). Utah was then offered an invitation to join the Pac-12 Conference, a major step up from the Mountain West. Clearly the Utes went through some growing pains, losing its first 4 conference games, but managed to salvage the season for a ninth-straight winning season (8-5). Now in year 2 in the new league, Coach Kyle Whittingham hopes to return to dominance.

The Utah offense was dealt a tough hand last fall when starting QB Jordan Wynn was knocked out for the season in week 4. The makeshift offense struggled and relied too heavily on the run game. Wynn is back and healthy ready to lead a very experienced group. He has talented RB John White (1519 yards, 15 TD in '11) along with the top 6 receiver targets returning. This side of the ball will be vastly improved and more up to speed with what the PAC-12 defenses will bring each week.

A stingy defense has always been a staple of Whittingham's Utah football program, but took a step back last season. A transition year is expected when moving from the lower conferences to BCS level. Now, with 7 starters returning and a full year of PAC-12 experience, the Ute defense should be solid. It all starts up front with All-American DT Star Lotulelei. This hoss can clog up not just one, but two or even three gaps of the line on any given play. Surrounding the anchor are the Kruger brothers, and an experienced secondary.

Look for improvements all around in Utah's second season in the Pac-12. With half of the division undergoing coaching changes, Utah will move up to second in the South. Utah should be 4-0 heading into its Thursday night game with USC, which very well could be the biggest home game in school history. With home-field advantage, Utah will provide quite a scare for the BCS hopeful Trojans.

3. UCLA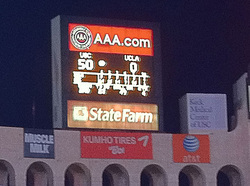 USC 50 UCLA 0
There aren't many more underachieving football programs nationwide than UCLA. Despite annual hype and high recruiting rankings, the Bruins are only 64-63 this decade, with just 4 winning seasons. Even worse is the unbalanced Los Angeles rivalry with USC: UCLA is 1-12 in the last 13 matchups. New coach Jim Mora Jr enters a scenario where the talent exists, but the mindset and winning culture simply do not.

The UCLA QB position has been one of the most unlucky position groups in all of football. There was one day in practice where both the starter and backup both were knocked out for the upcoming season. QB Kevin Prince is STILL on the roster and again a contender for the starting job, but will be challenged by freshman Brett Hundley and super-recruit Devin Fuller. Look for the offense to rely on RB Jonathan Franklin, or at least early on in the season until the passing attack gains strength. The UCLA offense was nothing short of terrible the past 6 seasons, and there isn't much hope for quick improvement.

New defensive coordinator Lou Spanos will bring his experience and success from his time with the Pittsburgh Steelers to UCLA in an attempt to fix a unit that allowed over 30 points per game over the past two seasons. He has a lot of talent returning, with 10 starters back. But more importantly is how quickly the new scheme is installed and new mindset embodied. This group needs its confidence back after being humiliated in its last two regular season games, allowing 50 to USC and 49 to Oregon.

Jim Mora hopes his NFL wisdom and experience will translate to success at the college level; it rarely does. However, with an influx of talent, if Mora can motivate his players enough, significant improvement is possible. If one of the freshman quarterbacks can grow up quickly, I think UCLA will be the best of the 4 conference teams going through a coaching change (ASU, UA, WSU).

4. Arizona State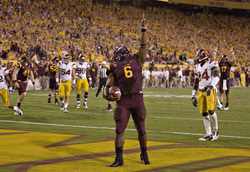 RB Cameron Marshall
The Arizona State football program is now completely re-branded; the iconic Super Mario-esque devil logo, Coach Dennis Erickson, and 6'8" QB Brock Osweiler are all gone. ASU is moving forward with new coach Todd Graham, who had short runs with Pitt and Rice but also went 36-17 at Tulsa. Sun Devil Nation hopes this success returns to help the struggling program.

Osweiler put up incredible stats last fall (4036 yards, 26 TDs) and it will be tough to account for his loss. Huge (6'5") freshman QB Michael Eubank will take the keys to the offense and has potential to thrive in Graham's system. Behind him in the backfield is thousand-yard rusher Cameron Marshall who figures to carry the load for the young offense. Graham's system should be easier to implement compared to that of state rival Rich Rodriguez of UA.

The defense will look completely different as well with the departure of the top 6 tacklers from 2011. Only 4 starters remain, but the roster is stocked with ready replacements. The starting lineup will consist of mostly 5th year seniors and juniors, despite the lack of game experience. New co-defensive coordinators Paul Randolph and Ron West have plenty of talented pieces to move around while devising a starting 11.

This senior class was a top 15 recruiting class upon graduation of high school, and I can only imagine the coaching change has diffused the leadership more onto their shoulders. In high school and collegiate sports, senior leadership is so key yet often overlooked. Look for the seniors to aid Graham in his first season in the desert and for the Sun Devils to return to bowl season.


5. Arizona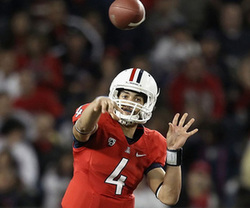 QB Matt Scott
Former Coach Mike Stoops built up the Arizona program and won some huge games in the national scene. But in year 8 of the tenure, the progress stalled and he was forced out after a 4-8 meltdown season. This offseason UA brought in big-name coach Rich Rodriguez who had high success at West Virginia with his spread attack. However, as seen in his stint at Michigan, transition to his new offense takes time.

The school's career passing leader Nick Foles is gone, and with him goes significant leadership. But luckily for Coach Rodriguez, senior QB Matt Scott is the perfect mold for his offense. Scott will serve as the one season placeholder while RichRod finds another QB for the future. Also gone is key RB Keola Antolin. Texas transfer WR Dan Buckner will have to be the playmaker this Wildcat offense so desperately needs. Look for this offense to have trouble converting systems in year 1 of the RichRod era.

The defense is also getting revamped, with new Defensive Coordinator Jeff Casteel's unique 3-3-5 scheme. Like the changes on offense, it may take some time until significant progress is evident. One thing is for certain: CB Shaquille Richardson is a ball-hawk who looks to add to his 4 INTs last season.

Things may get worse before they get better here in Tuscon. While long-term, these systems have proven success, it is extremely difficult to install new schemes quickly enough. I think that the '13 and '14 seasons should be better for Arizona, but this first year under RichRod will be a rebuilding year by definition.

6. Colorado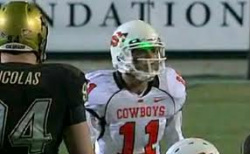 Hopefully CU fans don't revert to the '08 lasers
In the famous conference-realignment-summer of 2010, Colorado chose to leave the Big12 and join the Pacific 12 for both stability and geographical proximity to its California-based alumni. Football-wise, not much changed as CU went from getting torched in the Big12 to getting dominated out west. Coach Dan Hawkins was finally fired after a 21-40 record over his 5 seasons. This program was once relevant in the 90s and early 2000s but has since fallen into the cellar of BCS programs.

The Buffalo offense was by far the worst of the conference last fall, and only returns 3 starters. Hope exists in the form of Kansas transfer QB Jordan Webb who has significant potential in his 2 remaining seasons of eligibility. Webb was recently named starter beating out highly touted Texas transfer Connor Wood. Coach Jon Embree has his hands full in attempting to fix this squad and get CU back to respectability.

For as bad as the offense was in 2011, the defense was equally as poor (36.5 points per game). Hopefully a year of playing against the unfamiliar speedy PAC-12 offenses will help. This side of the ball is more experienced but still needs drastic improvement.

Another year of embarrassment for CU Buff football.