THE ELITE EIGHT

Here are the 4 'Elite Eight' Games of our computer simulated historical Champions Tournament. The order of games below is in order of the bracket.
REMEMBER: These are simulations completed by the algorithms of "What-If Sports", NOT simply our opinions. We set up the bracket and are publishing the results with commentary.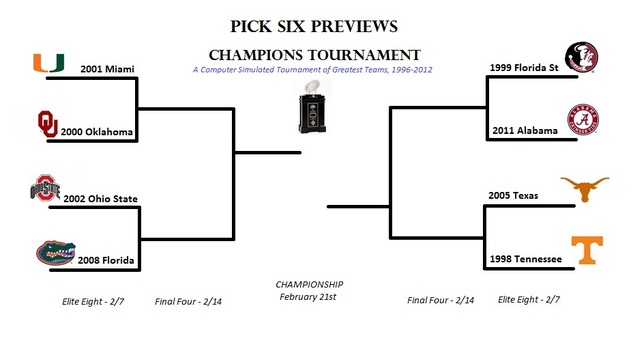 2001 Miami defeats 2000 Oklahoma, 44-31


This battle of Early 2000s Champions was characterized by high-powered offense by both sides, but it was the 2001 Hurricanes that passed their way into our Final Four. QB Ken Dorsey was an absolute force, passing for
415 yards 5 TDs
and 0 INT. Under center for Oklahoma, QB Josh Heupel was solid, but couldn't out-do Dorsey. Again the MVP for Oklahoma was work-horse RB Quentin Griffin, who put in his third straight 100+ rush yard game in Champions Tournament play. The difference here was the Sooner Defense's inability to slow the Miami pass attack - Jeremy Shockey, Andre Johnson, Kellen Winslow, Daryl Jones, and Ethenic Sands all caught Dorsey TDs.
2001 Miami claims the first spot in the FINAL FOUR
Quick Links: (Scoreboard) ...
(
Box Score Stats
)
2008 Florida defeats 2002 Ohio State, 34-24


Gators vs. Buckeyes
The magic has run out for the 2002 Buckeyes, as they become 'Gator Bait' yet again. Ironically, this matchup saw Coach Urban Meyer facing off against the Champions of his future program. Here, it was Florida jumping out to a sizable 24-7 lead, and the Gator defense holding off a wild comeback campaign. A Jeff Demps TD run opened the scoring, only to be followed by a pair of Tim Tebow passing TDs (Louis Murphy and Aaron Hernandez). Then, Ohio State Freshman Phenom Maurice Clarett added to his 194 rush yards as the Buckeyes closed in and tied the game at 24 entering the 4th. Chris Rainey's 51 yard TD gave Florida back the lead, and Jonathan Phillips' FG iced it. Mr. Resilient, QB Craig Krenzel, struggled against the Gator secondary (13/32 183 yards, 1 TD, 1 INT).
2008 Florida moves on to the FINAL FOUR
Quick Links: (Scoreboard) ... (Box Score Stats)
---
2011 Alabama defeats 1999 Florida State, 27-17


Crimson Tide vs. Seminoles
The #2 Overall Seed, the only team to go wire-to-wire ranked #1 in the nation: 1999 Florida State has fallen. Elusive WR/PR Peter Warrick took back a punt 62 yards for a TD, and Florida State had the lead heading into the 4th quarter, but a 13-0 Bama 4th quarter switched the story here. It was an opportunistic defense that was the difference here, as the Tide secondary caused 4 Chris Weinke Interceptions, 2 in the 4th quarter. Further, the Bama rush defense was stout, holding FSU to just 78 rush yards. Only up 3 with 1:25 left, QB AJ McCarron found Brad Smelly for the game-sealing TD. RB Trent Richardson added 113 yards including his 43 yard TD. In this game of coaching legends, it was Nick Saban out-dueling Bobby Bowden, as the
2011 Crimson Tide roll into the FINAL FOUR
Quick Links: (
Scoreboard
) ... (
Box Score Stats
)
2005 Texas defeats 1998 Tennessee, 41-16


Longhorns vs. Volunteers
This was by far the biggest blowout in the Elite Eight Round, as 2005 Texas totally overpowered 1998 Tennessee. QB Vince Young and the rest of the Longhorn offensive attack simply couldn't be stopped - even by this stingy 98 Vol defense. Vince Young tossed 3 TD's (Billy Pittman and Limas Sweed) while Selvin Young rushed for 2 more. #
PickSixNation
Member Tee Martin had a decent showing, passing for 230 yards, but overall the Vol offense couldn't get going or sustain drives. RB Jamal Lewis scored Tennessee's only TD, but at that point the game was out of reach.
2005 Texas punches the last ticket to the FINAL FOUR
.
Quick Links: (
Scoreboard
) ... (
Box Score Stats
)
THE FINAL FOUR WILL BE RELEASED FEBRUARY 14th