THE FINAL FOUR

Here are the 2 'Final Four' Games of our computer simulated historical Champions Tournament.
REMEMBER: These are simulations completed by the algorithms of "What-If Sports", NOT simply our opinions. We set up the bracket and are publishing the results with commentary.
ALSO: These games will be simulated more than the typical 5 times, we will simulate the matchup 50 TIMES to make sure the true winner is crowned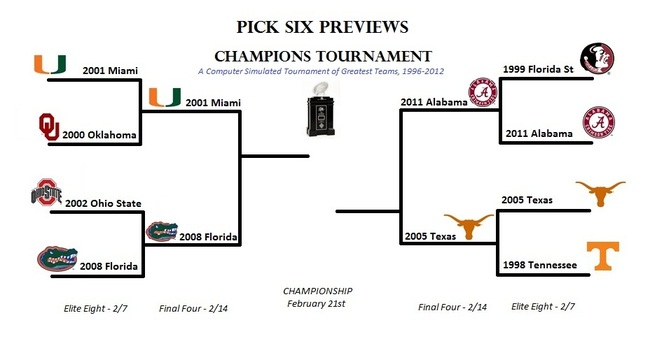 2001 Miami defeats 2008 Florida, 24-20 (28 games to 22 games)


This particular box score sums up the entire 50 game series between these Sunshine State rivals: A quick first strike by Miami, a strong push by Florida, followed by the finishing championship effort by the U. Willis McGahee opened the scoring for Miami on his 7 yard TD run. Then, a scoring explosion in the 2nd quarter, with QB Tim Tebow tossing 2 TDs (Deonte Thompson and Riley Cooper). Ken Dorsey added a deep strike TD to Andre Johnson to soften the Gator offensive onslaught. Finally, in the second half, both defenses tightened up, with the Hurricanes delivering in the closing minutes. Down 20-14, Miami RB Clinton Portis broke free for the go-ahead touchdown (4 minutes remaining). On Florida's final drive, Miami S Ed Reed picked off Tebow, and took it down into the redzone, where K Todd Sievers added an insurance FG in the closing seconds. The first spot in our
All-Time (1996-2012) Championship is 'All About the []__[]' as 2001 Miami advances.
Quick Links: (Scoreboard), (Scoring Summary and Team Stats), (Player Stats)
---
2011 Alabama defeats 2005 Texas, 34-21 (41 Games to 9 Games)


This Semifinal wasn't even close! Out of the 50 simulated matchups, 41 were Alabama victories, with this selected game defining the series. The First Quarter opened with 2 Jamaal Charles Touchdown runs for the Burnt Orange. But then the Tide responded with 24 unanswered points off of TD runs by Trent Richardson and Eddie Lacy, while TE Brad Smelly caught a McCarron TD pass. Down 10 mid-4th, Texas drew within a FG thanks to a 77-yard TD by RB Ramonce Taylor. However, less than a minute later, Richardson stole the show, and delivered the final blow- a 68-yard TD run. The Alabama wasn't as surprising as the total shutdown of Vince Young, who had been electric all tournament. A late FG put the Tide up by 10 to
secure a spot in our All-Time (1996-2012) Championship for 2011 Alabama
.
Quick Links: (Scoreboard), (Scoring Summary and Team Stats), (Player Stats)
THE CHAMPIONSHIP WILL BE RELEASED FEBRUARY 21st