PLAY-IN GAMES

Here are the results of the 6 Play-In Games; 4 of which were matchups of 8 Undefeated Non-AQ teams. The other 2 matchups were all about redemption: 2005 Penn State and 2011 Oklahoma State were given another chance to avenge their fluky, last-second losses; 2001 Oregon got a shot to prove themselves against 2001 Nebraska, to settle the great Computer debate on the gridiron. The First Round will be released Monday, January 21st.

2006 Boise State defeats 2008 Utah, 28-17


Boise State and Utah both landed 2 teams into our tournament; here we have the 2006 Boise State Broncos that shocked the world by upsetting Oklahoma in the Fiesta Bowl taking on the 2008 Utah Utes that dominated Alabama in the Sugar Bowl. These Broncos pulled off another upset here, defeating the Utes 28-17. The defense bottled up power RB Matt Asiata (55 yards on 22 carries), and forced Brian Johnson into 3 INTs (Korey Hall, Marty Tadman, and Quinton Jones). In a matchup of EA Sports NCAA Football cover quarterbacks, Jared Zabransky was the hero, passing for an efficient 22/26 for 270 yards and 2 TDs. RB Ian Johnson added rushing and receiving scores.
2006 Boise State advances to the round of 32 to face overall #1 seed 2001 Miami Hurricanes
1999 Marshall defeats 2010 TCU, 37-20


The 8 non-AQ teams were seeded 1 through 8, and this was the 1 vs 8 matchup. Surprisingly, the #8 1999 Marshall team took out the #1 seeded 2010 TCU Horned Frogs. On the scoreboard this one looked close, but it was actually total dominance by the Thundering Herd. Led by QB Chad Pennington, 1999 Marshall outgained the Horned Frogs 470 yards to 250. Pennington threw for 255 yards and 2 TD against this vaunted TCU defense; RB Doug Chapman added 2 more scores on the ground. The Herd defense held TCU QB Andy Dalton to just 12/27 passing and limited star WR Jeremy Kerley to just 2 receptions.
1999 Marshall moves on to face the overall #4 seed, the 2002 Ohio State Buckeyes
2004 Utah defeats 2007 Hawaii, 50-47 (5 Overtimes)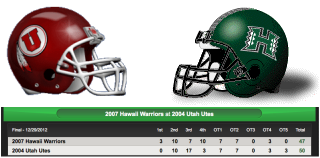 Urban Meyer's 2004 Utah Utes outlasted Colt Brennan's aerial assault in this 5 Overtime thriller. Utah QB Alex Smith actually struggled passing, just 12/25 with 1 TD and 2 INTs. Smith was extremely clutch on the ground, gaining 72 yards on 16 carries for 3 scores- doing just enough to give his Utes a chance to win. Despite the loss, Hawaii QB Colt Brennan was named player of the game, throwing for 487 yards and 5 TDs...it was his only mistake that proved costly. In 5th Overtime, his INT led to the game-winning FG by Utah.
2004 Utah moves on to face the #2 overall seed, 1999 Florida State Seminoles
2009 Boise State defeats 1998 Tulane, 49-20


Two late scores made this look closer than it was- a blowout! 2009 Boise State proved they were the real BCS busters, destroying the original non-AQ undefeateds. Tulane QB Shaun King's 3 INT helped this become a rout early- 2 of which were picks by Kyle Wilson. Kellen Moore tossed 3 TDs and threw for 352 yards, RB Doug Martin added 3 rushing scores and 151 yards. WR Austin Pettis caught 2 TDs in the rout.
2009 Boise State moves on to face the #3 overall seed, 2005 Texas Longhorns
2001 Nebraska defeats 2001 Oregon, 14-13


The 2001 BCS selection was perhaps the most controversial of this entire Computer Era. On the final week of the regular season, #1 Nebraska was upset by #15 Colorado 62-36, but after a string of other upsets, Nebraska was selected as the #2 team and would then face Miami in the National Championship. This, despite not even winning the division, let alone the conference. Oregon may have had the best resume and feel they would have put up a better fight against #1 Miami.
This defensive struggle was highlighted by the tournament's first PICK SIX by Nebraska Safety Keyou Craver. Besides that errant pass, Heisman runner-up Joey Harrington was efficient, completing 21/33 with a TD. The
Ducks built a 13-7 lead, but Heisman Winner Nebraska QB Eric Crouch took an option keeper for the winning score,
a 55 yard run. Crouch ran for 132 yards on 15 carries (only threw 6 passes). RB Darran Diedrick
added 22 carries for 110 yards.
2001 Nebraska proved the BCS got it right (Both teams would have been destroyed by '01
Miami).
Huskers move on to the round of 32 and will face overall #5 seed 2009 Alabama.
2011 Oklahoma State defeats 2005 Penn State, 52-35


Both these teams had unfortunate last-second losses that derailed possible National Title runs; Oklahoma State was enduring a plane crash tragedy and lost in overtime at Iowa State, while Penn State appeared to have the game won at Michigan but a second was added back to the clock and Chad Henne threw a Game-Winning TD for the Maize and Blue. Both OKSt and PSU would go on to win out and win their BCS bowl games.
In this 'redemption' play-in game, it was all Cowboys. Oklahoma State opened up a 24-0 lead
early, but PSU QB Michael Robinson kept the game competitive (2 Rush TD and 2 Pass TD). PSU RB Tony Hunt also added 120 yards rushing and a score. But in the end, the explosive Cowboy aerial attack couldn't be stopped, as QB Brandon Weeden threw for 458 yards and 6 TD's. Justin Blackmon caught two of the scores.
2011 Oklahoma State advances to the round of 32 to face #6 overall seed 1998 Tennessee
.
THE ROUND OF 32 WILL BE RELEASED MONDAY JAN. 21st